Kids follow their ears at Easter egg hunt for blind, visually impaired
Bryson Taylor, Ninja Turtle bucket in hand, proclaimed he would find 20 Easter eggs.
It was his first egg hunt because cataracts limit his vision, but nothing could limit the 5-year-old's excitement at Friday's first-ever egg hunt for blind and visually impaired children and adults.
"He has never done an egg hunt, and I thought he never would," Bryson's mother, Chassity Taylor, said. "I think this event is wonderful because it gives kids with visual impairment a chance to take part in something like an egg hunt."
The hunt, on a cold and rainy Friday, was organized by the Shelby County Sheriff's Office bomb squad. The squad received 20 specially made beeping eggs from the International Association of Bomb Technicians and Investigators through the Rachel Project Beeping Egg project.
The Rachel Project was launched in 2005 by a federal Alcohol, Tobacco, Firearms and Explosives agent.
David Hyche, whose daughter Rachel is blind, wanted her to participate in an egg hunt, so he designed the Easter eggs with a mechanism inside that beeps, according to Sgt. Judson Maxwell, commander of the  Shelby County Sheriff's Office bomb squad. Maxwell helped organize Friday's event. 
"This has been on my mind for several years, but this year was the year I said I was going to make it happen in Memphis," Maxwell said.
He reached out to the Clovernook Center for the Blind and Visually Impaired in Memphis, and that organization partnered with SCSO to host the egg hunt. 
Stephanie Jones, communication skills director for Clovernook, said the event was a first in the area. She wishes something similar was available when she was growing up.
"This is access to an event that everyone takes for granted, but this can open up the conversation about inclusion for everyone in Memphis," she said.
The event was held at Willow Park, 4769 Willow Road near Overton High School. Members of the Sheriff's Office bomb squad cordoned off a section of the park with crime scene tape for the egg hunt. They then placed the plastic eggs that emitted a high-pitch beep, and the hunt was afoot.
The adults from the Clovernook Center went first and in no time found the eggs that sounded like crickets chirping.
Then it was time for the children. Some sighted children who were siblings or children of volunteers were allowed to participate, but they had to wear ski googles that had been painted black to make sure the hunt was fair.
While Bryson didn't find 20 eggs, he did find three of the large beeping eggs that cost $12 each to make. He and the other participants then traded them in for candy-filled plastic eggs and gift bags.
"I think – no, I know – this will be become an annual event," said Jones, the Clovernook spokeswoman. "Like I said, this is about inclusion of the blind and visually impaired. We need to have more things like this."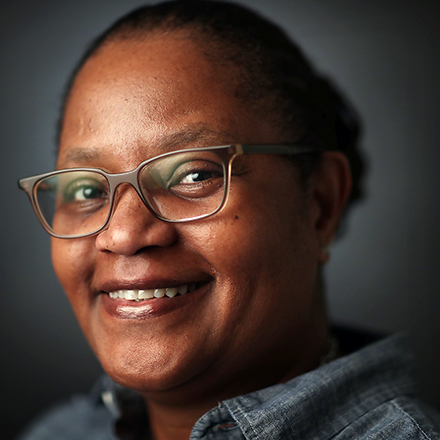 Yolanda Jones
Yolanda Jones covers criminal justice issues and general assignment news for The Daily Memphian. She previously was a reporter at The Commercial Appeal.
---