Family, community celebrate Phil Trenary's life, career
Thursday's service for Greater Memphis Chamber president and CEO Phil Trenary was not a funeral. It was a celebration of life.
Beginning at noon, the lobby of Christ United Methodist Church, located at 4488 Poplar across from the Oak Court Mall, began to fill up with people from all walks of life. There were people in suits and dresses, patrol uniforms and blue jeans.
They were there to shake the hands and hug the shoulders of Trenary's three children after their father was fatally shot last Thursday, Sept. 27, while walking on South Front Street.
According to Memphis police, the shooting took place during an attempted robbery. Three suspects are in custody and have been charged with first-degree murder.
Trenary's youngest son, Pearce Trenary, said he talked almost every day with his father, who he described during the service as his co-pilot, best friend, hero and mentor.
About three hours before Trenary was shot, Pearce called his dad. He could hear in the background there was a meeting going on, but his father took the call.
Pearce said he wanted to come visit, and Trenary told his son he'd book him a flight to Memphis for a weekend full of wakeboarding, flying and Memphis music.
A few days ago, Pearce went to his father's office to pick up some of his personal belongings.
"It was just the way he left it. His laptop was on his desk and his calendar was open," Pearce Trenary said. "Thursday and Friday, the days I was supposed to be here, were full of back-to-back meetings, but they were all crossed out and there was one block above all those meetings that just said, 'Pearce.' He set everything aside for me, that was the kind of best friend my dad was."
The family held a graveside service on Tuesday, Oct. 2.
The line of people who attended the visitation Thursday wrapped around two corners of the church before ending in the Wilson Chapel, where old photos of Trenary's family, career in the aviation industry, philanthropy and personality were projected on a screen to a soundtrack of songs, including "Into the Mystic," "Love & Happiness," "Southern Cross" and "Days Like This."   
The articles, tributes, moments of silence and memories shared by Trenary's business and civic associates over the last week have been overwhelming, his daughter Brittney Rowe said. Trenary adopted Brittney after he married his now ex-wife, Bridget.
"Even though his preferred element was air, he was more like water, seeping into our lives, whether we wanted him to or not, and always keeping us afloat," Rowe said of Trenary's support.
The 2 p.m. service was held in the church's Seabrook Hall, where 1,010 chairs were set up to accommodate the crowd, which included family, friends, colleagues and politicians, including Tennessee Gov. Bill Haslam.
Each entrance to the auditorium was surrounded with flower sprays and guest books.
The first eight rows of seats centered toward the pulpit were reserved for family and close friends. In place of a casket, there were standing flower sprays in the shape of three crosses.
About 15 minutes before the service, a light rain fell, the raindrops evident on the shoulders of those hurrying inside as 2 p.m. neared. But the sun continued to shine.   
Although Trenary did not attend church at Christ United Methodist, when asked to host the service, the Rev. Shane Stanford said his church was honored to celebrate a life that believed in Memphis.
For the procession, Cortney Richardson and the Inspire Gospel Chorale sang, "I'll Fly Away." Dressed in purple and gold robes, they encouraged those in attendance to clap their hands to the gospel rendition.
Dr. Scott Morris, founder and executive director of Church Health, was the first to share a reflection. Morris also spoke at the graveside service. 
When Trenary was asked why he loved Memphis, his adopted home since 1997, he would tell people, "I don't like things that are perfect," Morris recalled. "I love what Memphis can and will be and how I can play a part in our future."
"He was 110 percent sure, that's his number, that Memphis would one day be the best city in the world," Morris said, "but how do we get there from here?"
Living Downtown, Trenary often took five-minute walks that turned into 20-minute strolls because he would stop to talk to everyone, even those living on the streets.
"Had the people who did this just asked for his help, he would have given it to them," Morris said. "So how do we go forward?"
Morris suggested one way to find healing after the tragedy is to help connect ex-convicts to one of the things Trenary was so passionate about, good-paying jobs.   
Last year, with the help of many stakeholders including retired Saks CEO Brad Martin, Trenary created the Hope 2 Hire workforce training program, which helps prepare inmates coming out of prison for high-skill jobs.
"From this point on, those who graduate from the program will receive the Phil Trenary diploma," Morris said. "In addition, they will be charged with mentoring young people. I, for one, intend to be at the graduation."
AutoZone founder and local philanthropist Pitt Hyde said Trenary had the discipline of a CEO with the heart of a servant leader.
"As a CEO he was highly capable of making the tough decisions, aimed at creating value and making a profit," Hyde said. "But he was just as proud of creating jobs that gave people opportunities for better lives."
Though his degree from Oklahoma State University might have been in aeronautical engineering technology, he built bridges every day, Hyde said.
"He never saw anyone as an enemy and he was always willing to have one more conversation to hear someone who had a different opinion from his own," Hyde said.
He was not just a turnaround agent for the chamber, but for Memphis, particularly millennials.
Trenary was a cheerleader for millennials, urging young people to step up and take their rightful place in leadership roles.
"In recent days, many of these young men and women have told me about the personal encouragement and inspiration he gave, publicly, but also privately and away from the spotlight," Hyde said. "I, for one, am confident that these same young leaders will step up now to honor Phil's legacy and carry on his cause."    
Trenary's oldest son, Justin Rogers, who Trenary also adopted during his former marriage, said "Phil, more than anyone I've ever met in my life, treated people with respect and dignity. In this age when integrity can turn on a dime, Phil was steadfast in his character and conviction."
As Rogers raises his son, Jackson, he said he hopes he can be half the father Trenary was to him.
Trenary's greatest love was family, but his passion was creating opportunity and prosperity, Rabbi Micah Greenstein of Temple Israel said.
For Trenary, the biblical phrase "Love thy neighbor as thyself" referred not to a ZIP code or geographic neighbor, but a moral concept, Greenstein said.
"He loved every Memphis neighbor just as they are — black, white, Latino, Jewish, Christian, agnostic, whether you had material means or no means," Greenstein said. "And Phil never let despair or negativity dominate. His only question was, 'Do you, or don't you want to help make dreams come true for Memphis?'"
While Trenary's life was extinguished, his light "will continue to shine upon Memphis even in the darkest night," Greenstein said. 
After the family's reflections, Deborah Thomas sang an acapella rendition of "If I Could Help Somebody," the lyrics of which include the words, "If I can help somebody, … my living shall not be in vain."
With a microphone in one hand a tissue in the other, Thomas pointed to Trenary's family on the front row and sang, "Phil helped so many, his living has not been in vain."
Rev. Roger R. Brown, senior pastor at Greater White Stone Missionary Baptist Church in South Memphis, delivered the sermon, that at times led to applause and vocal "amens."   
Trenary, a member of Calvary Episcopal Church in Downtown Memphis, also regularly attended Greater White Stone for more than 20 years.
"You've heard it over and over again, we must work together," Brown said. "If we are going to make a difference and combat this problem that plagues our community, we must get to the root, and the root is sin. Crime is the byproduct of sin."
A large group of former Pinnacle Airlines employees attended the service. Trenary's family asked Peter Hunt, Pinnacle's former vice president and CFO, to speak. Hunt traveled a lot with Trenary, who grew the Memphis-based regional airline into a $1.2 billion company before joining the chamber.
"When Phil waked through the airport, it was like he was a rock star," Hunt said. "Every employee would stop what they were doing and run up and hug him or shake his hand. He always knew everyone by name and he always asked about your family."
He would always give his first-class boarding pass to a passenger, Hunt said, and he always checked in on the pilots and crew because Trenary believed every employee at Pinnacle was important.
Trenary used to end each message to employees with five words, "Take care of each other."
"To honor Phil, let's heed his advice and remember to take care of each other," Hunt said.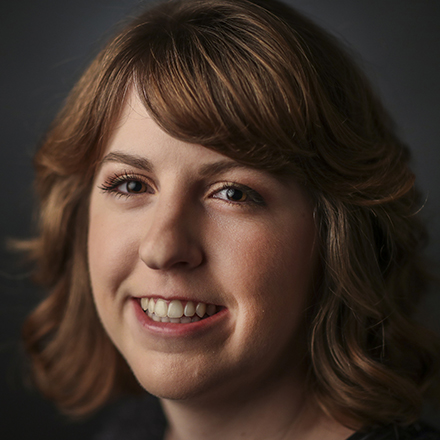 Michelle Corbet
Michelle Corbet covers business for The Daily Memphian. Prior to, she was a reporter at the Memphis Business Journal. A native Memphian and University of Memphis graduate, Michelle covered business in Conway, Arkansas after college. Michelle got her start covering business as an intern at The Commercial Appeal.
---