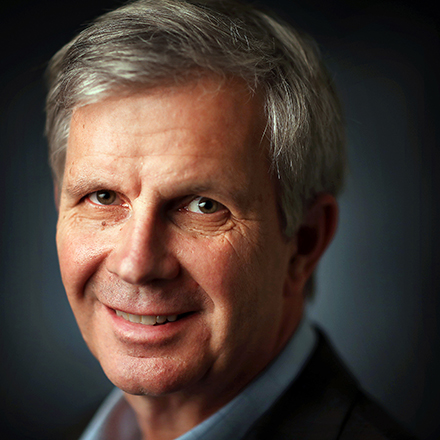 Geoff Calkins
Geoff Calkins has been chronicling Memphis and Memphis sports for more than two decades. He is host of "The Geoff Calkins Show" from 9-11 a.m. M-F on 92.9 FM. Calkins has been named the best sports columnist in the country five times by the Associated Press sports editors, but still figures his best columns are about the people who make Memphis what it is.
Calkins: In his moment of triumph, Hardaway thinks of the city
The first thing Penny Hardaway mentioned?
It wasn't any of the players he and his staff had recruited to Memphis. It wasn't Precious Achiuwa or Lester Quinones or Boogie Ellis.
It wasn't the skeptics, who are being forced to re-evaluate. It wasn't the attention he is getting all across the country as the hottest coach in college basketball.
No, on the day Hardaway met with the media to discuss the best recruiting class in the history of Memphis basketball, he opened by talking about what compelled him to take the job a year ago.
The city.
"I'm excited for the city," Hardaway said. "This is what the fans wanted, this is what the city needed."
And this is why the city – as Hardaway phrased it during an appearance on ESPN Tuesday – "is on fire."
The Memphis Sports Hall of Fame had planned to unveil its inaugural class of inductees at a Tuesday press conference. They pushed the press conference back a day to avoid being swallowed up by Pennymania.
Nearly two dozen media members showed up for the press availability.  
"Why's it so crowded?" asked Hardaway, as if he didn't know.
It was crowded because Hardaway had just signed the No. 1 recruiting class in the country. It was crowded because he has made Memphis basketball matter again.
---
Jonah Jordan: Malcolm Dandridge possibly back from surgery in November
---
That's why this recruiting story is different than other recruiting stories. Because the Memphis program is different than other programs. Because it is entwined with the history and hopes of a city in a way that most programs are not.
ESPN's Scott Van Pelt remarked on this phenomenon last Friday, after Achiuwa became the latest five-star player to commit to Memphis.
"It's a city that feels like its own country," he said. "It's got its own flavor and language, a pride about itself and a loyalty to it."
Hardaway was forged by that pride and loyalty. He grew up speaking the language of Tiger basketball. And when he agreed to take the Memphis job, it wasn't because he wanted personal glory. It's because he wanted to bring glory back to the program he loved.
As the commitments poured in the last few weeks, Hardaway celebrated the same way most of Memphis celebrated. 
"A loud scream, the quick feet, high knees," he said. "The fist pump, the Tiger fist pump."
Just like y'all did at home.
But Tuesday's press conference was less about the particular players who are headed to Memphis than it was about Memphis itself, and about the vision Hardaway once conjured with his late friend, Desmond Merriweather.
"(We) talked about this at Lester Middle School, about how things were going to go," Hardaway said "It's crazy that it's going exactly that way."
---
Jonah Jordan: Sam Mitchell leaving Tiger staff to pursue other opportunities
---
First, Hardaway and his staff recruited the best local players. Then they started getting the best players from California and New York.
"Everybody thought it was going to be a show when I took over, and thought it was just going to be the local kids, and I was going to have a problem recruiting around the country," Hardaway said. "We shocked a lot of people. They definitely underestimated what we were going to do."
So, no, Hardaway isn't concerned about the heightened expectations. Why would he be? He wanted heightened expectations. That was the whole goal. 
"That's what we want, this is Memphis," Hardaway said. "We want all the smoke, we want everything. We want everything to be about Memphis. We want it to be, 'Hey, you guys are supposed to do this and you need to reach that.' That's what this city wants, that's what we want, that's who we are. We don't want to shy away from anything. We want this type of group because we want a national championship. If we want to hang the first banner Downtown at FedExForum, then we're going to have to get talent and with talent comes expectations."
Of course there will be challenges and disappointments. That's part of the deal. But why dwell on those at a moment like this? Hardaway would rather dwell on the lineups he could send out next year.
"It's been like daydreaming in heaven, just thinking about the matchups, of who can be out on the court," he said. "Honestly, this is a dream come true. We're excited, our city's excited."
There he was, talking about the city again. Indeed, Hardaway even asked the citizenry to join the team on an August trip to the Bahamas, where it'll be playing four games in seven days.
"We're inviting the city and everyone from the surrounding areas," he said. "We need the whole city."
In the Bahamas?
Oh, what the heck.
It is that kind of moment for the program and for Memphis. It is the kind of moment that inspired Hardaway to take the job in the first place. Van Pelt was right when he said Memphis has a language all its own. 
Tuesday, it sounded a lot like joy.
---