Ja Morant vs. RJ Barrett: Who should the Grizzlies pick in June's NBA draft?
The Grizzlies have a long list of decisions to make this offseason, but there are three big ones.
Should they trade Mike Conley and if so for what return? We explored that on Monday.
Who should they hire as head coach, and when? We wrestled with that on Wednesday.
The third big question is perhaps the most important, but it's the one that seems to have the least intrigue: What should the Grizzlies do with the No. 2 overall pick in next month's draft?
Should they take freshman wing RJ Barrett, who has yet to turn 19 but has been considered an elite prospect for years? Or should they take sophomore point guard Ja Morant, who has made a giant leap from unranked high school prospect to presumptive No. 2 NBA draft pick in just two years?
Public acclamation and initial reporting from the NBA draft combine in Chicago suggest that this decision is a foregone conclusion. That Morant is the pick. That might be true. (It probably is.) But the NBA draft is still a month away and this is too big of a decision not to fully weigh. Hopefully this column is a bare fraction of the attention the Grizzlies have given, are giving or will give this decision internally.
Resume cover letters
Rowan Alexander "RJ" Barrett Jr. is a 6-foot-7, 200-pound guard/wing with a 6-foot-10 wingspan. Physically, these measurements are nearly identical to current NBA stars DeMar DeRozan and Klay Thompson when they entered the NBA.
Considered the top player in his class until getting passed by college teammate Zion Williamson last season, Barrett was MVP of both the Nike Hoop Summit and Basketball Without Borders games as a prep and was MVP of the FIBA U19 World Championships, where he put up a 38-13-5 stat line as his Team Canada beat Team USA. Barrett played high school ball in the U.S., at Florida's Montverde Academy, which previously produced NBA stars Joel Embiid, Ben Simmons and D'Angelo Russell.
Barrett's father played college ball at St. John's and professionally overseas and is now general manager of Canada Basketball. (President of Canada Basketball? Grizzlies adviser Glen Grunwald.) Barrett's godfather is two-time NBA MVP and Canadian hoops legend Steve Nash.
After reclassifying to graduate from high school a year early, Barrett averaged 22.6 points, 7.6 rebounds and 4.3 assists as an 18-year-old at Duke. Barrett broke the ACC freshman scoring record while being named a first-team All-American. He'll turn 19 a week before the NBA draft.
Temetrius Jamel "Ja" Morant is a 6-foot-3, 170-pound point guard with a 6-foot-6 wingspan. Physically, these measurements are nearly identical to Sacramento Kings' rising-star guard De'Aaron Fox when he entered the NBA.
A native of tiny Dalzell, South Carolina – population 2,300 – Morant was an under-the-radar, unranked high school prospect who didn't get major-conference scholarship offers until late in his prep career and decided to go to a school that expressed interest in him earlier, Murray State, which had a good recent track record of putting small guards in the NBA (Isaiah Canaan and Memphis native Cam Payne).
As a freshman, Morant averaged 12.7 points, 6.5 rebounds and 6.3 assists. 
Morant began to be considered a first-round prospect after turning heads at the Chris Paul Elite Guard Camp between his freshman and sophomore seasons, then continued to climb the prospect lists during a second college season in which he averaged 24.5 points, 5.7 rebounds and 10.0 assists, the first college player to hit both 20 point and 10 assist averages in a season. Morant was the Ohio Valley Conference player of the year, joined Barrett as a first-team All-American and had the 17th triple-double in NCAA Tournament history. He'll turn 20 a few weeks after next month's draft.  
Playmaking
Morant's dunks dominate his highlights, but his combination of speed, handle and vision is what can really make him special.
Morant has an elite extra gear but is already adept at changing speeds and directions on the move. He has a quick first step and can push or dish with either hand, with just about every pass you can imagine – and maybe some you can't – in his arsenal. He's incredible at finding open shooters with one-hand whip or skip passes and has a great touch on lobs.
He can sometimes be a little too casual and/or nervy, which led to turnover problems. Yes, Morant played heavy minutes with a high usage rate (33.3), but his usage rate was slightly lower than Trae Young's (37.1) in college with still a slightly higher turnover rate.
As with Jaren Jackson Jr.'s fouls, turnover problems are likely to impact Morant's rookie season but aren't likely to be a long-term anchor.
Morant is particularly dynamic in transition, where he can use his speed to zip past defenses, pressuring the rim and delivering open shots for teammates. And as ball-dominant as Morant has been, he's always looking to throw the ball ahead in transition to create easier scoring opportunities.
Morant would of course be fortunate to have a career as good as Mike Conley's has been, but his ceiling as a halfcourt creator and especially as a transition orchestrator is higher.
Barrett is nowhere close to Morant's class as a playmaker, but also isn't a point guard. He has upper-level ball-handling and passing ability for his size and position and projects as the kind of wing that a team can run offense through. He has a go-to-guy's game, which could be a plus or a minus depending on how effective he is at the NBA level.
Barrett has great body control and balance. While he's more of a north-south player, he uses long strides and craft to get into the teeth of the defense, where he's capable of making plays off the dribble for himself and others. He also has the size to see over a defense and find teammates.
Barrett also tended to be a little turnover prone as a freshman and perhaps tried to do too much. His usage rate (32.2) wasn't dramatically lower than Morant's despite playing with two other high-lottery draft prospects and another pro-prospect point guard. His decision-making will need to improve in the NBA, but that might be helped by playing with more shooters than he shared the floor with at Duke.
While Barrett is good in the open floor, he's more likely to call his own number in transition than to orchestrate a break.
Scoring and shooting
While Morant is obviously an above-the-rim finisher, the highlight dunks might oversell the case a little bit. Morant is probably 20 pounds (or more) lighter than frequent athletic comps Derrick Rose and Russell Westbrook when they left college, and isn't quite as dominant a pure athlete. He has a fearless, attacking mentality and can dunk on a fool when he has the space, but was only a good, not great finisher in college. Morant also needs to hone a better midrange game. Too bad Conley probably won't be around to give him some floater tips.
Morant probably does come into the NBA a better shooter than Conley did, but that's more a testament to how the game has evolved. He has a ways to go to get to where Conley's gotten in that respect.
Morant has a bit of a set shot with a low, two-hand release – he pushes the ball from his chin. He's got a little pause in his motion when shooting off the dribble that could present more problems against bigger, quicker NBA defenders. But if Morant is a work-in-progress shooter, he has shown progress already.
Per ESPN, Morant made 9 pull-up jumpers as a freshman and 35 as a sophomore. That still doesn't sound like a lot given how much Morant scored and how important that skill is for an NBA lead guard, but a four times increase is the kind of trajectory you want to see. Morant's three-point shooting improved from 31% on 2.8 attempts a game as a freshman to 36% on 4.8 attempts as a sophomore. Free-throw shooting is often a better indicator of NBA 3-point shooting potential than college 3-point shooting, and that's promising for Morant, who shot 81% from the line on more than 400 attempts at Murray State.
If Morant's shooting metrics in college aren't as promising as Young's, they're considerably better than Fox's, who made a big shooting leap in his second NBA season. And Morant was a significantly more dangerous scorer inside the arc than Young, shooting 56% from 2-point range last season compared to Young's 49% in college. Morant's 55% effective field goal percentage as a sophomore matches Conley's in his one year at Ohio State.
But Young, Fox and Conley played for major programs and Morant played at Murray State, right? There's not much evidence that it mattered. In his four games against major-conference opponents last season, Morant averaged a 27-8-8 on 49-44-83 shooting.
Barrett is a natural scorer, but even at 18 his 45-31-67 shooting percentages were a little disappointing.
As mentioned in the previous section, Barrett is an effective slasher, but while he can drive-and-dish, he's more likely to drive to score. He's not particularly explosive, but is fluid, crafty and aggressive: Long strides, a highly evolved Eurostep, an effective floater and mid-range pull-up. He's pretty left-hand dominant, but is effective spinning right into a counter move and is strong enough to draw contact and get off shots.   
From the perimeter, Barrett's shot looks a little better than Morant's, but went in less, and aesthetics don't put points on the board. You'd like to say spacing issues on a generally poor-shooting Duke team and generally promiscuous shot selection both depressed Barrett's three-point percentage last season, but the mediocre free-throw shooting underscores the wobbly three-point shooting.
Barrett needs to find a better balance of usage and efficiency, and playing with better players on a more spaced NBA floor should help him find that balance. But as much as Barrett likes to play on the ball, he's going to need to be much better off of it, both as a shooter and cutter.
Both Barrett and Morant spent so much time on the ball in college, that they'll need to adjust to being effective without it. It's a bigger issue for Barrett, unless some team tries to turn him into a James Harden-style big lead guard rather than a secondary playmaker. But it will matter for Morant too, especially on a Grizzlies team where he's likely to share the court with other ballhanders (Delon Wright) at times and likely to play with big men (Jackson, Jonas Valanciunas) who warrant post touches.
Defense
Does defense even matter when you're choosing between options to be your primary perimeter playmaker/scorer?
It's a secondary factor, but a factor nonetheless.
Both Morant and Barrett underperformed defensively in college relative to their athletic gifts. This is partly the result of each carrying such an enormous offensive load.
Morant's athletic advantages in college were such that he averaged close to six rebounds, two steals and a block per game despite often being a noncombatant in the normal flow of a team defense. At the NBA level, he'll still be offense-first, but will hope to find a little better balance.
Morant's length is good, not great, and he has a slight frame, which will likely limit his defensive versatility. Quickness and effort can make him a decent defender. Conley would be a good model. But matchups with teams that can play without a smaller guard on the floor could leave him vulnerable.
With his size and stronger frame, Barrett will be a much more versatile, switchable defender, and there's no reason he can't be at least a plus defender across multiple positions. But he'll have to pick up his effort. Like Morant, Barrett was a strong positional rebounder in college and should be one again in the NBA, but his steal (.9 per game) and block (.4) stats were pretty disappointing given his athletic ability and playing time.
Pedigree + Production vs. a Slow Grower?
Last season, when the Grizzlies were certain to have a Top 5 pick, I did a study of 20 years' worth of Top 5 picks – a 100-player sample – to see if certain types of prospects succeeded in the NBA more or less frequently than others. Back in March, I applied those results to this year's top prospects.
While nothing is guaranteed, history has shown that, unsurprisingly, the Top 5 picks who have succeeded at the highest rates are from a group I labeled "Elite/Elite": Top 10-ranked prospects coming into college who put up elite production as college freshman.
In last summer's Top 5, two players clearly fit this mold: Deandre Ayton and Marvin Bagley III. This year there are two more: Zion Williamson and Barrett.
The worst groups from a track-record standpoint were the "Elite/Non-Elite" (top prospects who struggled some as college freshmen) and "Unproven Internationals." (So maybe be cautious about reaching for Cam Reddish or Sekou Doumbouya in the high lottery.)
The most neutral group was also the largest: the "Slow Growers," players who were not considered Top 10 prospects coming into college but who emerged as high lottery prospects after multiple college seasons. Over two decades, these players have been evenly divided among stars, role players and busts. Back in March, I slotted Morant into this group. But now I'm not so sure.
Part of the Morant legend is that he wasn't considered a high level pro prospect until this past summer, when he went to the Chris Paul camp and had an experience akin to Delta bluesman Robert Johnson, who legend has it went to the crossroads and sold his soul to be granted artistic greatness. Obviously, there's no hint of a dark transaction from Morant, but there is a sense that he was reborn last summer.
But maybe Morant was always on this trajectory and we just didn't notice?
Morant averaged more than 12 points, six rebounds and six assists his freshman season. The only other freshman to do that since assists were first tracked in the early 1980s has been UCLA's Lonzo Ball. Include sophomores and only two names get added to the list: Cal's Jason Kidd and UCLA's (and the Grizzlies') Kyle Anderson. Expand to juniors and only two more: Penny Hardaway and Arizona's Luke Walton. Six players ever with a 12-6-6 before their senior season: Two superstars, two good NBA role players, one No. 2 pick whose future is still to be determined, and now likely another in Morant.
If we reclassify Morant's freshman season at Murray State as something that should have already put him on the NBA lottery radar, then he slots into a different category: "Non-Elite/Elite," players who were not considered one-and-done lottery picks on entering college, but who pushed their way into the conversation as freshmen. This group has a pretty good success rate, and it includes a couple of players we've already talked about here: Mike Conley and Trae Young.
Barring a couple of squirrelly injury situations (Markelle Fultz, Jay Williams), lead guards taken high in the NBA draft also have a pretty good track record in general, and this includes small college guards like Morant, most notably Damian Lillard (Weber State) and Steph Curry (Davidson). Lillard, like Morant, made a huge scoring jump in his second college season. The one small college point guard taken in the Top 5 that didn't really pan out: Vancouver Grizzly Antonio Daniels (Bowling Green), who didn't become a dominant college player until his senior season, a classic "Slow Grower."
Pedigree would seem to strongly favor Barrett, but the closer you look the less of a gap there may be.
The fit question
You don't draft for fit with a No. 2 pick; you draft for talent.
But I do think there are two "fit" questions that apply here: fit with how the NBA game is trending and fit with Jaren Jackson Jr.
Watch the playoffs over the past couple of seasons and you'll see that crunch-time offense is most successfully driven by quick-trigger guards who can shoot deep off the dribble (Curry, Lillard, C.J. McCollum, Kyrie Irving, James Harden, Donovan Mitchell) or big perimeter players who can create shots (Kevin Durant, Kawhi Leonard, Giannis Antetokounmpo, LeBron James, Jimmy Butler, Harden again).
Morant isn't quite the former. He projects at the moment as more of ball-dominant, attacking point guard. Morant is so good in other areas that he won't need to be a great shooter to be a good player, but probably needs to be a good shooter to be a great player. There's reason to be optimistic, but he's not a given in this regard.
Barrett more firmly fits the second mold, except he's just not quite as big and/or explosive as the very best players of this type. He seems (much) more likely to be a Butler or DeRozan than a Leonard or Durant. Those are All-Star-level players, but they don't alone carry teams into contention.
As far as a fit with Jackson, I think Barrett would be good alongside Jackson. But Morant would be better with him. Barrett can play a two-man game with Jackson, but Morant is likely to play a snugger one.
This is a good fit either way. Jackson's ability to stretch the floor will open up space for either Barrett or Morant to attack the rim. But Morant seems more likely to find Jackson in transition, on lobs, to throw a better post-entry pass and to dictate the kind of open, uptempo style that can unlock the upside in Jackson's ultra-modern skill set. Barrett and Jackson can be effective together, but Morant seems more likely to elevate his frontcourt companion.
In terms of fallout, either pick would seem to put the Grizzlies on a similar trajectory: pairing a primary perimeter scorer/creator with Jackson as a long-term foundation. We're presuming a Conley trade is likely either way, though a Barrett pick and Conley trade might put more pressure on the team in Delon Wright's restricted free agency, depending on the return for Conley.
Is it possible the best prospect is neither?
The easy answer is of course. But the real question here is whether there's a rationale to consider a different player at No. 2 (or, related, to trade down).
As implied above, Cam Reddish has the raw tools to be a No. 2 pick, but his college performance brings too many concerns to really consider. De'Andre Hunter could be an elite three-and-D role player, but you can't project the offensive growth that would turn him into Kawhi Leonard 2.0. And I'm a big skeptic on Jarrett Culver as an NBA star. The Texas Tech wing seems like a slightly less athletic, slightly older Barrett.
The one name I couldn't dismiss: Darius Garland. The Vanderbilt point guard played only a few games before his college season ended with a knee injury. In the four full games he played, he averaged 20 points and shot 48% from three.
Four games is nothing, but Garland was the top point guard prospect on draft boards entering the season. If he'd been able to play out the year and maintained those numbers, this would probably be more of a three-player column. Unlike Morant, Garland does have that quick-trigger, deep-shooting skill set that has become arguably the most important quality in the game.
Given his knee injury and limited sample of post-high-school play, you probably can't really consider Garland over prospects as rarefied as Morant and Barrett. But his tremendous upside potential (credit: Hubie Brown) might be as high.
Conclusions
If the Grizzlies put this pick to a public referendum, they wouldn't need 3,500 words to make a decision:
Pretty sure I know where this is headed. But what should the Grizzlies do with the No. 2 pick?

— Chris Herrington (@HerringtonNBA) May 15, 2019
I think the decision is way closer than this, but I wouldn't call it a coin flip either. As prospects, I think Barrett and Morant are close, but not even.
Given his size, frame and college production relative to both age and level of competition, Barrett seems like a pretty safe prospect, and maybe a safer one than Morant.
But I do think Barrett's ceiling is on the Jimmy Butler/DeMar DeRozan level. I think Morant's ceiling is more on a franchise point guard level. It's (pre-injury) John Wall with a better jumper. It's De'Aaron Fox with elite vision/passing. That's a more transformative player. At No. 2, you're hunting upside and Morant's is higher.
As prospects, independent of all else, the edge goes to Morant. But there are a couple of bonus factors that tip the scales a little further in that direction. One is the aforementioned fit with Jackson. The other is excitement.
Morant is the kind of player who has the potential to bring fans into the building and then energize them (and his teammates) when they're there. This is a bidness and you ain't too far gone to see that yet.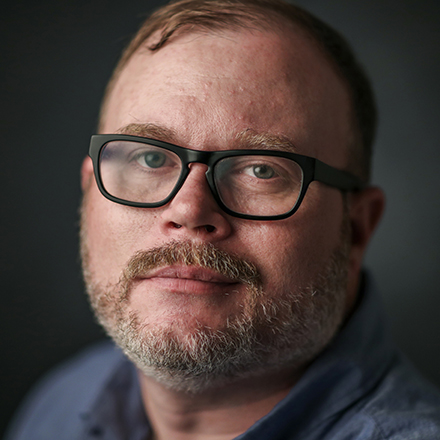 Chris Herrington
Chris Herrington covers the Memphis Grizzlies and writes about Memphis culture, food, and civic life. He lives in the Vollentine-Evergreen neighborhood of Midtown with his wife, two kids, and two dogs.
---