Performing Arts
Deaf comedian, actor finds common ground with hearing audiences
For most comedians, a microphone is their trusty tool. For Memphis native Harold Foxx, it's a prop.
That's because, while Foxx is an actor, improv artist and comedian, he's pretty much non-vocal.
"When I get up there onstage, there's a microphone for a comedian," Foxx, 41, said in an interview, conducted with the aid of an interpreter.
"And I always take it and hand it over to the interpreter, so the whole audience gets to witness that. And the first thing I say once I do that is, 'This mother (expletive) don't need no microphone right now. I am deaf.' "
---
---
The scene, Foxx says, is a reliable way to disarm both hearing and deaf fans.
"I believe in having both of them at the same time," Foxx said. "It's equal access. It's all about accessibility."
That's been his mentality since he first started telling stories on the school bus.
Born Harold Catron Jr., his mother mostly raised him without the help of his father. Though he was born hearing, he had gone deaf due to a bout with meningitis by the time he was beginning elementary school.
While his mother worked, he spent many days at his grandmother's house, watching reruns of "Sanford and Son," alongside hearing family members.
"Back then, there was no closed captioning. I would be watching, trying to understand why people think it's so funny," Foxx said.
"It wasn't until later, when they finally provided those closed captioning that I thought, 'Oh, I get the humor now!' That's where my humor and my comedy game plan shifted. That trajectory changed for me."
Aside from humor, playing basketball and football helped Foxx establish common ground with peers in the neighborhood in Orange Mound, as well as in school.
---
---
Though he moved schools often, he eventually settled at White Station High School, where he played football and took deaf theater under the direction of Rita Grivich.
"The first thing that comes to my mind about Harold is that he is gifted beyond his understanding," Grivich said.
In 2016, Grivich retired from White Station, after 48 years teaching deaf and hard-of-hearing students. She still fondly notes Harold, who graduated in 1999, was one of her star pupils.
"Very seldomly do you get a student who has so many talents that you just can't wait to open them up for him," she said.
"As deaf as he is, he was able to communicate with the hearing. He was able to bring the hearing students into his world. He would teach them sign language, if they wanted to know it, and he always had a smile on his face."
Blending his athleticism with his comfort onstage, Foxx took time in his senior year of high school to train alongside the professional wrestler Bill Dundee, trying his hand at becoming a silent, mysterious pro wrestler. However, he decided to put acting to the side altogether, accepting a football scholarship to Gallaudet University in Washington, D.C.
He took some theater courses, but it'd be years before he ever acted again in public. Instead, he became a football and physical education coach in the D.C. area.
That changed when Foxx took to popular app Vine to upload skits to social media.
"And I realized, this was my passion," Foxx said. "I got right back into it, and I didn't stop."
If he had, he would've missed out on his now more than 80,000 online followers, stints in off-Broadway productions, dates as the first deaf comedian at the Laugh Factory and a diversity scholarship to prestigious comedy institution The Groundlings Theatre & School, where graduates include Maya Rudolph and Melissa McCarthy.
To catch up with his rising stardom, Foxx moved to Los Angeles and signed with a talent agency three years ago.
Paulette Regan taught Foxx in her "mainstream" theater classes at White Station and featured him in prominent roles alongside hearing actors in high school.
"He was a great slapstick comedian actor. He could take a pratfall. He really was a physical comedian, but intellectually, he was just a riot," she said.
"He was a happy human being, and he really enlightened a lot of people."
Grivich adds that Foxx wasn't just humorous, he was also thorough.
"Harold always practiced as if he was performing. I can't seem to get kids to understand that. Don't wait until you get on the stage and think, 'Oh yeah, I need to smile.' You need to practice, so that you're actually performing, as if the people are already there," Grivich said.
"With Harold, I couldn't take it away from him. He wanted to do all his practices as if he was performing live."
Today, those instincts influence Foxx's preparation for both stand-up and improv performances.
'I'm starting to draft things. I'm starting to come up with scripts beforehand," Foxx said.
"Then I can hand that over to the voice interpreter, who's going to provide that in spoken English. That way, they have a good understanding of what I'm going to say. Because, sometimes I don't always follow that script. It's not verbatim.
"If I provide them with that information, then the timing works out, and the audience is laughing when they should be laughing."
---
---
To that end, Foxx has become more meticulous about the interpreters he takes to perform with him. In his sets, which cover his upbringing in Memphis, the idiosyncrasies of his favorite sports icons and the hypocrisies of the hearing world, Foxx has found that he works best with an interpreter who understands the cultural nuances that influence even the way that he signs.
A lot of those specific attributes to his language and delivery are as much a product of being from Memphis as words like "mane" and "junt" might be to someone who is vocal.
"I was born and raised in Memphis. Memphis will always be intrinsically a part of who I am, no matter where I'm at, no matter where I go," Foxx said.
That defining characteristic may be less pronounced than his deafness when Foxx takes the stage. But when he snatches the mic off its stand, tosses it aside and curses, it's his opportunity to use his inability to hear as an insight to common ground.
"It's a deaf man, calling it like it is," Foxx said.
"But I show that we are all the same. We're one and the same. I can't hear. That's the only difference."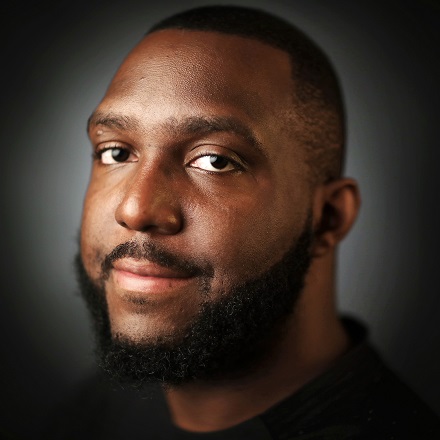 Jared Boyd
Jared Boyd is program manager for WYXR 91.7 FM. 
---