On the scene at the International Blues Challenge
Blues 'battle of the bands' continues this weekend on Beale
To my left, at the bar of Jerry Lawler's Beale Street restaurant, an excited conversation is happening in Italian. To my right, two women are discussing a bucket-list day trip to the crossroads in Clarksdale. ("She said there's nothing to really see, but you can say you were there.")
It's the second night of the quarterfinals at the 35th International Blues Challenge, and you don't have to head south to experience a little Mississippi.
Onstage is the Robert Kimbrough Sr. Blues Connection, led by the youngest son of late modern Mississippi blues master Junior Kimbrough (hill country, not Delta), and the four-piece band is about to launch into a pleasurably familiar sound for Memphis-area blues aesthetes. Not British Invasion-inspired guitar fireworks or 12-bar Chicago swagger, but that droning, loping hill-country sound. Not riffs or licks but a groove that accrues power with repetition. The bar is packed, so much so that a couple dozen people are waiting outside for entry, in case anyone leaves.
I did after a couple of songs. Not because I wasn't enjoying it, but because there were roughly 200 acts playing at roughly 20 venues along and around Beale and I wanted to try to sample a couple dozen of them in my four or five hour window to prowl around.
The IBC, a signature event of the Memphis-based Blues Foundation, is one of the city's great annual events, packing out the bars on Beale on a cold mid-week night with musicians and music lovers from around the country and around the world. It's a battle of the bands that lasts four days, starting on Wednesday and moving into the Orpheum on Saturday to crown winners.
About a decade ago, I spent a few years as an opening-round judge, and I have to say my track record was pretty good. In three of the four years I weighed in, the highest marks I gave in my round happened to be for bands that ended up winning the whole competition. (Shoutout to Chef Chris & His Nairobi Trio, Delta Moon, and the Zac Harmon Band.)
Set free, I like to bar hop and see as many acts as I can, which becomes a kind of state of the genre exercise. I give every act at least one song to persuade me to stay for another, but typically won't stay for more than three. And so I missed Kimbrough's promised cover of his dad's hill-country standard "All Night Long."
If I didn't have family obligations on Friday night, I'd get another chance. Kimbrough's band (representing the Mississippi Delta Blues Society of Indianola) advanced to the semifinals, as did most -- though not all -- of my Thursday night faves.
The Blues Challenge always brings a blend of of enthusiastic hobbyists -- enjoying a long weekend in Memphis with friends or making a blues-fan pilgrimage -- and actual or would-be pros trying to forge a music career.
The two acts representing the Memphis Blues Society this year both fall into the latter category. Performing at Blues City Cafe, The Lizzard Kings were seasoned vets showcasing their well-honed "original deep-fried Memphis music." Led by songwriter/guitarist Wally B. Ford and singer/harmonica player Charles Ponder (whose imposing stage presence and charisma brought to mind Howlin' Wolf minus the existential gravity), the Lizzard Kings were the kind of sharp, engaging blues bar band you'd be delighted to stumble upon.
Competing in the solo/duo portion of the contest, at King's Palace, were Tlaxica & Pope, made up of Austin-to-Memphis transplants Julia Magness and Chad Pope, who grabbed the room with a crawling slide-blues duet on the Rolling Stones' "Honky Tonk Women," part of an echoey, swampy, idiosyncratic set. Unlike the Lizzard Kings, these Memphis competitors didn't advance to Friday's semifinals, but I suspect I might have disagreed with the judges.
The other personal fave I saw that didn't advance was also in the solo/duo category, Vittorio Pitzalis, a dapper middle-aged man from the Italian island of Sardinia. Finger-picking and occasionally deploying a slide on his National guitar, Pitzalis performed English language originals with a great guitar tone and vocal grain. You could feel his love for the music he was playing, even if you had to strain to hear his quieter numbers above the din.
"I'm so nervous," he said at one point, glancing up at the ceiling, which added to the charm.
Also humbled by the experience was Big Jim Adam, representing the Treasure Coast Blues Society. He lured me to the upstairs bar at Jerry Lee Lewis' with a nice version of Robert Johnson's "Come On in My Kitchen," accompanying himself with some foot percussion. Johnson spent some time on Beale in his day, and has a brass note on the street about a block west.
"I'm on Beale Street, man," the performer said after the song, seemingly talking to himself as much as the room.
I'd been downstairs, where second-year competitors The Gabe Stillman Band, from Williamsport, Pennsylvania and the Billtown Blues Association, were winning over a packed room. A group of younger white guys, they played with more restraint and musicality than I'd expected. They were playing at the blues, but with good taste and true fans' ardor, and getting there. The dynamics and pacing made Stillman's guitar solos pack more punch when they came.
Both of the acts at Jerry Lee Lewis' advanced. As did the three Mississippi bands I made a point of seeking out.
Playing at Club 152, The Oxford All-Stars Band (repping the Sonny Boy Blues Society) opened with a Johnny "Guitar" Watson song and included three backup dancer/singers. This was the modern soul-blues of labels such as Jackson's Malaco and Memphis' Ecko and the so-called "chitlin' circuit," one place blues evolved as a living African-American art form after the folk revival and British Invasion of the Sixties galvanized white fans.
They were fun, but they weren't quite as together as the two other Mississippi bands I caught.
Playing at Hard Rock Cafe, Fred T & the Band, representing the Central Mississippi Blues Society, had their sound (tight, modern electric blues) and look (purple shirts, black vests) down. They were pros, and did a nice version of Wolf's "Smokestack Lightning," down to the Wolf in a henhouse whistle.
Even sharper, musically and sartorially, were Keith Johnson & the Big Muddy, representing the Vicksburg Blues Society at Alfred's. Johnson's bio says that he's a great nephew of Muddy Waters, but the band's sound probably starts more with the Beale-honed electric blues of Albert King. The six-piece band balanced Johnson's guitar with two keyboards and a separate harmonica player, and these are men who knew how to wear suits, his backing band's blacks and grays making Johnson's own pink jump out. The band's youthful energy, blues pedigree, and blend of musicianship and showmanship could well take them into Saturday's finals.
---
International Blues Challenge
Official competition site here.
Semifinals Friday, January 25 at participating Beale clubs.
Competition schedule here.
Finals Saturday, January 26 at the Orpheum, starting at noon. Finals tickets and info here.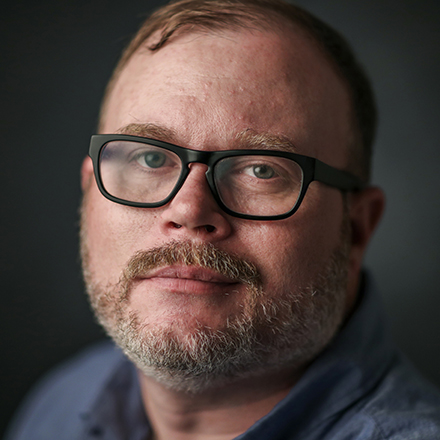 Chris Herrington
Chris Herrington covers the Memphis Grizzlies and writes about Memphis culture, food, and civic life. He lives in the Vollentine-Evergreen neighborhood of Midtown with his wife, two kids, and two dogs.
---