Director Tonya Dyson wants Slim House brand to be global
Famed, late blues musician Peter "Memphis Slim" Chatman was a literal cultural ambassador.
Chatman left his home in South Memphis for Chicago. Then he opted for Paris, where he ultimately died.
Tonya Dyson, the new director of the Memphis Slim House — better known as the Memphis Slim Collaboratory — first began working at the facility after a stint as a singer on the Holland America Cruise Line.
In the fall of 2014, Dyson began working at the Slim House as a contractor. Two years later, she became a Slim House employee: marketing and program manager. 
Dyson's ascension comes as the Slim House moves from being a Community LIFT program to being its own 501(c)3. Although the Slim House attained nonprofit status late last year, Community LIFT will remain its fiscal agent for the next three years to aid in the transition.
"As a startup nonprofit, we want to ensure their success," said Community LIFT president Eric Robertson. "Part of that is alleviating expenses of back office management, until (Memphis Slim House) is sustainable and sufficient."
According to Robertston, the mantra from the beginning was that the Memphis Slim House would be for musicians, by musicians.
Dyson, herself a soul singer and songwriter, has several goals for the Slim House. Memphis Slim House is having conversations about international expansion, trying to figure out a way to make it a global brand, creating a network of similar "Slim Houses" (with buildings named after respective namesakes), led by the Slim House here. 
The goal is for the Slim House, with its combination of historic preservation and developing artists, to be a leader and a model; seen as a partner versus competition.
"This is our fifth year of existence," Dyson said. "We've been in existence longer than a lot of hubs."
The rebuilt home of Chatman is located at 1130 College St., just steps away from the Stax Museum of American Soul Music. Created in 2014, the Memphis Slim House has four main areas of programming. Through membership, musicians can access the facility for studio and rehearsal time, workshops and seminars, discounted rental of Slim House's and Melvin's Backyard and the Front Loan program. In the Melvin's Backyard space, the Slim House puts on outdoor concerts. On the second floor of the Slim House is an art gallery featuring rotating artists. The Slim's Front Loan program provides loans up to $10,000 to established musicians for touring, merchandising, event promotion and recording.
Memphis Slim House has started surveying members, asking them where they were before they joined, where they are currently and their awareness of programming.
Dyson said when a soul singer, a hip-hop band and a rock n roll singer all see the same issues, it gives the issues more validity.
"Being an artist in Memphis, I've been very familiar with what the city lacks infrastructure-wise, what the city lacks industry-wise," she said.
Generally, Dyson said her goals are to develop more connections and partnerships, such as possible dual memberships with other organizations. She wants to expand opportunity: getting members more gigs, both locally and globally and more discounted access to needed services.
---
"Tonya is the logical choice to lead Slim House. She's been there from the start, invested, a great communicator, extremely resourceful, connected and a representative of the Slim House membership.  It was a no-brainer decision for the board."
Lee Rankin, Memphis Slim House board president
---
There are around 175 Slim House members now, but the organization reaches up to 500 musicians. That's because people can join as a band, not just as individuals.
Dyson has already been working nationally. 
She has led lectures for Detroit Sound Conservancy. Last year, that organization received a grant from the Kresge Foundation — the same organization that initially funded the Memphis Slim House — to plan and potentially purchase the Blue Bird Inn there. Miles Davis, John Coltrane and other musicians performed in the former historic jazz club.
Like Memphis Slim House in the Soulsville area of South Memphis, the Blue Bird Inn is in a historically black neighborhood that Dyson describes as "economically ignored."
"Just like Memphis – Detroit is a vast music city," she said. "Memphis goes beyond Stax (Records) and Hi (Records); Detroit goes well beyond Motown."
The Memphis Slim House and The Music District, based in Fort Collins, Colorado, are working on an artist exchange, which would bring Memphis artists to Colorado and vice versa.
"What they bring to the table in terms of combining a love and respect of musical roots and history with a desire to take that energy and move it forward into the next generations of musicians and their communities – well, it's just inspiring," said Music District director Jesse Elliott. "We're hoping to continue exchanging ideas, and then artists and tour routes and more, this year and far into the future."
Robertson said Community LIFT has always felt like the Memphis Slim House needed to be its own organization focused on music as its mission. In October 2017, then arts consultant Deron Hall completed a Memphis Slim House feasibility study, which confirmed that the best solution for the Slim House would be for it to exist as its own nonprofit entity. After that, an advisory board was formed and leaders began the process of applying for Memphis Slim House's official 501(c)3 status.
What the Slim House advisory board wanted in a leader, Robertson said, was someone who was passionate about the Slim House, the potential for it and what it does in the community.
"It was very obvious that (Dyson) was someone who got the bigger picture and had that passion," he said.
Lee Rankin, Memphis Slim House board president said, "Tonya is the logical choice to lead Slim House. She's been there from the start, invested, a great communicator, extremely resourceful, connected and a representative of the Slim House membership.  It was a no-brainer decision for the board."
Overall, Robertson said that the Memphis Slim House has proven to be a valuable asset to the Soulsville community and the community at large. And with the wraparound support that Dyson and studio manager Isaac Daniel provide.
"I'm always amazed by how often its used, by how many people have used it and by who has used it and by the number of people that have recorded songs there," Robertson said. "By what it's doing in relation to its partnership to us on the lending side."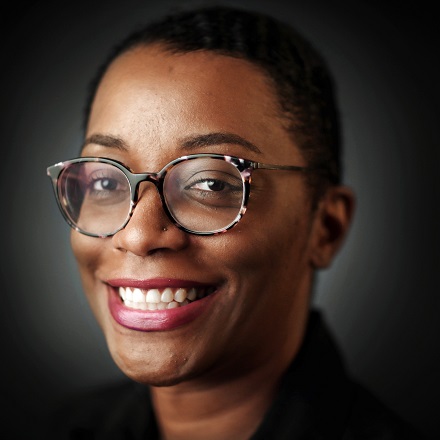 Elle Perry
Elle Perry covers arts and culture and other news for the Daily Memphian. She is a native of Memphis and a two-time graduate of the University of Memphis. Elle previously worked for the Memphis Business Journal and has written for publications including The Memphis Flyer and High Ground News.
---