What the Memphis Grizzlies locker room and the National Portrait Gallery have in common
Elliot Perry brings significant works of original African-American art to an unlikely place
If you want to see an original work by artist Kehinde Wiley, you can travel to the National Portrait Gallery in Washington, D.C., to see his leafy depiction of former President Barack Obama. You can go to the Metropolitan Museum of Art in New York or the Los Angeles County Art Museum, where his works are in the permanent collection.
Or, if you're a Memphis Grizzlies player, you can simply turn around after breaking a game of eight-ball at the locker-room pool table.
If you want to see a portion of artist Carrie Mae Weems' monumental "From Here I Saw What Happened And I Cried" series, which recontextualizes and interrogates photos of enslaved Americans, you might head to the Museum of Modern Art in Manhattan.
Or, if you're a Grizzlies player beginning that game of pool, you don't even have to turn around. Just look up.
This month, the Grizzlies locker room – the player's only clubhouse section, not where the post-game media scrums gather – became an art gallery of sorts, hosting roughly 20 original works of modern and contemporary African-American art.
Credit Elliot Perry, Memphis high school and college hoops legend, 10-year NBA veteran, Grizzlies' Director of Player Support, and an avid art collector and proselytizer for more than 20 years.
The space holds a pool table, cushy chairs, a video game system, a cereal bar, and a hydration station.
It also now includes "Lone Basketball Player," by Ernie Barnes, the painter best known for Marvin Gaye's "I Want You" album cover and the use of his work in the TV series "Good Times." And a large, untitled mixed-media piece from contemporary Atlanta artist Radcliffe Bailey, whose work was recently commissioned for the new Atlanta Falcons football stadium. And "Basketball and Chain," a provocative work from conceptual photographic artist Hank Willis Thomas.
The works, installed earlier this month, are drawn from the personal collection of Perry and wife Kimberly, which numbers more than 150 and has been the source of museum exhibitions in Tennessee and Michigan.
"I think it's dope," said Grizzlies forward Kyle Anderson. "You get a different perspective when you walk into the locker room. That they're black artists makes it more intriguing."
"I thought it was a unique experience for a lot of us," said veteran Grizzlies guard Mike Conley. "Art is something that as athletes, especially young athletes, we don't necessarily understand or get involved in. And Elliot has a passion for it. For him to bring it in front of us and to have all of those famous artists (in our space) and to hear their backgrounds and stories is something I think the guys were interested in. Especially with it being Black History Month."
Perry's unlikely journey from North Memphis hoops hopeful to significant art collector began midway through his NBA career, in 1996, when he was persuaded to explore the subject by former player and then-coach Darrell Walker.
The first original work Perry purchased was the small painting by Barnes, which pictures an elongated, nearly abstracted figure dunking a ball. After the purchase, Perry contacted the former football player turned artist, who touched up the work for him.
And though Perry initially focused on mid-century African-American art, he soon shifted to contemporary work in part because of that kind of personal connection.
"I wanted to support African-American artists at a time when no-one was. And I wanted a relationship with the artist," said Perry.
"The good thing about (collecting art) is that you get to live with it everyday. You get to enjoy the aesthetic beauty of it. And what my wife and I have been able to do is build relationships with living, contemporary artists. You get to go on a journey with them. You find an artist that's still young, still emerging, and still trying to find their way. You invest in that artist and you invest in their work. It's always good to see those artists become more successful."
If an NBA locker room seems like an unusual place to display original art, Perry was partly inspired by the history of African-American exhibition.
"We always think of art work as something that has to be in a gallery or in a museum. I was thinking back to when artists of color couldn't show in most major museums or galleries, in the Fifties or Sixties," said Perry. "They were mostly showing at HBCUs or public libraries, in limited spaces. Good spaces, but limited spaces. So I wanted to do something that was in a limited or unusual space, where no one would think fine art would be shown."
But the setting also serves to demystify art, to replicate the experience of having art in your home rather than it being something you go out to see. Perry lives his life surrounded by art and wanted to give Grizzlies players and basketball staff something like the same experience.
The clubhouse section of the locker room is where players spend "a good portion of our day," according to Conley.
"We practice for an hour and a half, but we're in here five or six hours in a day. Two hours before and two hours after, we're either getting treatment or messing around, playing pool or video games," said Conley. "It does make it feel that way, because this is our home away from home. To have art on the wall makes it feel homey, makes it feel like it's supposed to be there."
To select and organize the Grizzlies locker room exhibition, titled "Descended," Perry collaborated with Lawrence Matthews and Grace Stewart of the Memphis black arts group The Collective, on whose board Perry sits.
"I've always liked their energy and I've always liked what they were doing," said Perry. "When I was thinking about hanging this show in the locker room, I thought I'd give The Collective that job, to allow Lawrence and Grace to do their thing."
In selecting works from Perry's wider collection – which also includes pieces from such notable artists as Kara Walker, Theaster Gates, Jacob Lawrence, and Alma Thomas – the trio blended works of beauty and works of provocation, though often those elements intersect.
"Some are aesthetically beautiful, which is good. But some of them are tough works," said Perry. "We want it to be informative, but we want it to be transformative too. We want people to have open dialogue."
This might mean an impressionistic landscape by Richard Mayhew or an abstract expressionist work by Norman Lewis.
Lewis, who died in 1979, was a cohort of Jackson Pollock and Mark Rothko, the only significant black artist in the mid-century, New York-centric American abstract movement and one far less celebrated in his own time. Perry befriended Lewis' daughter while playing for the New Jersey Nets in the late 1990s.
"Lewis died a bitter person," Perry told members of the G League Memphis Hustle on a recent tour. "When he was alive, his highest price was $10,000. Now his paintings sometimes sell for more than a million."
Personal in a different way are a trio of images from Memphis photographer Ernest Withers, who captured mid-century black life like few others. The center Withers image Perry and his Collective cohorts hung in the Grizzlies locker room is of a gathering "I Am a Man" march, during Memphis' 1968 sanitation strike. A lone figure stands a few feet in front of the group. It's Perry's grandfather, Jessie Perry.
"One of my first stops when I got done playing was to go to Mr. Withers' studio (in Memphis) and sit with him and talk. I didn't know at the time that he'd taken that photo of my grandfather," said Perry.
The Kehinde Wiley portrait, "Mrs. Joseph Barrell (Hannah Fitch)," is likely the first work most will see when they enter the locker room. Wiley is best known for taking formal art of past centuries and recreating it, more colorfully, with contemporary black subjects, giving modern black life the heroic treatment once afforded to white European nobility or American aristocracy.
Perry purchased the work early in Wiley's career, before he became an art-world sensation.
One of the most provocative pieces on display is among a trio of basketball-themed works. The untitled piece was commissioned by Perry from Louisiana/Texas painter Michael Ray Charles, who explores historical racist stereotypes in his work. It depicts a black-face caricature stuffed into a fishbowl, a basketball dangling above as a kind of metaphorical carrot, its branch leafed in labels ("beyond black" "prosperity" "humanity" "influence").
"They just about ran this dude clean out of America and most of the protesters were black," said Perry of the controversy Charles' work has often provoked. "I knew he was trying to say something."
Players seem most drawn to another evocative, hoops-themed work, on the opposite side of the room.
Hank Willis Thomas' "Basketball & Chain," from his "Branded" series, is a conceptual photograph that depicts the lower legs of a black basketball player, wearing Nike high-tops, floating above but shackled to an NBA basketball.
"When Elliot showed it to us, he asked us what we thought about it. There was no right or wrong," said Conley. "What you get out of it is what you get out of it. Some saw it as people being chained to the money, that (you may be successful but) you're still not free."
"(Thomas) was asking you a question. 'What does it mean to you?,'" said Perry. "One of the questions I asked Hank is was the figure ascending or descending? Was basketball a way out or dragging him down? He said, 'I don't know. You tell me.'"
Beauty and provocation may come together most in a photo by young artist Demetrius Oliver. It appears to depict a face of a young black man covered in a lush, thick red paint. Meaning becomes clearer when you see the title: "Till." A reference, of course, to 1950s lynching victim Emmett Till.
"When I saw the title, I knew I wanted it in my collection," said Perry "It's gruesome, but beautiful in a way. Some works are meant to push people out of their comfort zone."
When asked what work struck him most, it's the one Conley mentions.
"I thought that was pretty powerful and that was the one I was drawn to first," he said.  
Perry would like to create more art collectors in the basketball world. To inspire future players-turned-art-collectors the way Walker inspired him. Wine is apparently sweeping the league. Why not something that will last even longer?
"I've always tried to get athletes, even if they don't collect, to engage in the arts. Any art is good with me, but the visual arts are what I've poured a lot of time into," said Perry.
He mentions former players Grant Hill and Juwan Howard as fellow collectors. And he may have found a new one in a former Grizzly and current Minnesota Timberwolves guard.
"Lately, over this past year, I've been working with Jerryd Bayless," said Perry. "I was in Philly last season (where Bayless then played) and he came to me to ask me about it."
What Perry says to anyone who expresses interest is that it's a journey.
"It's not about money to me. It's about the preservation of culture," said Perry. "This work is a reflection of all of us. It's about the wins and the losses."
But even if Perry doesn't produce new art collectors, he still has an impact.
As the team's director of player support, one of his charges is to help prepare players for life after basketball. And while the NBA provides a lot of post-play career advice and support, "it's not all about money" is perhaps pretty good life advice.
Perry helps point players toward a wider world via both his actions and his example. Conley, who has been with the Grizzlies – and around Perry – since he was 19, has seen it first-hand.
"He's a mentor. He's my mentor. He's a role model that all of us look up to," said Conley. "He embraces Memphis and has done everything in his power to make it a better place. And he opens your eyes up to the bigger world and helps you understand that (playing basketball) is a small part of your life.
"For most guys it ends in four or five years and then you're done in the NBA. You're blessed to make it a decade or further, so what are you going to do afterward? Elliot is the image of a guy who's taken everything from the game and used it to build a life for the next 50 or 60 years, after he's done playing."
Perry says he expects the Grizzlies locker-room exhibit to remain for another month or so. What next?
"I wish I could do this in every locker room. That it could be a traveling show around the NBA," said Perry. "It probably won't happen."
Maybe it should.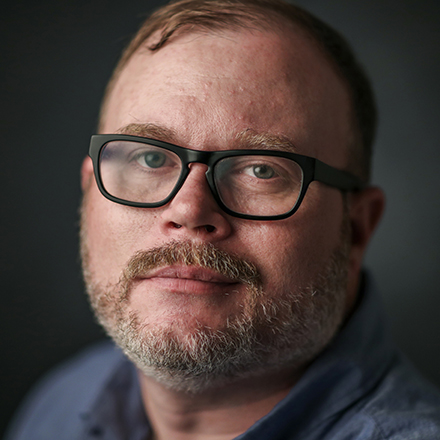 Chris Herrington
Chris Herrington covers the Memphis Grizzlies and writes about Memphis culture, food, and civic life. He lives in the Vollentine-Evergreen neighborhood of Midtown with his wife, two kids, and two dogs.
---