Meet seven Memphis playwrights
Memphis' best-known artistic export is music, the No. 1 motivator for visitors to the city, according to Memphis Tourism. Artists in other fields also put Memphis on the national stage: filmmaker Craig Brewer, dancer Charles "Lil Buck" Riley and photographers Bill Eggleston and the late Ernest Withers, for instance.  
Katori Hall, the playwright who grew up in Memphis, now is joining the ranks of prominent American dramatists with her upcoming Starz television series, and shows on Broadway and  London's West End.
After the death last year of playwright Ntozake Shange, who wrote "For Colored Girls Who Have Considered Suicide/ When the Rainbow Is Enuf," Laura Collins-Hughes said in The New York Times that Shange left behind an American theater scene "whose most exciting and lauded work in recent seasons has often come from black female playwrights." Collins-Hughes spoke with seven playwrights influenced by Shange, a number chosen because "For Colored Girls" starred seven black women.  
While Memphis may not be well-known for its community of playwrights, a number are producing works for the stage. And many of those playwrights, like Hall, are black women. One is a local theater stalwart and the co-creator of a festival working to end gender bias in the industry. Others are staging their work for the first time. And some are exploring film.
Below, meet seven women currently working as dramatists in Memphis:
Meet the Playwrights
---
Tymika Chambliss
Tymika Chambliss is a New Orleans native who moved to Memphis in 2001. She started acting in church plays at around age 10. In 2010, she started acting in community theater, then moved to directing.
"I paid close attention to the directors I worked under, the good and the bad, and started putting those lessons in a mental bank," she said. "I would take notes (all of which I still have) and read over them, during my tenure."
In 2017, she decided to produce her own play, "When Love Lives," which she had been writing off and on for three years. The inspiration, she said, was finding out she was pregnant and deciding to continue the pregnancy while being in the church as a single mother where her father served as pastor.
She first staged the play in October 2018 at the University of Memphis' Michael D. Rose Theater. She is planning an encore performance in May at the Buckman Performing Arts Center. She's also turning the production into a short film.
The major barriers she sees for playwrights in Memphis are funding and finding venues for rehearsals and productions.
"Ninety-nine percent of black playwrights in Memphis are independent: meaning, they fund their production out of their own pocket," Chambliss said. "And unfortunately, most of us aren't six-figure employees. We have jobs and families, while trying to fund our dreams. These productions cost a minimum of $5,000."
The cost of her U of M show was more than $9,000, Chambliss said. She said she sent sponsorship decks to more than 100 local businesses, mostly black-owned, and got no funding from that effort. In the end, three black-owned businesses did invest in the production.
"Memphis is the perfect city to be coined the 'Next Off-Broadway' city but where would black, independent playwrights fit when we don't have the funds to successfully produce week-long shows? And where could we produce it?"
---
Erin Cole
Erin Cole's first full-length play, "Ricochet," will start March 29 at Mt. Moriah East Baptist Church. Art with a Heartbeat partnered with Bluff City Theatre Company to bring a preview show to TheatreWorks for two nights in November. 
"I've always been a writer and an actress, but needed motivation to combine the two in the form of a play," Cole said. 
Cole is artistic director of Art with a Heartbeat, which she describes as a collective of artists and creators "who bring moments to life through the arts." Art has the power to transform, she said. "I never believed in art for art sake. I create works on stage to help people see themselves."
As a freshman at Germantown High School, she took a film production class that she says changed her life. She got involved in production and acting, participating in the school's GHS-TV news program, writing and performing in speech competitions.
Cole attended the University of Missouri, where she majored in communications with a minor in theater. She acted in shows while in college. After Mizzou, she lived in Orlando and Atlanta, then returned to Memphis three years ago. For the past five years, she has worked as a consultant, writing artistic content for conferences and events. 
---
Sharrika Evans
Sharrika Evans lives in Holly Springs and works in Memphis and Mississippi. In 2013, she was taking nursing prerequisites at Northwest Mississippi Community College when she told her parents she did not want to be a nurse. They were not fond of her idea to pursue acting as a career.
"Where I come from, they don't consider that a real job," she said. Evans' dad told her he would give her a year to produce results, then she would need to go back to college.
She quit school in 2014 and started Evans Productions in 2015 at age 21. After auditioning in Memphis and Mississippi, she decided she wanted to create the roles she and other actors were seeking.
In 2015, Evans gave herself eight months to put on a play at Southaven's Landers Center. She saved money from her part-time job as a pharmacy technician for the deposit.
That October she booked the show and held a casting call. Her father built a set. The play, "The Power of Love," sold out two nights in a row that month.
She took the show on the road, to Tupelo (March 2016), Grenada (May 2016) and Memphis (June 2016). She started writing the second part in 2016 and debuted it the next year. Last year Evans finished the third part, which she plans to produce in the second quarter of 2019.
Then she plans to transition from theater to film. She has already finished a short film, as well as a web series.
"I do know theater won't be my main focus anymore," she said. "Only because it takes so much to put on a stage play. Film is a little more flexible, a little less expensive."
---
Timberly Hope
Timberly Hope started Life Art, a collection of creatives, in 2017. The group debuted her play "Darling" at Christian Brothers University last year. Besides writing it, Hope produced, directed and starred in the play.
The main character is a "North Memphis girl through and through," Hope said. 
As a child, Hope enrolled in Playhouse on the Square's after-school acting program and performed throughout her high school years. She majored in theater at Crichton College, but when she transferred to the University of Memphis in 2008, she switched to journalism and then worked as a reporter for The Commercial Appeal.
In 2015, she became a substitute teacher for Shelby County Schools, which led to a year-long assignment at a South Memphis elementary school.
"Every day I had (students) repeat a simple phrase: 'If it can be done, I can do it,'" she said. In 2017, she decided she couldn't just tell them, she had to show them. She was cast in a Hattiloo Theatre musical, where she met Karl Robinson, who is now Life Art's dance director, and Julian Jones, who is now Life Art's music director.
Works written for Life Art rely on Memphis culture, Hope said. "People in Memphis don't run around saying, 'Hey mister, could you pass me the Grey Poupon?' They're like, 'Hey mane, give me that mustard.'"
Hope is working on Memphis-based web series and television pilots, and Hope and Jones are working on a musical. Hope is also now serving as Memphis Black Arts Alliance's ArtsReach program coordinator. The program presents arts education in underserved communities, in areas including visual arts, stage makeup and costuming.
After living in New York and Rhode Island, Hope said, she sees Memphis in a new light.
"I've fallen more in love with Memphis as time has gone on and I've gotten more experience," she said. "I'm really glad I'm from here."
---
Chandra Kamaria
Ntozake Shange directly influenced Chandra Kamaria.
Kamaria has been writing her whole life, she says, but fell in love with theater after seeing "For Colored Girls" in 1994. It was the first time she had seen a play created by a black woman about black women's issues.
She wrote her first play, "Four Women," and staged it November 2010 at Evergreen Theatre. In May 2013, she put on her second play, "The Man Store," at TheatreWorks.
Like Chambliss, Kamaria sees a lack of financial support and staging space as problems for local playwrights. 
"Other cities support independent playwrights," she said. "Hattiloo (Theatre) is here. It's trying, but it can't do everything...Evergreen/TheatreWorks is basically full." A glance at the joint website shows listings for 12 resident companies.
Kamaria says that she doesn't write the kind of plays normally seen in an indie theater production. Her plays aren't gospel or church-centered plays. "The Man Store," for instance, is about a black female scientist who clones men.
"It ain't no Tyler Perry [expletive]," she said. "I idolize playwrights from yesterday."
She is working on her next play, "Queen of the Wind," to be produced this year.
---
Ruby O'Gray
Ruby O'Gray turned 70 in January. She has nearly 50 years of theater experience and has written almost 75 plays.
"I can go in anybody's play and tell you what's wrong with it and how to fix it," O'Gray said.
She has even worked with children in community centers, helping them write one-act plays.
Her love for theater stems from being "mesmerized" in fifth grade by a performance of "A Midsummer Night's Dream" at the Front Street Theater.
In 2006, she founded Bluff City Tri-Art Theater (now Bluff City Theater Company), with Andrea Thompson Adam and Naomi Moody.
In 2012, she and director Karen Moore founded The Women's Theatre Festival of Memphis, to recognize women's contributions to theater. The two raised money using plays.
"When it was done, we shocked everyone," O'Gray said. "Did we put money in our pocket? No. But we did eat a big dinner at Benihana afterwards."
The festival's shows are either about women, directed by women and/or written by women. Originally biennial, the festival will become an annual event starting in July 2019.
The festival includes the Gyneka Awards which honor women (and the occasional man), nominated by the theater community and voted on by the festival's award committee. Eighteen women and two men have men awarded so far.
O'Gray, who has a bachelor's of art in theater management and minor in African studies from the University of Memphis, said she passed on a chance to go to California in the 1970s because of family. (She has six children.) By the 1980s, O'Gray began to tell herself: "Memphis is my Hollywood. Memphis is my Broadway."
---
Ann Wallace
Wallace is a Playback Memphis company member. Her work first appeared on a professional stage during the first Women's Theatre Festival of Memphis in 2012.
Currently she is developing a one-woman play, "Live Rich Die Poor," about author Zora Neale Hurston. "Quietly and privately I've always been a playwright," Wallace said.
"I don't mind writing for a smaller audience (i.e. 12-year-old black girls), but I think my writing tends to want to speak to as many people as it can," she said. "I'm always looking for a slice of life in someone's story that would appeal to the broadest audience."
She was a theater major at University of Tennessee at Chattanooga and lived in Chicago for five years afterwards to pursue theater. Working for Playback Memphis allows her a flexible schedule, Wallace says, and it pays artists well.
"I don't know how theater can pay artists more, but it needs to pay artists more," she said. "I was born and raised here, I want to give my gifts to the city, but it's really hard."
Wallace's husband, Darius Wallace, is also a Playback company member and does solo performances.
They met in 2008. He had been in Hattiloo (Theatre)'s "If Scrooge Was a Brother" the previous year and came back to give the new cast, including Ann, notes.
They talked about Zora Neale Hurston on their first date.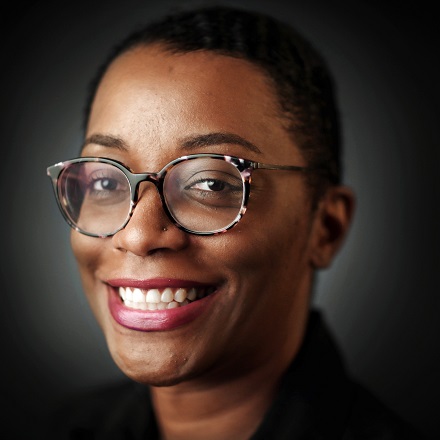 Elle Perry
Elle Perry covers arts and culture and other news for the Daily Memphian. She is a native of Memphis and a two-time graduate of the University of Memphis. Elle previously worked for the Memphis Business Journal and has written for publications including The Memphis Flyer and High Ground News.
---