A Memphis Music Road Map: The Early Years
Jug bands, country blues and the Beale Street sound
There's been Memphis music as long as there's been a Memphis, but you can't listen back 200 years.
The city's first commercial recordings happened in 1927, but even before Memphis was the home of the blues, the birthplace of rock and roll, or Soulsville U.S.A., it was a music center.
As music historian Samuel Charters writes in his classic "Country Blues," Memphis was an organizing spot for traveling minstrel and medicine shows in the era after the Civil War, the melting pot of proto-blues, country string bands, hokum music, folk songs, jigs and vaudeville from which much of modern American popular music developed.
In the meantime, Beale Street emerged as a mecca of black culture and commerce. Even before there was the technology to capture the sound, Memphis' musical reputation traveled through word of mouth and, later, sheet music, as bandleader W.C. Handy popularized the new sound rising from the Delta and onto Beale.
This was all foundation for the big booms – plural crucial – that followed. They say the blues had a baby and they named it rock and roll, but really it had twins: Rock and soul, and for a glorious while Memphis could claim to be the capital of both. We continue to live in the aftershocks.
As a listening matter, this Memphis bicentennial is more like a centennial of sound, and we decided to honor and, more importantly, explore it by creating a musical road map. Borrowing an old idea from jazz critic Gary Giddins, we decided to chart the course of Memphis music, one song at a time, from the dawn of commercial recording to today. We weren't looking for the "best" record from each year but rather ones that, collectively, can tell a story of how the city's music has evolved.
The ground rules: One recording per year without artist repeats. But because Memphis music is about breaking rules, we broke ours when it felt necessary.
After the initial burst of urban field recording in the late 1920s and early 1930s, the Depression dealt a blow to what was then called the "race music" market, and the record labels stopped coming. This first installment in a three-part series looks at those early years. 
Memphis didn't re-emerge as a recording center until the late 1940s, an explosion of local recording studios following the lead of local radio. That's where we pick up the story in the second installment, when Sam Phillips and WDIA set the stage for the rock and soul era in Memphis. 
A few times along the way, we gave individual years two or three selections. Most of these "bonus cuts" come in this first installment. The late 1920s contain so much richness packed into such a short time period that's still too little known among Memphians (or anyone else) that it felt right to indulge a slightly deeper sample.
Most of the music across all three installments comes from Memphis artists recording in Memphis, but a handful of selections check only one of those two boxes. The Memphis music story isn't just about the singers or the bands whose names are most prominent. It's often as much about sidemen, producers and recording studios that attract talent. And that shows up, too, especially in the modern era covered in the third and final installment, where Memphis' rich array of studios has helped the city remain a beacon at a time when music culture has become less regional.
Most – certainly not all – of the city's most significant artists are represented across the map, but we generally bypassed the most familiar records. There's no "That's All Right" or "Soul Man," "Dock of the Bay" or "Let's Stay Together." There's definitely no "Walking in Memphis." Most of the city's core genres are represented, but gospel and post-war jazz are mostly left out. In the evolution of Memphis popular music, they are crucial, deep tangents. They each deserve fuller treatment than we're able to give them here.
This is meant to be a road map – not the road map. One path among infinite potential routes, and hopefully a starting point for further exploration.
A final note before the songs: The mammoth achievements of Sun and Stax are both rooted in a mix of black and white, in a rich if sometimes thorny cultural merger. But the story of Memphis music is first and foremost the story of black Memphis music, and you can see it here in successive waves: The jazz and acoustic blues of the pre-World War II era in our first installment; the electric blues, R&B and emergent and evolving soul of the immediate post-WWII decades in our second installment; the hip-hop and rap of the past few decades in the third installment.  
Time to get moving. Here's the map of the early years. See below for a companion playlist, where you can listen along.
"The Memphis Blues" – Victor Military Band (1914): One of the earliest recorded versions of W.C. Handy's 1912 sheet-music sensation and part of the National Recording Registry. (Listen here.)
"Ole Miss Rag" – Handy's Orchestra of Memphis (1917): Handy made his reputation as a bandleader and especially as a composer, not as a recording artist. But this is from what appears to be his orchestra's first recording session, around the time he relocated his operation to New York. (Listen here.)
"Memphis Bound Blues" – Ma Rainey (1925): The "Mother of the Blues" was perhaps the first tent-show performer (traveling with the Rabbit Foot Minstrels, which later helped launch the career of Rufus Thomas) to bring blues to the stage. As such, she played Beale frequently in the pre-recording era. This Memphis-themed song gives a sense of what she might have sounded like at the Palace Theater. (Listen here.)
"Jazzbo Brown from Memphis Town" – Bessie Smith (1926): Perhaps the most popular pre-WWII blues singer, Smith never recorded in Memphis, but did broadcast from the city, from the Palace Theater's Midnight Rambles, via WMC radio. "Jazzbo Brown from Memphis Town" (preceded, three years earlier, by Smith's "Beale Street Mamma") testifies to Memphis' place in the musical imagination even at the dawn of the recording age. "He ain't seen no music school/He can't read a note," Smith sings. "But he's the playin'est fool/On that Memphis boat." Smith is accompanied by Memphis born and bred clarinetist Buster Bailey, who got his start as a teenager in Handy's orchestra and who may have been the inspiration for this song. (Listen here.)
"Sun Brimmer's Blues" – Memphis Jug Band (1927): From Feb. 24, 1927, this is the first commercial recording in the state of Tennessee. Listen closely – and not even really that closely – and you'll hear rock and roll already here. (Listen here.)
"Mr. Crump Don't Like It" – The Beale Street Sheiks (1927): Frank Stokes (see below) in a duo with Dan Sane, offering some on-the-scene reportage of (and subtle commentary on) Prohibition-era Memphis, where Boss Crump kept a firm watch on vice: "No barrelhouse women, cards and drinkin' no beer/Mr. Crump don't like it, ain't gonna have it here." (Listen here.)
"Memphis Scronch " – Charlie Williamson's Beale Street Frolics Orchestra (1927): The big band sound at Beale Street's legendary Palace Theater. (Listen here.)
"Judge Harsh Blues" – Furry Lewis (1928): Lewis had the fullest late-life reemergence of the 1920s Memphis bluesmen, opening for the Rolling Stones, appearing on "The Tonight Show" and in a Hollywood movie ("W.W. and the Dixie Dancekings"), and getting memorialized in a Joni Mitchell song ("Furry Sings the Blues") that he apparently hated. His early work – this plaintive lament later reworked as "Good Morning Judge" – is more in line with what we think of as classic "blues" than Frank Stokes, Gus Cannon or the Memphis Jug Band. (Listen here.)
"Nobody's Dirty Business" – Mississippi John Hurt (1928): A song popularized by Bessie Smith a few years earlier and common to blues repertoires of the day. In truth, Frank Stokes does a better version under the title "Tain't Nobody's Business If I Do" and Hurt recorded a better version upon his 1960s "rediscovery." But this marked the first recording session, in Memphis, of a titanic blues artist. And the threat of the lyric still makes for an unsettling juxtaposition with Hurt's serene style. (Listen here.)
"Stealin', Stealin'" – Memphis Jug Band (1928): An urban combo with a good beat, pleasurable singing, a swinging communal sound and a droll comic lightness. The line from this to Louis Jordan's jump blues to Chuck Berry's (and Ike Turner's) full-fledged rock and roll is straight as an arrow. (Listen here.)
"Frank Stokes' Dream" – Frank Stokes (1929): A Beale Street performer who predated W.C. Handy's Memphis period by several years and cut his musical teeth in the pre-blues medicine and minstrel show circuits. One collection of Stokes' work declares him the "Creator of the Memphis Blues," and he may deserve the title more than Handy. In the annals of blues boasts, not sure it got any better than this: "Take me in your arms/Rock me good and slow/So you can hear them Frank Stokes blues anywhere on earth you go." (Listen here.)
"That's No Way to Get Along" – Rev. Robert Wilkins (1929): Recorded at The Peabody hotel. Wilkins would later re-work it into "Prodigal Son," which the Rolling Stones would cover on their 1968 album "Beggars Banquet." You can still see Wilkins' son, Rev. John Wilkins, carrying on the gospel-informed blues tradition around the Mid-South. (Listen here.)
"Bring It With You When You Come" – Cannon's Jug Stompers (1930): Perhaps the Memphis Jug Band's greatest rival for jug-band supremacy, and one of their loosest, most swinging records. (Listen here.)
"Memphis Flu" – Elder Curry & Congregation (1930): It's unclear how much of a Memphis connection the guitar-strumming Church of God in Christ evangelist/bandleader had, and the song wasn't recorded here but down the road in Jackson, Mississippi. But this astounding record works up an apocalyptic fervor. ("It is God's mighty hand/He is judging this old land ... Yes, He killed the rich and He killed the poor/And He is going to kill more/If you won't turn away from your shame.") It was apparently inspired by the worldwide influenza pandemic of the previous decade rather than the series of yellow fever epidemics that decimated Memphis in the previous century. (Listen here.)
"Going Back to Memphis" – Charley Nickerson with the Memphis Jug Band (1931): The Memphis Jug Band was something of a collective revolving around leader Will Shade. Here they back vocalist Nickerson for one of the first homegrown civic anthems, about being cold up north and wanting to come home: "I wrote my gal a letter way down in Tennessee/Told her I was up here hungry, hurry up and send for me." (Listen here.)
"Where is My Good Man At?" – Memphis Minnie (1932): Lizzie Douglas and husband Joe McCoy were given the names Memphis Minnie and Kansas Joe by a Columbia Records talent scout. The name forever ties Minnie to the city where she first emerged, on a longer journey from Mississippi to Chicago, and this duet was recorded soon before the couple moved north. (Listen here.)
"Country Woman" – Will Batts (1933): Jug-band-era fiddle player, who pops up all over the era's Memphis recordings, gets a solo vocal showcase that underscores Memphis' place as the urban capital of a country culture. (Listen here.)
"I Let My Daddy Do That" – Hattie Hart (1934): She didn't develop Memphis Minnie's reputation – or her catalogue – but Hart may have been the best female singer on the 1920s/1930s Memphis blues/jug band scene, her swaggering, lowdown vocals a secret weapon on several Memphis Jug Band cuts. This solo credit is in the same vein. (Listen here.)
"They're Red Hot" – Robert Johnson (1936): The most legendary of acoustic Delta blues singers, Johnson never recorded in Memphis, but grew up partly in the city and spent most of his life in the vicinity. One of the few known photos of Johnson was taken on Beale Street at Hooks Brothers Photography. A lot of Johnson's most famous sides are pretty heavy, but this hokum song about Delta tamales (among other subjects) perhaps feels the most like it could have been informed by his time in Memphis. (Listen here.)
"For Dancers Only" – Jimmie Lunceford Orchestra (1937): The Manassas High School band director's group (first called the Chickasaw Syncopators) began touring and recording at the dawn of the 1930s, landing at Harlem's famed Cotton Club, where they followed Duke Ellington and Cab Calloway and became one of the signature jazz orchestras of the swing era. Former Manassas student Jimmy Crawford, on drums, would go on to play with the likes of Frank Sinatra and Dizzy Gillespie. (Listen here.)
"Easin' Back to Tennessee" – Sleepy John Estes (1938): The Jim Crow South was an oppressive place, but still home, and the Great Migration wasn't without pangs of homesickness. Estes was from nearby Brownsville, but cut his first records in Memphis a decade earlier. Recording in New York here, at the tail end of the Depression, he dreams of being back home. (See Nickerson above and Memphis Slim below.) (Listen here.)
"It Makes No Difference Now" – Charlie Burse & His Memphis Mudcats (1939): A Memphis Jug Band veteran evolves with the times, in a piano-based small-jazz/pop combo. (Listen here.)
"Memphis Oomph" – Swift Jewel Cowboys (1939): The rare pre-Sun Memphis country recording, sort of. It's western swing, Memphis-style. The band was founded in Houston earlier in the decade but relocated to Memphis after its bandleader was transferred by his job. Recorded at the Gayoso Hotel. (Listen here.)
"Parchman Farm" – Bukka White (1940): Booker T. Washington White recorded his first sides in Memphis in 1930 and died in the city in 1977. In between, he spent time at the Mississippi State Penitentiary (Parchman Farm) and moved to Chicago upon his release, recording this autobiographical song around that time. (Listen here.)
"Shelby County Blues" – Memphis Slim (1941): Recorded soon after arriving in Chicago following a decade of honing his craft in the blues joints and roadhouses of Memphis and the wider Mid-South, Slim sounds ready to go back: "My home is Shelby County/That's where I long to be/Well, I got women down there/Mean the world and all to me." (Listen here.)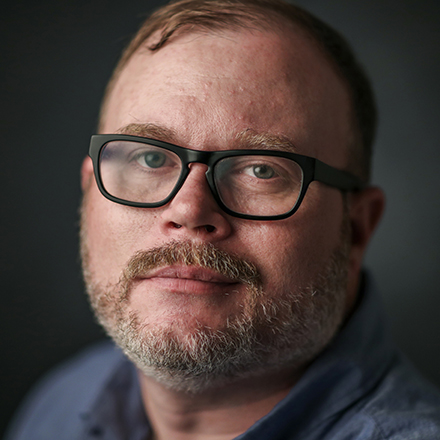 Chris Herrington
Chris Herrington covers the Memphis Grizzlies and writes about Memphis culture, food, and civic life. He lives in the Vollentine-Evergreen neighborhood of Midtown with his wife, two kids, and two dogs.
---