Brooks Museum showcases quartet of new exhibits and installations
Contemporary artists from France, Spain, and Colombia on display inside the museum and beyond
On Saturday, the Brooks Museum of Art will be active inside and out. The work of renowned Barcelona sculptor and artist Jaume Plensa will make a Memphis debut as his "Talking Continents" exhibit opens to the public. Meanwhile, a secretive, week-long "Outings" project installation from French artist Julien de Casabianca will begin at parts unknown across the city.
Beating them to display this month have already been an imaginative built-in-place rotunda planting from Bogota sculptor Federico Uribe and a timely new mini-exhibit of images from late Memphis photographer Ernest Withers.
September: A month of makeover at the Brooks.
It's not as dramatic as the reinvention that came with the museum's 2017 centennial. And it's certainly nothing like the mammoth move that awaits with a Downtown relocation half a decade down the line. But it's still a period of change for the museum, with more looming on the near horizon.
"It wasn't exactly intended that way," said Emily Ballew Neff, the museum's executive director. "We thought we might have done Brooks Outside in May, but we wanted to bring Julien in for an extra workshop. Exhibition schedules are usually set three years out. But the fall is usually when we kind of load it up."
The trio of living international artists featured by the museum this month follows the drive for the museum to be more modern and more diverse that Neff brought when she came aboard in 2015. But exhibits from a notable Memphis artist and an American master are on tap.
"That's our DNA," said Ballew Neff. "We take very seriously local, regional, national, and international."
Some notes on what's new and what's next at the Brooks:
Up a Tree
Colombian artist Uribe is a classically trained sculptor who took a left turn in the past couple of decades, beginning to create works from found materials.
For the Brooks' "Rotunda Projects," Uribe came to Memphis earlier this month and spent a week assembling a 23-foot tree -- with the Brooks building the armature -- that rises from and provides a canopy for the museum's main lobby.
The trunk is made from Salvation Army pants that have been smocked and the branches from khaki slacks. The leaves are socks from Goodwill died in various shades of green and brown. Birds made from books fly amid the display, with animals in the mix formed from hundreds of spent bullet casings individually drilled into place.
Minus the bullet casings (one hopes) it looks like what might have happened if you've been nagging your kids to clean their room and they suddenly became audacious in their creativity. It could be the premise of a great children's picture book.
A video installation from artist Nam June Paik spent 13 years in the museum's lobby, but in conjunction with the museum's centennial, Ballew Neff started the "Rotunda Projects," with shorter-term installations typically designed expressly for the museum. Uribe's tree is expected to be in bloom for about a year.
"Artists love working with this space. When they come here and see it, they get big ideas," said Ballew Neff. "The idea was to create a space so that when you first walk in, even before you go to the ticket desk, you have an experience with art."
Listening Through Withers' Eye
At a small gallery off the rotunda, the Brooks has been alternating the work of the city's two most famed photographers, the pioneering colors of William Eggleston and the documentary black-and-whites of Ernest Withers.
Withers is most often associated with his fly-on-the-wall photographs from the heights of the civil rights movement, but the grouping of Withers photos that went on display this month, under the title "Buck and a Half a Piece," showcases a different aspect of his work: His proximity to a golden age in Memphis music.
There's a now-timely image of Aretha Franklin in Memphis, alongside Coretta Scott King and Ben Branch (the last musician to play for Martin Luther King) at Club Paradise during a July 1968 Southern Christian Leadership Conference convention. You can feel the pall of sadness hanging over the image.
There's also joy and surprise: A famous photograph of Rufus Thomas and Elvis Presley on stage together at a 1957 WDIA Goodwill Revue. Howlin' Wolf, in a white jacket, leaning hard into the mic at City Auditorium. Memphis Slim at the Peabody and the Phineas Newborn Band at Club Flamingo
It Floats
The mood will change at the Brooks starting this weekend, when visitors descend from the lobby to the museum's rotating main exhibit space.
"You have this exuberant rotunda that's whimsical and fun and you go down into the (Jaume) Plensa (exhibit) and it's a very contemplative piece," said Ballew Neff.
"A lot of people don't know that they know who Plensa is," said Brooks chief curator Marina Pacini of the Barcelona-based artist, whose work appears in Memphis for the first time.
Plensa is probably best for Crown Fountain, in Chicago's Millennium Park, a permanent, interactive installation where giant faces spout water into a reflecting pool from multi-story glass brick towers.
"Talking Continents" consists of 19 die-cut steel sculptures that hang suspended from the ceiling. Five larger pieces topped with human figures represent the five main continents, surrounded by an archipelago of smaller pieces. Each is constructed as a jumble of letters from nine different alphabets.  
"One of the things Plensa's really interested in is the way that language serves to separate us," said Pacini. "But at the same time, it's the building block of communication that can bring us together. It has the possibility of being positive or negative."
The intentional lighting creates flat doubled images in shadow across the floor, the single light on each figure "to make sure the shadows are sharp and tight and gorgeous," said Pacini.
Some smaller figures are hung with a single wire, allowing them to engage in a subtle dance with the room's HVAC system.
"There's an interesting dichotomy between the mass of the shape and the lightness of it," said Pacini. "The fact that it's steel but they are these lovely diaphanous objects."
An audio tour will include a five-minute script with "meditative elements," offered in "as many languages as we can find native speakers," said Pacini.
Visitors to "Talking Continents" in Memphis will get a bonus not included in previous exhibitions of the work: A centerpiece alabaster sculpture ("Laura II") and related drawings, on loan from Galerie Lelong in New York, which represents Plensa.
"Some people are familiar with his sculptural work, but there's no way you can appreciate the beauty via photographs, what happens when they're properly lit," said Pacini, who notes that Plensa's studio assistant flew in from Barcelona to help with the installation and oversee the lighting.
Take it Outside
In addition to the Rotunda Projects, the Brooks' centennial brought the creation of the ongoing Brooks Outside series, which has brought giant, glowing David Lynchian rabbits to the grass of Overton Park and a Big Red Ball and tape art to locations around the city.
"The whole idea behind Brooks Outside was was to take the museum beyond its walls and out into the community in some sort of intense and usually short period-- no longer than a month and sometimes only 10 days," said Ballew Neff.
The latest Brooks Outside is an "Outings" project from French artist Julien de Casabianca, which aims to move art "from museum walls to the streets." "Outings" has come to cities around the world. According to the listings on the projects web site, Memphis will be the eighth U.S. city where the project has appeared.
Casabianca came from Paris in April to do a workshop with representatives from different neighborhoods, according to Neff.
"He's done these all over the world and it's taken a year of scouting and getting contracts signed to use the private buildings where these will be seen," said Neff  "He organizes these workshops and everyone chooses what he calls 'characters' from artworks in the Brooks collection. Then he digitizes them and blows them up. The smallest are life-sized and some are three to four stories high, and they will appear on 21 different buildings around Memphis."
This time, the idea of "Brooks Outside" gets literal.
The first installations, of human-sized pieces, will begin on Saturday. The final piece, at the Brooks itself, will be installed on Friday, September 28th, culminating in a party on the museum's plaza.
Where the Red Ball Project focused mostly on Downtown, Midtown, and Soulsville, "Outings" will branch out further, with installations in Frayser and East Memphis.
"We knew that Red Ball was a great success, but we really wanted to broaden that footprint," said Ballew Neff. "Kurt [Perschke, of Red Ball] was looking for the marriage of site and foot traffic. Julien prefers to have buildings that have the patina of age. He doesn't want it to be crisp and shiny and newly painted. He likes what happens to the art work when it blends with the buildings."
Behind the Scenes and Down the Line
This quartet of new exhibits and installations won't be alone for long. In October, the Brooks will launch an exhibit of work from Memphis College of Art notable Ted Faiers. All but one of the works are from the Brooks' own collection, with an extra work on loan from the family.
In December, the museum will bring in "Georgia O'Keeffe: Visions of Hawai'i." 
"Because she's become such a cult figure, I think it's obscured the fact that she's one of the greatest American artists," said Ballew Neff. "It's a small show, about 20 works or so, from when she went to Hawaii in 1939, answering the call create some work for what is now the Dole Pineapple Company. It started as tourist brochure Hawaii, but she went deeper into the body and landscape of the place."
The O'Keeffe exhibit will be a kind of homecoming for one of the pieces, a part of the Brooks permanent collection that has been on loan for the exhibition.
There have also been some behind-the-scene changes at the Brooks. Curator Stanton Thomas, who oversaw the museum's widely loved Carroll Cloar exhibition in 2013, left recently to take a promotion as the curator of collections and exhibitions at the Museum of Fine Art in St. Petersburg, Florida. The Brooks will be announcing his replacement in the fall.
This month, though, the museum welcomed Kimberly Jacobs as inaugural Joyce Blackmon Curatorial Fellow in African-American Art and Art of the African Diaspora, a two-to-three-year curatorial fellowship created in honor of Blackmon, a Brooks board member and retired MLGW executive.
Jacobs is a Mississippi native who was previously at the Zeitz Museum of Contemporary Art in Cape Town, South Africa.
And the museum has welcomed back Andria Lisle, who had left the museum to work on the Fourth Bluff project. Lisle returns into a new position as Associate Curator of Strategic Engagement. A longtime music professional in many forms, Lisle curated the current Withers exhibit.
As for the museum's plans to relocate Downtown as part of a the larger riverfront redevelopment? It continues to move with deliberate speed. An architect selection committee has been meeting and the museum will begin a second round of public engagement over the next month.
"We're in a quiet phase of fundraising, which is going very well," said Ballew Neff. "The Tourism Development Zone [approval] was a milestone, because it allowed for parking and infrastructure needs that are obviously of great value to the Brooks."
As the Brooks plans for a move several years down the road, they're focusing on the questions that continue to direct their ongoing work, according to Ballew Neff: "What do you want your art museum to say about your city? What do you want to tell people about Memphis via the art works that have been collected for a hundred-some odd years?"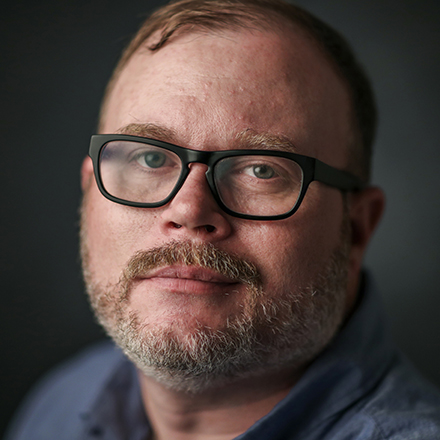 Chris Herrington
Chris Herrington covers the Memphis Grizzlies and writes about Memphis culture, food, and civic life. He lives in the Vollentine-Evergreen neighborhood of Midtown with his wife, two kids, and two dogs.
---