Advisory board to hold chamber, EDGE accountable
During the spring, controversy sparked a joint meeting of the Memphis City Council and Shelby County Board of Commissioners.
The area had not seen a significant corporate headquarters or advanced manufacturing economic development win for quite some time.
Some elected officials blamed the Economic Development Growth Engine (EDGE) for Memphis & Shelby County. Others blamed the Greater Memphis Chamber.
Who was responsible for recruiting new industry to the Bluff City? Who was responsible for retaining the companies it has? It wasn't clear and finger pointing ensued.  
The one thing that was clear? Something had to change.
After months of ad hoc committee meetings and recommendations, all parties have come together with a solution: an advisory board that, at minimum, will include representatives from the city, county, chamber and EDGE.  
The advisory board creates a management and feedback process that does not exist today.
"After months of discussions, ad hoc committees surrounding needs and issues, the consensus naturally arose that there are many things we can or should do," said Reid Dulberger, president and CEO of EDGE. "This is not the end. It is the beginning. One thing we could do simply, take a structure we created five years ago and bring it up to date."
In 2014, the late Phil Trenary, then president and CEO of the chamber, and Dulberger signed a memorandum of understanding outlining the chamber's and EDGE's respective roles and responsibilities.
"Our goal was simple. It was to ensure each organization knew what their roles were to avoid stepping on each other's toes and to make sure we were all utilizing available resources and not duplicating efforts," Dulberger said. "What we've found in the intervening years and discussed over the last few months, while that process worked, it wasn't enough. Everyone realized we could do more."
Now, the chamber and EDGE will operate as a joint venture, held accountable by the advisory board.
Memphis Mayor Jim Strickland said he was grateful chamber chairman Richard Smith, who is also chief executive of FedEx Trade Networks, and Memphis City Council chairman Berlin Boyd initiated a discussion about local economic development practices eight months ago.
"If it weren't for their leadership, this intensive review frankly probably would not have happened," he said.
Smith and Boyd voiced concerns that there needed to be more accountability. Someone had to answer to the lack of economic development projects coming to Memphis and Shelby County.
"This new, shared oversight committee makes our economic development ecosystem more of a Common Operating Unit (COU), to use a military term, allowing for more aligned goal setting against community priorities and true shared accountability for outcomes," Smith said, reached by email as he is currently in Tokyo on business. "That is a huge part of what has been lacking."  
"All of us need to be held accountable," Strickland said, "elected officials, the chamber and EDGE."
Strickland has taken a data-driven approach to city government and wants to apply that same approach to economic development.
"We need data to tell us what sectors we should go after and within those sectors what businesses we could poach and bring to Memphis," Strickland said.  
In addition to targeting industries Memphis-Shelby County wants to attract and grow, the board will set goals and objectives, such as number of jobs and average salaries to qualify for incentives.
The idea for the advisory board came from Phoenix.
"They have a board, and every year, they determine what the goals are. Then, at the end of the year, they measure the results," Strickland said. "They celebrate the victories and figure out where they fell short."
Reports will be generated on a quarterly basis, so not only the board will be able to track progress, and hold EDGE and the chamber accountable, but so will the public, City Council, County Commission and other interested stakeholders.
The board will be the "public face" of the new joint venture, Dulberger said, whose members will ensure the entity is not only doing its job, but being effective.
"If we're not being as effective as we all want to be," changes can be made, he said.
"Having the advisory board in place creates a forum," Dulberger said. "If there are process improvements that need to be made, the advisory board will be a neutral body that can vet if issues are substantive."
As mayor, Strickland is held accountable by the public for economic development.
"The public is the ultimate boss," he said.
The advisory board meetings will be open to the public and the goals and objectives will be based on research.
"You've got to have researchers determine is 1,000 jobs reasonable in the coming year given economic conditions, or is 5,000?" Stickland said. "I don't know. That's not my expertise. But I do know we need to get that expertise." 
The plan is to hire eight to 10 people to expand the research capabilities of the chamber and EDGE and address another concern of Smith's and Boyd's — that EDGE's incentive process for luring companies is too cumbersome.  
Strickland estimates upping the staff will cost about $600,000. Where it comes from has not yet been identified.     
The money will be used to hire people to "shepherd" new businesses through the recruitment or retainment process from when the chamber first engages with them all the way through to their ribbon cutting, Strickland said. And EDGE will hire a new vice president of workforce development.
"The new role would be the top position at the Greater Memphis Alliance for a Competitive Workforce (GMACW) to help address what Strickland and others refer to as Memphis' greatest economic development challenge," Dulberger said.  
Pauline Vernon, interim GMACW executive director since Glen Fenter resigned in 2017, has communicated to EDGE she has other ideas for her future, Dulberger said.
In an interview with The Daily Memphian in October, detailing what would be next for the chamber in the aftermath of Trenary's murder, Smith said he planned to pull the chamber and EDGE together, create a workforce partner collaborative and create a supplier diversity "concierge" concept.    
"These extra resources to shepherd ensure there's no ball dropped and there's a smooth handoff," Strickland said.  
The new hires also will work with existing companies who want to growth their business, resulting in more jobs and investment.
Strickland has made it clear business attraction and retention is important, but it is not the entire discussion about what drives the local economy.
"It's a much broader discussion than simply economic development services, it's quality of life, workforce and crime," Dulberger said. "The city and county are involved in a broad-based effort to improve economic vitality and this is a piece of that puzzle."  
While the chamber staff will continue to report to its private leadership board and the same for the public entity EDGE, the new advisory board puts a small group of individuals and community leaders squarely over the joint effort.
Before, each was responsible for its own piece. Now, they share mutual responsibility, with all recognizing the importance of measuring and managing results.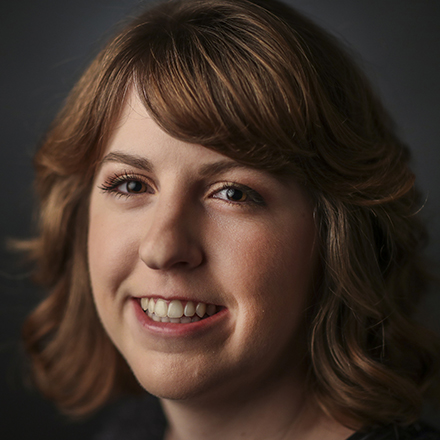 Michelle Corbet
Michelle Corbet covers business for The Daily Memphian. Prior to, she was a reporter at the Memphis Business Journal. A native Memphian and University of Memphis graduate, Michelle covered business in Conway, Arkansas after college. Michelle got her start covering business as an intern at The Commercial Appeal.
---