Golf, military service foster friendship sealed with kidney donation
Loosely holding a rolled-up program in his hand, Dustin Lehmann tapped it on his knee as if playing along with the Memphis Symphony Orchestra's Veteran's Day performance Saturday night.
The combat veteran of both Iraq and Afghanistan was completely unsuspecting of the recognition that was about to take place.
With everyone seated following intermission, a video began to play. It was Scott Moore, the orchestra's principal trumpet player, talking about his experience undergoing a kidney transplant at Methodist University Hospital's Transplant Center this summer.     
Seeing Moore on the screen, Lehmann immediately turns to a mutual friend, laughing and whispering something under his breath.
About eight years ago, it was a particularly cold and damp stretch of Memphis weather when Moore noticed there was one other guy as crazy as he was at The Links at Overton Park golf course. It was Lehmann.
They were both practicing very near a sign that read "No Golf Practice."
"Before I even asked him his name, I think both of us knew we already had a lot in common," Moore told the audience Saturday night.
"It's often said if you really want to learn what kind of person someone is, you should play a round of golf with them," Moore said.
"One of the first rounds of golf I played with Dustin, he hit a really bad shot, which happens less frequently than it does for me, and he said, 'Well, nobody's shooting at me,'" Moore recalled. "I thought, wow, that is great perspective."  
Lehmann has two dates tattooed on his right arm — Oct. 3 and June 6. The dates represent two men he was unable to save while serving as a medic in the U.S. Army. Lehmann served with the 3rd Battalion 75th Ranger Regiment and 82nd Airborne Division. He was deployed seven times: five times in the Army and twice as a civilian contractor.  
This year on June 6, Lehmann completed the first round of donor compatibility testing to see if his kidney would be a match for Moore.
"He's always talked about June 6 as the day as a medic in the Army Rangers he couldn't save his friend's life," Moore said. "Now, it's also the day when he began a process to save another friend's life."
Sitting in the orchestra section Saturday night, Lehmann wiped a tear from his face. The two women sitting in the row behind him put their hands on his shoulder.
"Dustin is reluctant to be called a hero," Moore told the audience. "I've learned from my time with him, anyone who's served in combat will tell you the real heroes are those who didn't come back. I understand that and I respect that, but because of my Ranger kidney I get to come home to my wife every day."
Moore then gave the audience a better idea of what Lehmann had whispered to his friend at the start of the video.  
"So ladies and gentleman, and with apologies for those who are sitting around him for the profanities you no doubt heard over the past couple of minutes, please join me in thanking Dustin Lehmann for his service to our country and for his gift of life."  
The crowd erupted in applause as Lehmann popped out of his chair and raised a hand in acknowledgement.
Sitting in the clubhouse at The Links at Galloway golf course Monday morning, Moore admits with relatives coming in from out of town, he almost leveled with Lehmann, but with so many stakeholders coordinating the surprise, he had to keep it a secret.
"What that interprets as, is Scott convinced everyone around me who knows and loves me to lie to me," Lehmann said with a laugh. "I was completely surprised."  
Moore is 57. Lehmann is 34. Self-described as immature, paired with Lehmann's "old soul," Moore likes to say together they are about 43 years old.
As the two became friends walking local golf courses, they had a lot of time to talk and eventually told each other things they hadn't discussed with anyone else.
Moore's wife, Susan, likes to joke that she's his wife, but Lehmann is his soulmate.  
About three years ago, Moore was playing golf at Galloway when he started coughing up blood. He went to the doctor, then the emergency room. After an MRI and a biopsy, Moore was diagnosed with IgA nephropathy in December 2015.
Also known as Berger's disease, the condition occurs when IgA proteins build up in the kidneys, causing inflammation that can result in kidney failure.  
Moore was being treated with heavy doses of the anti-inflammatory drug prednisone, and he had adverse reactions.
"I remember I told my doctor, 'I don't know if my life is worth living. I can't play trumpet or hold a golf club,'" Moore said.
He sought a second opinion and found nephrology specialist Dr. Bobby Kelley, who took Moore off prednisone and instead treated his high blood pressure and enacted lifestyle changes, such as diet and exercise.
The treatment was successful until this spring, when Moore's health took a turn for the worse. While walking through the University of Memphis parking lot to symphony rehearsal, Moore had to stop and rest several times. When he made it to his chair, he could barely catch his breath.
"I told my second trumpet player, 'You may want to take this music home and look at it because I'm not sure I'll be here for the rest of the week,'" he said.
By May, Moore's kidneys could no longer function and he began dialysis.
The treatments lasted about five hours, three days a week. Moore needed a way to entertain himself, so he took up a new skill.  
"On the first day I'm sitting there and I've got these tubes coming out of me and blood is going into this machine and spinning around. My first thought is, 'This is like in "Young Frankenstein" when they're doing the transfusion.'"     
So he took a selfie and, using his smartphone, Photoshopped the image of Gene Wilder screaming, "Give my creation life!" standing over the dialysis machine.         
He posted the image on Facebook and it was a hit. Moore passed the time by honing his skills and using his sense of humor to educate more people about dialysis.
Moore and the dialysis machine popped up in all kinds of iconic images – sitting on the bench with Forrest Gump, behind the pottery wheel with Patrick Swayze's character in "Ghost" and standing with the characters of "Ferris Bueller's Day Off" in the museum at the Chicago Art Institute.       
"When it came time for me to get a kidney, my wife and I joke that we almost expected (Lehmann) to show up on the front porch with a cooler, hand it to us and say, 'No questions,'" Moore said.
In 2013, Lehmann moved away to attend law school at the University of Cincinnati. But he's kept in touch with Moore and their mutual friend Brandon Knisley, who sat beside Lehmann at the orchestra Saturday.
Knisley worked for the symphony, negotiating contracts between musicians and the organization, before taking a job as the annual giving director at private school Hutchison.
Each living a block away, Moore and Knisley struck up a friendship and would meet at Young Avenue Deli to hash out problems.
For the past five years, the three have kept in touch using Facebook Messenger.
"Every single day, unless one of us is in the city of the other, the thread is active with anything from politics, relationships, friendship to just mundane weird facts that one of us knows and the other two don't," Lehmann said. "Everything is covered."
Naturally, the three started messaging about Moore's condition. Most people receiving dialysis are waiting for a cadaver donation, which can take years. Moore had five years at the most.
"That's the easiest decision I've ever made," Lehmann recalls. "Not even a decision. When I found out I was like, 'Yeah, of course you can have my kidney.'" 
When Lehmann got the call from Methodist that he was a match, he was with Moore, walking on the Overton Park golf course where the two first met.
"It's pretty surreal," Lehmann said. "For a lot of people, the process of getting a kidney and finding a donor is very long and tedious. For us, it was smooth."  
Through the process, every medical person Lehmann talked to would tell him he could back out at any point and they would come up with a reason so Moore wouldn't have to know Lehmann changed his mind.
This summer, right before they wheeled Lehmann back to surgery, he said, "Guys, before this happens, I need something."
They all tightened up, knowing he was going to back out at the last minute.
"It's not often that a man's organ is outside his body," he said. "I need someone to take a picture of my kidney and text it to me."
The surgery staff thought about it and told Lehmann there might be a waiver he could sign.
When Lehmann woke up in recovery, the anesthesiologist walked by and whispered, "Check your phone."
After surgery, Moore flexed his Photoshop muscle one more time, creating a version of Michelangelo's "The Creation of Adam" with Lehmann as God, himself as Adam and the kidney at the end of their outstretched arms.
"When I lived here, we used to walk 18 holes here at Galloway, go eat Mexican food, get a Jerry's Sno Cone and then be like, 'Well, I kind of feel like playing 18 more,' so we'd play 18 more. As his condition got worse, we weren't able to do that," Lehmann said.  
On Friday, Lehmann and Moore played a round, then Moore cooked dinner and went to rehearsal that night.
"To see his energy levels back to where they were is amazing in just 90 days," Lehmann said.
People are often hesitant to become a living donor, Moore said, because they are concerned about what will happen if their only remaining kidney fails.
"What we learned is, if something happens, Dustin will go straight to the top of the transplant list," Moore said.
Since the transplant, several of Moore's friends and acquaintances have inquired about becoming living donors.
"There are some people who wouldn't help me move a sofa across town who are volunteering to give a kidney," Moore said. "It's not so much about their feelings for me, but how they see themselves. It's a beautiful thing. My faith in humanity has been elevated through this whole experience. Like I told my daughter, 'I wish I'd gotten sick sooner. Everybody's been so nice.'"    
After serving in the Army from 2004 to 2010, Lehmann took some time off in Costa Rica. When he decided to come back to the U.S. for college, a Google search introduced him to the University of Memphis. Originally from St. Louis, he'd never been to Memphis, but something drew him here.
"I'm getting a lot of credit now for saving Scott's life, but when I moved here, I was coming back from multiple deployments and living on a beach in Costa Rica and not really acclimated to society, so walking around golf courses with Scott and talking to him and sharing stories that I haven't told anyone else, in a way, it saved me too," Lehmann said. "So yeah, now I saved his life, but only because he saved mine eight years ago."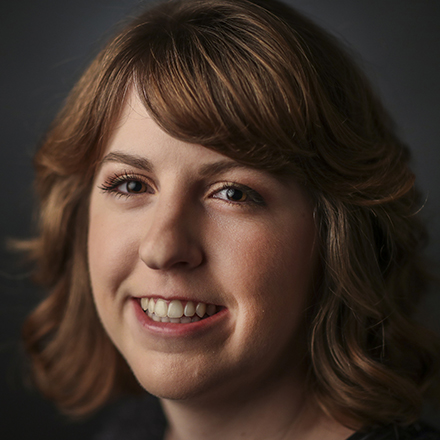 Michelle Corbet
Michelle Corbet covers business for The Daily Memphian. Prior to, she was a reporter at the Memphis Business Journal. A native Memphian and University of Memphis graduate, Michelle covered business in Conway, Arkansas after college. Michelle got her start covering business as an intern at The Commercial Appeal.
---