Opinions still buzzing over neon Beale Street archways
The Beale Street archway signs are loved by some and hated by some, but with nearly 1 million impressions in six months, there's no debate. They work. For the past six months, Chris Porter, the local graphic designer who created the winning submission, has been keeping track of how many times the archways appeared in an online video or were posted to social media.
From May 1, when installation began, through Nov. 1, images of the Beale Street archways have made more than 906,000 impressions, which breaks down to about four views per minute.  
The signs have appeared in national and international programming, including the Food Network, BBC News, UFC and the Cooking Channel, and have been posted to Instagram, Twitter and Facebook in 11 different languages.
"The data is further evidence that this was a needed element and good addition to the street," said director of Beale Street Jon Shivers. "The amount of times you've seen the signs, whether it was in print, in movies, on TV or on Instagram, that is further promoting the Beale Street brand and city as a whole." 
The Problem
The Beale Street Merchants Association wanted to bookend the street in a broader way, letting visitors know the iconic street goes beyond a few blocks, extending from Main Street to Fourth Street.
They also wanted to make Beale Street more identifiable in photos, especially for tourists.
"Whoever led the effort to get a sign needs to be congratulated," said advertising and marketing consultant John Malmo. "It's a shame that it took this long to put a sign up on Beale Street. One of the things tourists like to do the most is take pictures. Even using Kodak film 50 years ago, to tell someone you've been to Beale Street, you had to take a photo of the little green one on the corner." 
When the Downtown Memphis Commission (DMC) released a rendering in February of a white-and-blue neon sign of the Beale Street logo paired with script typeface that read "Memphis Tennessee," it was not well-received.
On social media, commenters said it looked tacky and cartoonish.
It was designed by Frank Balton Sign Co.
"If the DMC and merchants association were serious about what the archways looked like, they would not rely on a sign company to design it," Malmo said. "Sign companies make signs. And yes, they have someone called a designer, but their primary job is to manufacture and install signs."  
The DMC initially intended to solely contract with a sign company, but after the backlash, issued a broader call and received entries from architects, marketing firms and artists.  
Due to the complexities, and the sheer height and width of the archways, Shivers said, it was integral to get a sign company involved.
"They could bring in the engineering to say what was feasible and not, based on the designs we got," he said.
The Process
In an effort to get more submissions, the DMC and merchants association turned the request for entries into a contest in which Beale Street merchants and Downtown stakeholders, including the Orpheum Theatre and representatives of the city of Memphis, would vote on the winning design.
"(Merchants) wanted Beale Street to be the key part of the sign," Shivers said. "They wanted it to have neon to match the same feel of the signs up and down the street, and they wanted it to be double-sided, so people both coming and leaving can take in a part of the neon."
Malmo said the DMC and merchants association backed themselves into a corner by making the call for entries a contest.
"If you commit yourself to a contest, you are committed to using one of the signs," he said. "The best designers don't have time to design a sign for free for a contest. They are busy. If you want to get a sign, hire the best designer in town and tell him you want a sign that is in itself an important element, not just, 'Oh, you were at Beale Street.' Like the bicycle sign at Overton Park."   
When the votes came in, Creative Punch, a one-man local graphic design services firm, was declared the winner.
The Person
Porter began working for the DMC in 2015 as a marketing coordinator. He is now the DMC's creative manager, having rebranded the organization as well as Downtown Dining Week and a number of other initiatives.      
In 2013, Porter founded Creative Punch, whose client roster has grown to include a variety of clients ranging from a church in Chicago to retired professional soccer player Justin Mapp.
As the Beale Street archways began shifting from a construction project to a more design-focused effort, Porter went out with a camera and a tape measure. Then, he came back to his computer and got to work, creating a custom typeface.  
"The first sign didn't promote the street and I wanted to create every possible Instagramable moment you can have," Porter said.
The white and blue colors were selected so the sign would be visible for photos during the day and make the sign pop at night.  
"All the neon signs lead up perfectly to the arch that says 'Home of the Blues,'" Porter said. "I wanted to correlate those restaurants, shops and bars to Beale Street."
The simple and clear design is intentional, so the sign can be easily interpreted by international tourists.
"People coming in from China can read it, recognize it and know where they are," Porter said.    
Since Porter's submissions were through his graphic design company and the majority of votes were cast by Beale Street merchants and Downtown stakeholders, the DMC did not consider the selection of Porter to be a conflict of interest.   
The push back
While loved by tourists, the final design also has received some criticism, mostly from the local arts community.
Local artist and designer Anthony D. Lee, who manages the Marshall Arts gallery in the Edge District, said when he views the signage, the word that comes to mind is competent.
"These arches execute their function as decorative bookends for three blocks of Beale Street and are visually satisfying, structurally appealing, and do indeed enhance the pedestrian experience for this world-class destination," he said. "However, despite its competence and appeal, it is noticeably not world-class signage, nor an example of assertive and invigorating design."    
Brett Roler, DMC vice president of planning and development, said he's heard nothing but positive feedback from the developers and other interested parties he works with.
"They accomplish the goal, which is to create a sense of entry, threshold and gateway into a district and announce you have arrived at world-famous Beale Street and do it in a way with neon and light that's consistent with the character of the street," Roler said. "Show me a piece of art anywhere in the world that has universal acceptance. You can't."  
When Porter's design was first critiqued on social media, it sparked the idea to track the popularity of the signs using the same media.
For six months, Porter has been following social media hashtags and check-ins to quantify the success of the archways.
"At the time, I wanted to explain the meaning behind it, but also recognized the importance of letting it exist and letting people grow accustomed to it," Porter said. "People who are going to be negative will be negative. I wanted to let the beauty of the sign speak for itself and ignore a small group of Twitter handles."
The archways were funded through the annual rents the DMC has collected from Beale Street merchants since taking over management of the street in 2014.
Each year, that money is reinvested back into the street for safety and other improvements.
"We had the opportunity to pursue a Corvette, and yet we sensibly settled on a Cavalier," Lee said.
The total budget for the archway signs was $144,000.
"I drove by the sign today and it has a very good feature. It's big and easy to read," Malmo said. "Other than that, it lacks character. There is nothing unique. The whole idea of Beale Street is it is supposed to be unique. It should have a unique sign and it doesn't."
Overall, Malmo feels like the design is a missed opportunity.
"It's such an extraordinary opportunity. There's only one Beale Street," Malmo said. "Maybe in another five to 10 years it will get an outstanding, unique sign."  
Despite the push back from some artists, others have already embraced the arches as an iconic symbol of the city, reproducing its likeness in paintings and other products.
"It's impacting the local art economy," Porter said. "It may not be paying their bills, but they are making money off of work I designed."  
"The photos and posts to social media outweigh the small number of people who have an issue with it," Porter added.
As for the Beale Street Merchants Association, "We think it works," Shivers said.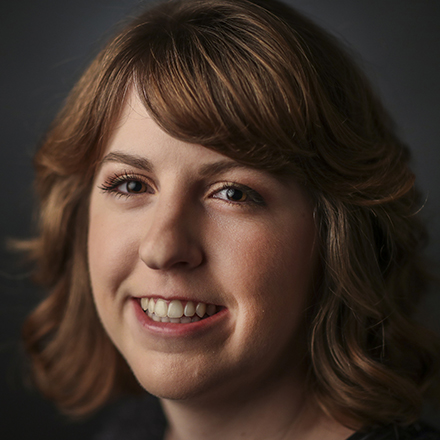 Michelle Corbet
Michelle Corbet covers business for The Daily Memphian. Prior to, she was a reporter at the Memphis Business Journal. A native Memphian and University of Memphis graduate, Michelle covered business in Conway, Arkansas after college. Michelle got her start covering business as an intern at The Commercial Appeal.
---