Wagner Place a key piece in connecting visitors to riverfront
With a photo of a vehicle-filled surface parking lot projected on the screen, Carol Coletta asked Downtown Memphis Commission board members to look at the current condition of Wagner Place.
"It looks like the worst used car lot in the city," she said.
As the Memphis River Parks Partnership (MRPP) works to transform the riverfront into a cultural destination, connectivity remains a challenge.
The potential solution could mean changes for employees who work at AutoZone Inc.'s Downtown Memphis headquarters as many of them park in the surface lots along Wagner Place. 
"One of the big conundrums is how to get Brooks connected to Tom Lee (Park)," said Coletta, president and CEO of MRPP.   
In October 2017, the Memphis Brooks Museum of Art board of directors voted to move the museum from its 100-year-plus home in Overton Park to the corner of Front Street and Union Avenue.
---
TOM BAILEY: Chance to design bluff-top art museum draws global response
---
"Somehow the riverfront needs to start on Wagner and we've got to figure out how to make that happen — that is one of the key connecting points," Coletta said.   
Wagner Place begins at the intersection of Union and Riverside Drive and ends near the intersection of Riverside and Beale Street, where Carlisle Corp. is preparing to break ground on One Beale, a $135 million mix of apartments, office, retail and a hotel.
---
WAYNE RISHER: Ellis Iron Works anchors One Beale in history
---
"Nothing will happen to Wagner until or unless AutoZone's parking is solved," Coletta said.
The Downtown Memphis Commission (DMC) is working to find a viable alternative through the Downtown Parking Study.
"Once we are freed of that responsibility, which it is so important to have AutoZone there, we really need to link Wagner from Union, south to Beale," Coletta said. "But this looks like the back door of a city, not the front door."
Reached by email, AutoZone vice president Ray Pohlman, who also serves on the MRPP board, said, "I'm sorry, but we really don't have anything to comment on at this time. I do appreciate your interest in the work the Memphis River Parks Partnership is doing to try and transform the Memphis riverfront."
The DMC has nearly completed its inventory of Downtown parking for the study and is now collecting and analyzing data from a survey that gauges usage on the weekdays and weekends, said Abram Lueders, the DMC's planning and development analyst.
With early results ready in early 2019 and final results coming in by May, the study will provide feedback on parking challenges and areas of improvement.
"The surface parking lot at Riverside and Beale will now be the One Beale hotel and with the riverfront wanting a different front door to our city, one that is currently more of backdoor, we have to be able to accommodate all the spaces, let alone losing 300 to 400 to development," said DMC president Jennifer Oswalt.  
Some options include putting parking underground, or shielding the current surafce parking lots, so they become more of a shared public space, Oswalt said. 
"The bottom line is, we're not leaving the people who park on Wagner Place and the surface lot at Riverside and Beale high and dry," Oswalt said.
Café coming to River Garden
Since opening River Garden, the new playground and pavilion area in Mississippi River Park on Nov. 9, early results show 40 percent of visitors are from Downtown and Midtown, 40 percent are tourists and 20 percent are from East Memphis and the suburbs.
In December, the partnership will begin work on a River Garden Café.
"We're working on a contract with an operator right now so I don't have an exact date or menu," George Abbott, MRPP director of external affairs, said via email. "I can tell you that we anticipate serving hot drinks and light snacks (pre-prepared pastries and potentially sandwiches)." 
Manufactured by the same firm, Boxman Studios, the café will have a similar chassis design to complement the pavilion and playground.  
"There will be some time required for fitting out the inside, but I would hope that we could look forward to opening before the end of the year," Abbott said.
With The Kitchen at Shelby Farms scheduled to close at the end of the year, Coletta said, it reminded her of challenges that have followed restaurants housed in the park setting of Beale Street Landing.
---
JENNIFER BIGGS: The Kitchen at Shelby Farms to close at end of 2018
---
In the summer of 2017, Majestic Grille owners Deni and Patrick Reilly partnered with what was then the Riverfront Development Corp. to open The Front Porch, a pop-up concept serving lunch and dinner.
The concept did not return in 2018 when the Riverfront Development Corp. became the MRPP.
"It's something (Shelby Farms Park CEO) Jen Andrews and I have talked about," Coletta said. "I think food can work. I think food at a small scale can work."
Coletta hinted that restaurants could be part of the revitalization of Wagner Place.
"I think Wagner could be a very interesting opportunity because we need to push people back and forth," Coletta said. "Union will continue to be the major connection from core Downtown, so what happens on Wagner will become really important."    
Wagner Place used to be home to a popular steak and seafood restaurant, The Pier, where patrons would overlook views of the Mississippi River in a nautical setting. The restaurant opened in 1977 and after more than 30 years, closed in 2009.  
"In the concept, there was a little market," Oswalt said. "What form that takes is still being determined as well as what happens at Beale Street Landing." 
In the Memphis Riverfront Concept by architecture and urban design firm Studio Gang, it was suggested to replace the two surface parking lots at Wagner and Beale into an open-air market with street-level retail. 
"Both of our goals is to have a lot of options for people who aren't as mobile or need to stop and get a drink or something like that," Oswalt said. 
First look at the new Tom Lee     
The last committee meeting for the first phase of redesigning Tom Lee Park will take place on Dec. 10.
In early February, the partnership plans to have staff set up in Beale Street Landing for six to eight weeks, so the public can come in and look at drawings and a scale model of the park.
"If all goes well, we start this project right after Memphis in May," Coletta said. "But going well means we have to raise $60 million."  
Earlier this month, the Hyde Family Foundation committed $5.2 million to help fund redevelopment of the riverfront.
---
PATRICK LANTRIP: Hyde Family Foundation commits $5.2M to riverfront redesign project
---
"I know sometimes people go, 'A park is a park is a park,'" Coletta said, but Central Park in New York City is considered the No. 1 attraction and Millennial Park in Chicago is the city's second most-visited attraction.
If the first phase is able to begin in June 2019, the reimagined Tom Lee Park would open in December 2020.
"We know that parking in Tom Lee Park today is not optimum, right? It is way from optimum," Coletta said. "We want to break that parking up, make it smaller and really key-in to the Downtown Parking Study."
In a recent survey, Memphians indicated they were willing to trade-off speed on Riverside Drive for safer, better connections to Downtown and more on-street parking.
The MRPP will not be able to park every visitor who wants to come to the riverfront by car, Coletta said.     
"In a perfect world, people are going to park in Downtown and walk to (the riverfront) — that's what we want them to do," Coletta said.
The partnership is working to add "gentler connections" in addition to the existing stairs that connect the core to the riverfront.
The project to restore the historic Cobblestone Landing and build a boathouse for kayaks will begin in the first quarter of 2019.     
"There's a lot going on and a lot about to happen in the next six weeks," Coletta said. "We're eager to get the images. We're eager to get them out in the world, but you don't want to do anything too preliminary where people expect that and get something else."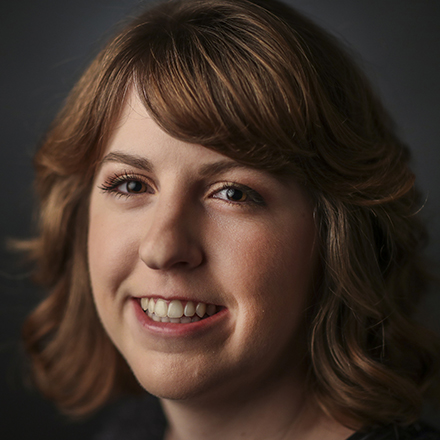 Michelle Corbet
Michelle Corbet covers business for The Daily Memphian. Prior to, she was a reporter at the Memphis Business Journal. A native Memphian and University of Memphis graduate, Michelle covered business in Conway, Arkansas after college. Michelle got her start covering business as an intern at The Commercial Appeal.
---