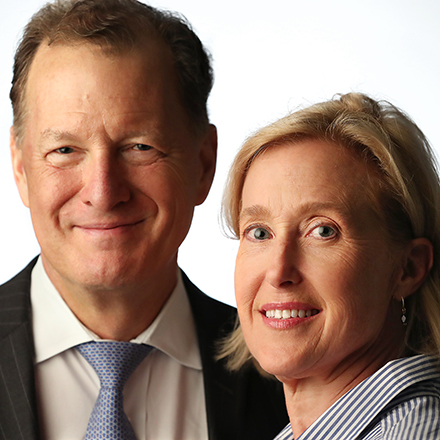 Ray and Dana Brandon
Ray Brandon, CEO of Brandon Financial Planning, and his wife, Dana, a licensed clinical social worker, can be reached at brandonplanning.com.
Rays of Wisdom: Special needs children and your finances
Ray's Take: A report released by the U.S. Census Bureau found that 2.8 million American families are raising two or more children with a disability. It can cost up to $250,000 to raise a typical child, but for a family with a special needs child the costs can be overwhelming.
Long-term financial and estate planning is critical when you have a child with special needs, but you are not alone and there is help available.
ABLE accounts are a great place to start. Named for the Achieving a Better Life Experience Act (ABLE) of 2014, these accounts allow parents to set money aside for their child's future needs. They are inexpensive and do not require a lawyer to set them up.
While there is no tax deduction for contributions, money withdrawn from the account is tax-free so long as it is used for qualified expenses. Tennessee has a particularly excellent program at www.abletn.gov.
Special needs trusts are another smart option. A will can interfere with your child's eligibility for Supplementary Security Income (SSI) and Medicaid coverage. If your will bequeaths a substantial amount of money to your child, it could disqualify them from receiving government aid. Having as little as $2,000 in the bank for your special needs child can be enough to make them ineligible for benefits.
A special needs trust is designed to supplement the benefits your child receives from government programs. Your child's designated trustee can use the money left to them for their care and comfort and not medical bills.
Designate a trustee. Have a family meeting and decide who will be your child's trustee. Special needs children can outlive their parents by 20 to 30 years or more and it's critical that you designate a trustee to watch out for their best interests throughout their lifetime. But be aware that the rules are highly specialized and may require an expert.
Enjoy the little things in life and celebrate your child's accomplishments. Special needs children bring so much joy and life to their families and to all of those around them. Finances are important but never as important as the special bond you have with your child.
Dana's Take: Caring for a special needs child or young adult requires extra love, patience and energy. Little energy is left to imagine that child's future without parents. Unfortunately, making a plan for that possibility is essential.
The very idea of having a backup plan in place may relieve some of the caregiver's stress and background worry. Depending on the degree of special needs, the parent might want to maintain a file of useful information for a future caregiver. The file could include contacts for the child's doctors, medications and other special requirements.
Making a contingency plan to care for a special needs child can assure continuity of support for that child in the event of the unthinkable.
---