ALSAC launches digital news platform
As St. Jude Children's Research Hospital expands its mission around the world, its fundraising and awareness organization, ALSAC, is coming up with ways to reach more potential donors and volunteers.
On Wednesday, Jan. 23, ALSAC launched its digital news platform – St. Jude Inspire – as a way to reach "new, diverse and younger audiences."
The platform has been a few years in the making, headed up by Steve Cox, ALSAC's senior vice president of marketing & communications, who in May of 2017 hired longtime editor of The Commercial Appeal Louis Graham as vice president of enterprise content for ALSAC.
In an exclusive interview with The Daily Memphian in November, ALSAC president and CEO Richard Shadyac Jr. talked about how changes in the way people connect to and consume content has created a challenge and opportunity for ALSAC.
---
MICHELLE CORBET: ALSAC undertakes digital transformation, facing disruptions in fundraising
---
"You know better than anyone, traditional media is limited, but also people are hungry for more inspiration and a greater connection," ALSAC chief marketing & experience officer Emily Callahan said when reached by phone Wednesday morning.
With St. Jude's unique funding model, being supported by donations through ALSAC, the nonprofit has the resources to deliver the philanthropy industry's first media publishing platform, Callahan said.
"We're not the first ever to do media publishing. The Grizzlies have done a good job not just posting scores, but going behind the scenes," she said, referring to the team's Grind City Media platform. "We have an abundance of stories unfolding here everyday. Now, we're tapping into the way we tell them."  
ALSAC is calling the St. Jude Inspire website a "shareable storytelling platform" for St. Jude patient families and the millions of St. Jude supporters across the globe.  
The website will feature stories about St. Jude's pediatric cancer patients, their parents, staff, adults who have survived pediatric cancer, scientists, donors, volunteers and special visitors such as athletes and celebrities meant to inspire people to donate to St. Jude's mission of finding cures and saving children.
"There's definitely a business purpose to this as well," Callahan said.
In addition to inspiring people and more deeply connecting with current supporters, the publishing platform is a way to reach new and diverse audiences.
ALSAC already raises about 75 percent of the money necessary to operate St. Jude through individual and corporate donations. With a $1 billion capital expansion underway on St. Jude's Downtown Memphis campus, it is looking for even more support.  
"Inspiring people to give is the primary objective for now," Callahan said. "As we further develop the platform, other business models (such as advertising) could drive revenue to support the St. Jude mission."  
ALSAC's enterprise content team, led by Graham, has about five people who are solely focused on the media publishing platform; a much broader team writes the content, produces the video and shares it to social media, Callahan said.
Ideas for coverage are coming from every department, as ALSAC weaves the idea of storytelling into St. Jude's culture.
"At St. Jude, we were started by an entertainer, which is another word for storyteller," Callahan said.
The enterprise content team is assessing St. Jude's existing print components to see how they could evolve as well as exploring ways to further engage with current supporters and new supporters through social media, podcasts and beyond.
ALSAC plans to drive readers to the website by utilizing the many communication vehicles it already has in place, including StJude.org, as well as social media, direct mail, digital newsletters and the more than 31,000 fundraising events hosted each year.  
ALSAC also is looking for new distribution channels, such as media partners who may have limited resources.
As someone who is guided by data and research, Callahan plans to measure success by evaluating how many new audiences are reached, what connects with people the most and what content promotes the most people to take action by either donating or volunteering in support of St. Jude.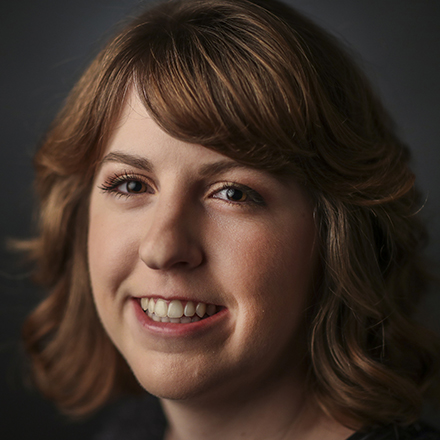 Michelle Corbet
Michelle Corbet covers business for The Daily Memphian. Prior to, she was a reporter at the Memphis Business Journal. A native Memphian and University of Memphis graduate, Michelle covered business in Conway, Arkansas after college. Michelle got her start covering business as an intern at The Commercial Appeal.
---