$1M grant covers mobile stroke unit until insurance reimbursement kicks in
With no established pathway to bill insurance for services, the Assisi Foundation of Memphis has stepped up to cover the cost of the University of Tennessee Health Science Center Mobile Stroke Unit until an agreement can be reached.
"The established treatment procedures (for stroke), such as CT scans done at a hospital, you can bill insurance. This thing is so new that insurance doesn't know what to do with it," said Dr. Andrei Alexandrov, director of the mobile stroke unit and chair of the Department of Neurology at UTHSC.  
"It's a hybrid," Alexandrov said. "We have an ambulance that can only bill for transportation. Then, insurance sees all the bills for CT scans and medicines and says, 'You're not supposed to do it.'"
This is the first year Medicare recognized mobile stroke units through the Furthering Access to Stroke Telemedicine (FAST) Act passed by Congress in February 2018.
"Our challenge this year is to work with (Centers for Medicare & Medicaid Services) and third-party payers to put together an understanding that we can diagnose and treat stroke on the mobile units," Alexandrov said.
UTHSC's unit is the first ambulance in the world also accredited as a CT scan laboratory, according to the institution. Now, UTHSC is working to secure a certificate of need so Medicare will reimburse for services.
"When it all comes together, we need CMS to act on this by saying, 'In addition to transportation bill, we will pay for CT scan, (clot-busting medicine) and the nurse practitioner on board,'" Alexandrov said.
While UTHSC figures out the billing structure, the Assisi Foundation of Memphis has donated a $1.1 million grant to cover the costs of the medic, driver and treatments taking place on board the mobile unit.   
Gerry Sandlin, 74, and his wife, Bobbye, 70, were in Memphis Friday from their hometown of Vinemont, Alabama, to commemorate the year it has been since the UTHSC mobile stroke unit saved Gerry's life.
On Feb. 13, 2018, the Sandlins were on a Delta Air Lines flight bound for Atlanta, when Gerry had a stroke.
Bobbye called for help and the flight attendants went running, asking if any medical professionals were on board. There were two, a urologist and a cardiologist, who advised the pilots to make an emergency landing to get Gerry to the nearest hospital.
The plane made an emergency landing at Memphis International Airport, where the UTHSC mobile stroke unit was waiting.
"It took 38 minutes from that time to get him to the unit," Bobbye said.
Gerry was treated with the clot-busting medicine, tissue plasminogen activator (tPA), before the unit ever left the tarmac.
Gerry was then taken to Methodist University Hospital, where Semmes-Murphy neurosurgeon Dr. Adam Arthur performed a mechanical thrombectomy, in which a catheter is inserted through the leg and threaded up to the brain to clear the stroke-causing artery blockage.  
"Every municipality should have one," Gerry said.
As the fifth-leading cause of death and No. 1 cause of permanent disability in adults in the U.S., time is of the essence when treating a stroke and the mobile unit enables health care professionals to act on the spot.
"We were fortunate to be at the right place at the right time," said Anne Alexandrov, mobile stroke unit chief nurse practitioner and professor in the College of Nursing at UTHSC, who administered the tPA in Gerry's case. She added that 1.9 million neurons in the brain are killed every second treatment is delayed.
Launched in 2016, UTHSC's mobile stroke unit can respond and treat stroke an average of 72 minutes faster than traditional hospital response.
"I'm just thrilled to be alive. When you're going through it, you think to yourself, 'I should have done this or that,' but it's too late then," Gerry said, as Bobbye stepped to the side to clear a few tears.
In the year since the stroke, Gerry said he has celebrated life, getting more involved with his family and his church. He is thankful to be standing before the gathered crowd a year later and not in a wheelchair. Or even worse, he said, underground.
"God was telling me something I needed to know," Gerry said.
UTHSC chancellor Steve J. Schwab said stroke is one of the leading causes of death and disability in the Mid-South and Memphis sits in the middle of the stroke belt.
That's why UTHSC is working to raise the funds to buy another mobile stroke unit.
"We're trying to raise another $1.5 million. We'd like to raise it in a year," Love Collins, UTHSC vice chancellor of Development and Alumni Affairs said, encouraging the community to step forward.
By that time, Alexandrov hopes all Medicaid and insurance reimbursements will be in place to save even more lives.
Those who are interested in donating can visit www.giving.uthsc.edu/give and type "mobile stroke unit" in the description box, or call 901-448-4975.
Since 2016, the mobile stroke unit has answered 1,021 calls, transported 392 patients and administered tPA in 72 cases.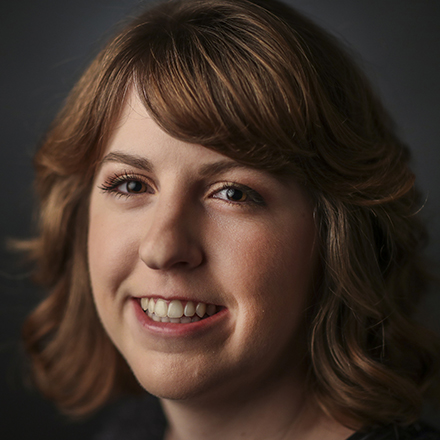 Michelle Corbet
Michelle Corbet covers business for The Daily Memphian. Prior to, she was a reporter at the Memphis Business Journal. A native Memphian and University of Memphis graduate, Michelle covered business in Conway, Arkansas after college. Michelle got her start covering business as an intern at The Commercial Appeal.
---