UTHSC brings food service in-house with food trucks, franchising
Starbucks, Chick-fil-A set to open later this year
When students, faculty and staff started voting with their feet, going off campus for lunch, the University of Tennessee Health Science Center began to re-evaluate its food services.
Traditionally, the public medical school relied on third-party food and facilities management companies to run its food court and campus dining services.  
"We had reached a point with our Sodexo contract where the campus population really had voted with their feet," said Kennard Brown, UTHSC executive vice chancellor and chief operations officer. "There was some level of disinterest in the way Sodexo was managing food service."
UTHSC took an innovative approach, becoming one of the first in the UT system to directly franchise with national chains and partner with locally owned small businesses.
"In the evolution of a health science center, this is another new endeavor for us, making a foray into the food service business," Brown said. "Instead of relying on people in that space, we're undertaking it as campus-managed activity. We've simplified the business model to work for us and our vendors."
For campus events, UTHSC often brings in a variety of vendors and caterers. It became clear some were more popular than others.
"When Southern Hands (Home Style Cooking) had a booth, the line was auspiciously long, running out of the building," Brown said. "Coletta's (Italian Restaurants) was the same."
When it came time to renovate the food court, in the lobby of 920 Madison Ave., Brown began to recruit a myriad of local choices, while also putting a plan together to go after some of the more popular chains.   
"Starbucks and Chick-fil-A will never be losers in any situation," Brown said. "I'm sure there's a line wrapped around the Union Avenue locations right now."
When UTHSC started its pursuit of the sought-after brands, Brown didn't know if the college would be successful, but with the help of the UT system and the state, it embarked on a new endeavor – becoming a franchisee.
"This Legislature, the General Assembly and the former governor's administration have a contemporary orientation to business," Brown said. "It afforded us the latitude of being able to do this, going above and beyond revenue for customer satisfaction."   
While the food court was undergoing an approximately $100,000 facelift, UTHSC brought in food trucks as a dining alternative.
Two of the food trucks developed a loyal following among students, faculty and staff, and UTHSC was able to recruit them as tenants.
The UTHSC food court is the first brick-and-mortar location for the wheeled Power Life Smoothies & Eats and will be the first for Soi No. 9 Thai Street Food when it opens this spring.
"For first-time businesses, we wanted to create a scenario where they would find it attractive, so we have a landlord/tenant relationship," Brown said. "We're not going into the financial mechanics of their business."
In its contract with local, small-business food establishments, UTHSC has the right to get out of the agreement if its campus population does not respond well. The small businesses also have the right to leave if they do not have the following they anticipated.
"Their success is predicated on them," Brown said. "We aren't dictating the menu. It is a truly independent, entrepreneurial venture."
To encourage more business, UTHSC is considering designating short-term parking for the public along Court Avenue to add to short-term parking under the Madison Avenue parking garage.
While UTHSC is cognizant of drivers, the food court's intention is to bring more dining options within walking distance of the hospitals and other anchor institutions that make up the Memphis Medical District.   
The Memphis Medical District Collaborative (MMDC) is holding a Walk to Lunch Day on Wednesday, Feb. 20, at the newly renovated UTHSC food court, from 11 a.m. to 1 p.m.   
Walk to Lunch is part of MMDC's Be Aware initiative.
"The purpose is to educate people about being aware, particularly drivers, to be aware of the people who are walking around using the infrastructure that we have worked to put in the district to make it safe for all," said Sydney Sepulveda, MMDC program associate.    
MMDC held Walk to Lunch at several small businesses in the district last year, including Trolley Stop Market, Los Comales Mexican Bar & Grill and Riko's Kickin Chickin.
The first 200 people to bring an MMDC Walk to Lunch flyer, available on social media, or show it on their digital device, will receive a $10 token to eat at the new UTHSC food court.  
"It encourages not only students, but people around the district to get out and try the food court," Sepulveda said, "which brings another food option to the district, and invites those who work at other institutions to come on campus and interact with the people who work at UT."  
The third location for Coletta's, serving Italian fare such as pasta and pizza, whole or by the slice, is now open along with Power Life, serving smoothies and paninis, and the fourth location for Southern Hands, which serves a "meat and three" of Southern, comfort food.    
The Starbucks and Chick-fil-A will be part of the second phase of the food court renovation, scheduled to open in the next four to six months.
Power Life serves breakfast, starting at 7 a.m. Lunch hours begin at 10 a.m.
With the surrounding hospitals running 24/7, Brown hopes to extend some of the vendor hours for dinner.
The new food court will not be to the exclusion of food trucks. As the weather gets warmer, Brown said, the food trucks will likely return on the first Friday of each month.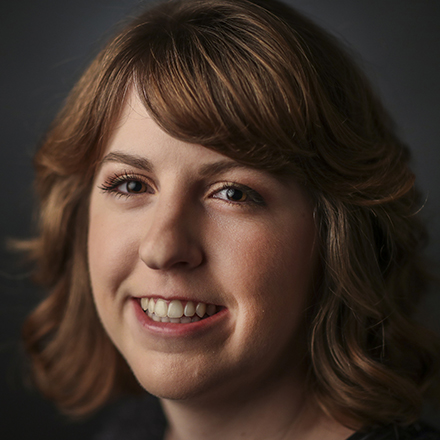 Michelle Corbet
Michelle Corbet covers business for The Daily Memphian. Prior to, she was a reporter at the Memphis Business Journal. A native Memphian and University of Memphis graduate, Michelle covered business in Conway, Arkansas after college. Michelle got her start covering business as an intern at The Commercial Appeal.
---