Traumatic childhood events in Shelby County double national average
The sound of a fist punching an open hand echoed across the room as Wendy Ellis used the gesture to accentuate the point she was making.
"When we talk about what resilience is, I am not applying a term of physics to the human spirit. The term resilience comes from physics. The definition is for an object to return to its natural state after suffering impact," she said, punching her fist into her hand.
As project director of the Building Community Resilience collaborative at the Milken Institute School of Public Health at George Washington University, Ellis not only wants to help families who have experienced trauma bounce back, she wants them to bounce forward and thrive.
Ellis is a former broadcast journalist whose experience covering failed systems, including juvenile justice, child services and health care, drove her to make a career change to help start a resiliency movement for underserved populations.
She was the keynote speaker for the Adverse Childhood Experiences (ACEs) Symposium: Awareness to Action, organized by the Loewenberg College of Nursing, where a mix of education, health and criminal justice professionals filled the Holiday Inn University of Memphis ballroom Friday morning to hear her speech.  
ACEs is used to describe any type of abuse, neglect or traumatic experience that occurs before the age of 18.  
In looking at local data, Ellis found it most shocking that Shelby County has nearly twice the national average of children being exposed to ACEs.
"If that's not a call to action, I don't know what is," she said.  
About 37% of children in Shelby County have two or more ACEs, compared to the national average of about 21% having experienced two or more ACEs, according to research from the 2016 National Survey of Children's Health and the Data Resource Center for Child & Adolescent Health.
When Ellis started looking at ACEs in the American experience, she found they are a widespread public health issue, not unique to any one race or socio-economic class.
However, the outcomes after an ACE are not the same for all races and classes. The discussion did not include what communities are missing that creates these different outcomes, Ellis said.  
Adverse experiences and adverse environments are one and the same, or as Ellis coined it, they are "the pair of ACEs."
"The 'pair of ACEs' is a catchy phrase, but let's be clear, it's not a winning hand," she said.   
Shelby County exceeds the national average for rate of violent crimes, percentage of children living in poverty, percentage of unaffordable or unsafe homes, and percentage of families with limited access to a grocery store.
"It's not enough to say living in poverty is the adverse environment," Ellis said. "Maybe it's public transportation or access to affordable housing. As we unpack these issues, organizations can see how they can make a difference."
Looking at the racial wealth gap in Memphis, the median black household income is 58% that of whites, according to a study by the National Civil Rights Museum in partnership with the University of Memphis Benjamin L. Hooks Institute for Social Change.
When using statistics, Ellis said, it is important to unpack what they really mean to tell a greater story of inequity to the adverse events experienced by all Americans.
In unpacking the inequity, Ellis asked, "Are you able to afford quality child care? Or enrichment programs that help your child not only excel in school but be a larger citizen of Shelby County? Does it provide a buffer to kick back and go to the park on the weekend to spend quality time with your family? Does that 58% allow me to live in a neighborhood where my child can walk freely?"
---
"It's not enough to say living in poverty is the adverse environment. Maybe it's public transportation or access to affordable housing. As we unpack these issues, organizations can see how they can make a difference."
Wendy Ellis, project director, Building Community Resilience collaborative at George Washington University's Milken Institute School of Public Health 
---
The pair of ACEs is about understanding the connectivity of the environment and how it is negatively impacting local families.
She gave the example, when a candidate is late to an interview, it's not just dismissing them because they are not on time, but considering, were they even raised in an environment where timeliness was a priority?
"It's about starting to think not, 'That's wrong with that person,' but, 'What has happened to them?'" Ellis said.
Community resilience is understanding the interconnectivity of housing, public schools and criminal justice.
"We have to accept part of our work is not just healing individuals, but working at the systems level, side by side," Ellis said. "We have to bring our systems to the table and figure out what their role is in continuing these vicious cycles."
Dr. David Wilkins, manager of Shelby County Schools' Mental Health Center, faces challenges and barriers when mitigating ACEs for students and schools.
"Engaging parents is key. When you help the parents, you help the child – plain and simple – developing coping skills, job skills and even substance abuse," he said.
While Wilkins knows engaging parents is critical, oftentimes those parents are unable to even get to a meeting at the school due to work schedules or lack of transportation. Others lack the willingness to engage because of the stigma that surrounds mental health, Wilkins said.
"From a school-based perspective, we have the opportunity to start those conversations around their child, so we have to find better ways of getting out to the parents," Wilkins said. "It's also critical we increase the number of youth-serving adults in churches, day care centers and doctors' offices — those who can spot the issues and help."  
---
Michelle Corbet: Le Bonheur remedies issues at home, in addition to disease
---
Le Bonheur Children's Hospital has started screening for ACEs in its pediatric clinic. It then connects families to social services and closes the loop by ensuring their issue has been resolved, in a program known as the Family Resiliency Initiative.  
While the state of Tennessee has done a good job funding programs around awareness and education, Le Bonheur wanted to take that knowledge and apply it.
"We're not just going to educate, we're going to do something," Dr. Jonathan McCullers, Le Bonheur's pediatrician-in-chief, said of the creation of the Family Resiliency Initiative.  
Symposium attendees received continuing education credit in nursing, social work, psychology and education. 
"I want to thank each of you for what you do every day," Ellis said. "You are real heroes. Continue that fight, but remember you do not fight alone."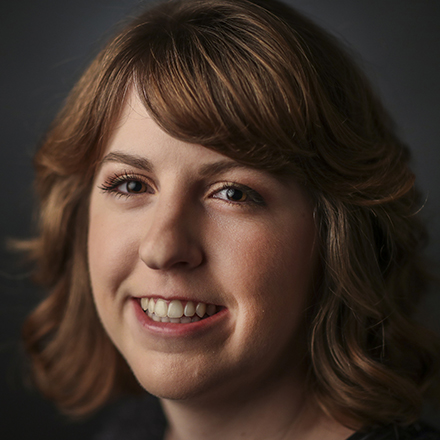 Michelle Corbet
Michelle Corbet covers business for The Daily Memphian. Prior to, she was a reporter at the Memphis Business Journal. A native Memphian and University of Memphis graduate, Michelle covered business in Conway, Arkansas after college. Michelle got her start covering business as an intern at The Commercial Appeal.
---