Health insurance company strives to change outcomes by supporting nonprofits
Two brightly colored vans were parked outside of the Greater Memphis Chamber offices Downtown Monday morning.
The mobile units are part of the "Y on the Fly" program that brings resources such as healthy meals, activities and even swimming lessons to communities that do not have a YMCA nearby.
The mobile cafeteria and mobile Science, Technology, Engineering, Arts and Math (STEAM) lab — complete with library and 3-D printer — are part of what was made possible by UnitedHealthcare's $1 million local investment to address the social determinants of health.
At Monday's press conference announcing the investment, Steve Wilson, CEO of UnitedHealthcare of Tennessee, said navigating health is much more than medical care, noting 80% of what impacts a person's health happens outside the doctor's office.
---
Michelle Corbet: Personal intervention reducing frequent, uninsured ER visits at Regional One
---
That's why the health insurance company, which is increasingly focusing on well-being, is donating $1 million to seven Memphis-area nonprofits.
The grants will support a range of needs in Memphis and Shelby County including dental care, transportation, hunger, youth health and physical activity.
"By being dedicated to working together, the seven nonprofits will achieve even greater outcomes than working individually," Wilson said.
Local grant recipients:
Mid-South Food Bank – $500,000 to purchase two trucks to launch a mobile food pantry and increase access to fresh foods at area schools through its Healthy School Pantry programs.
Church Health – $90,000 to purchase specialized dental equipment for the volunteer dentists who treat the working uninsured.
Metropolitan Inter-Faith Association – $90,000 to deliver meals to seniors for a year through MIFA's Meals on Wheels program.
Regional One Health – $90,000 to launch a food pantry at its outpatient clinic and provide shelf foods, fresh fruit and vegetable vouchers to the uninsured or those enrolled in TennCare or Medicaid who face food insecurity.
Shelby County Education Foundation – $90,000 to purchase hygiene and personal-care products for disadvantaged children in the public school system.
YMCA of Memphis and the Mid-South – $90,000 to launch the "Y on the Fly" program by purchasing a mobile unit to deliver healthy food for youth and a mobile library in the area of Science, Technology, Engineering, Arts and Math.
Christ Community Health Services – $50,000 to provide preventative and restorative dental care to uninsured students, the homeless and expectant mothers.  
UnitedHealthcare evaluated proposals from local nonprofits through an independent committee in Nashville.  
Not all of the submitted applications received grant funds, but UnitedHealthcare continues to evaluate requests to see how it can further support the Memphis community.
"For me, I spend a lot of time in the Memphis community, so I know there's a lot of need," said Keith Payet, CEO of UnitedHealthcare Community Plan of Tennessee. "As a CEO for UnitedHealthcare I say to myself, 'How can we make an impact?' It's not just about the people we serve, it's about the communities we're connecting and collaborating with. We'll definitely be back."   
The grant is part of UnitedHealthcare's Empowering Health program, which focuses on redefining health access and addressing the social determinants of health through investments, innovation and volunteerism.
"We're trying to not only improve on health, but also improve on wellness programs; address those social determinants of health that aren't conventionally covered under traditional health insurance," Payet said. "We know there's food insecurity and seniors who have additional needs and a lot of individuals who are underserved, so we're trying to support them as much as we can."
---
Michelle Corbet: Le Bonheur remedies issues at home, in addition to disease
---
Shelby County ranked 90th out of Tennessee's 95 counties in the most recent county health rankings issued annually by the Robert Wood Johnson Foundation, which looks at social and economic health factors such as income, education, employment, community safety and social support services.
"Government cannot solve all the challenges Memphis faces by ourselves. City, county, state — we don't have enough resources to do that. That's where these nonprofits play such a huge role," said Memphis Mayor Jim Strickland. "Beyond generous funding, your vision of bringing like-minded community organizations together will make an even stronger impact than they could have alone. Working together is key."
Beverly Robertson, president and CEO of the Greater Memphis Chamber, is not proud that the Memphis MSA ranked No. 3 on Wallet Hub's listing of the "Fattest Cities in the U.S." this March.
As Memphians become healthier, the cost of insurance for local businesses will go down exponentially, Robertson said.  
"At the Chamber, we are focused on working to create economic prosperity for all," she said. "We understand that having a healthy population is a key contributor to the economic growth of our community."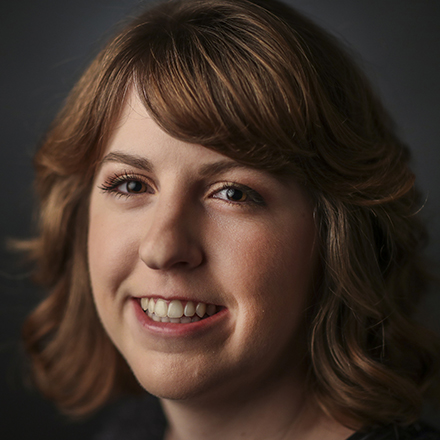 Michelle Corbet
Michelle Corbet covers business for The Daily Memphian. Prior to, she was a reporter at the Memphis Business Journal. A native Memphian and University of Memphis graduate, Michelle covered business in Conway, Arkansas after college. Michelle got her start covering business as an intern at The Commercial Appeal.
---