Microsoft gets Memphis veterans back in the game with adaptive Xbox controller donation
With the slightest move of a thumb, two paraplegic U.S. Navy veterans navigated through the digital track of an Xbox racing game to see who would cross the finish line first.
Thursday, Department of Veterans Affairs Secretary Robert Wilkie made his first trip to the Memphis VA Medical Center since assuming the role eight months ago.
In addition to meeting with medical center leadership and employees, he observed a demonstration of Microsoft's new Xbox Adaptive Controller, designed for people with limited mobility.   
Navy veterans Michael Smith and Anthony Gilliam showed Wilkie how they could operate their digital race cars using just one hand.  
"Instead of sitting at home and watching TV all day, now they can actually game," Gilliam said to Wilkie. "This opens the door to gamers of different disabilities."
---
Michelle Corbet: Le Bonheur video game collaboration has kids jumping to exercise
---
Microsoft received a lot of feedback on its traditional controller, and learned it does not work for everyone.  
"It assumes that you have the dexterity to push all the buttons and the strength to hold it out in front of you," said James Shields, product marketing manager for Xbox.
Working with people in the accessibility community, nonprofits, gamers with disabilities and other hardware companies like PDP and Logitech, Microsoft created a product that allows people with limited mobility to play.
Through headphone-type plug-ins, the controller can be paired with third-party products like the PDP one-handed joystick, foot pedals, different sized buttons and sip-and-puff devices that users can control using air pressure from their mouths.
Custom controllers are not new. They have been around for years, but they have never been mass produced.
"The problem we saw was that they were expensive – upwards of $1,000; really hard to find – you had to know someone who could make it, and they were really hard to operate," Shields said. "You had to have technical skill to change wires around and reconfigure it."
Microsoft's new Xbox Adaptive Controller costs $99.99 and is available online and at most retailers.
---
Michelle Corbet: How St. Jude inked a first-of-its-kind esports partnership
---
Memphis is one of 22 VA rehabilitation centers across the country that was selected to receive a set of the new adaptive controllers and other adaptive equipment, an Xbox One console and games. The goal is creating therapeutic and rehabilitative activities aimed at challenging muscle activation and hand-eye coordination, as well as greater participation in social and recreational activities.   
During the partnership, designated VA staff will engage with veterans using the equipment and share feedback with Microsoft on therapeutic utility and the veterans' experiences.
"We are trying new things. We're into aqua therapy, acupuncture and tai chi and yoga," Wilkie said. "This (adaptive controller) allows people to get away from what can be a monotonous routine of rehabilitation by bringing them back home to something that excites them – that they're familiar with. It is a new way of getting to the injury and making the brain feel better."  
Smith served for four years as an operations specialist in the Navy before a motor vehicle accident with a drunken driver left him paralyzed, while Gilliam served as an aviation maintenance administrator for 2 1/2 years until a stateside gunshot wound resulted in his paralysis.
Gilliam regularly shows veterans who are recent paraplegics how to safely and efficiently transfer in and out of their wheelchairs.
"They've got my number on speed dial," he said of the Memphis VA Medical Center. "So, I can let them new guys know what they can do in their (wheel) chair."
Not wanting to call his buddy out, Gilliam said some paraplegics lay in bed for years because they do not have the support or training, as he motioned toward Smith.
"I'm one," Smith admitted. "I didn't have no mentors. Then, I ended up meeting people like him (at the VA). They push you to let you know there's more to life."
"That's how we roll," the two vets said, giving their wheelchairs a slight push.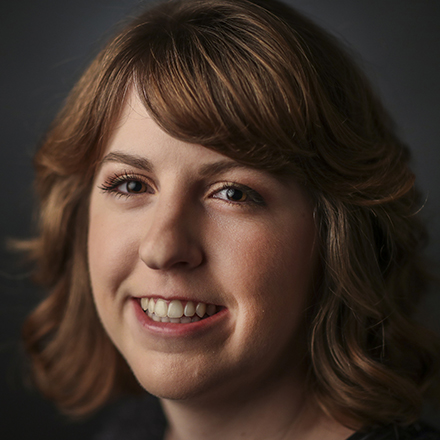 Michelle Corbet
Michelle Corbet covers business for The Daily Memphian. Prior to, she was a reporter at the Memphis Business Journal. A native Memphian and University of Memphis graduate, Michelle covered business in Conway, Arkansas after college. Michelle got her start covering business as an intern at The Commercial Appeal.
---