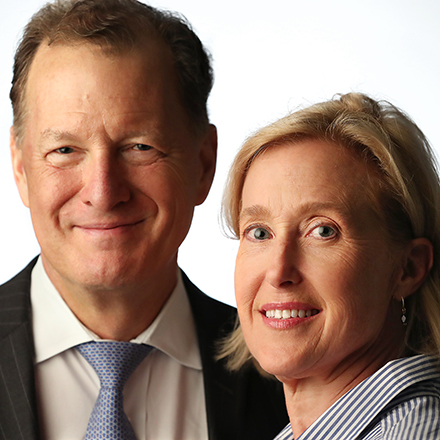 Ray and Dana Brandon
Ray Brandon, CEO of Brandon Financial Planning, and his wife, Dana, a licensed clinical social worker, can be reached at brandonplanning.com.
Rays of Wisdom: Generous giving and your taxes
Ray's Take: According to the IRS, Americans gave more than $390 billion to charity last year and people in the middle to lower income brackets gave the most. You may find this surprising, but research has actually shown that the less someone earns, the more likely they are to give their money away to help others. 
What may not be surprising is that giving is contagious. A study by James Fowler of the University of California, San Diego, published in the Proceedings of the National Academy of Science, shows that when one person behaves generously, it inspires others to behave generously later, toward different people.
He said that altruism spreads by three degrees – from person to person to person to person. As a result, each person in a network can influence dozens or even hundreds of people, some of whom he or she does not know, with the spirit of giving. 
We can learn a lot from community foundations and the discipline they use in their giving protocols. A great cause and a great pitch don't necessarily mean an organized charity. Do your homework. 
While most giving is charitable and deductible, others use giving as an estate planning tool. Currently, the tax-free gift limit is $15,000 per year, per person. This applies to monetary gifts, as well as to the fair market value of gifted property.
You can give up to this amount to as many people as you'd like every year, and the federal government won't tax one cent. For example, if you have five children and 15 grandchildren, you can give them each $15,000 per year. That's $300,000 in tax-free gifts every year. 
I always suggest that my clients give more thought to the giving and less to the deduction – but don't ignore it. I have seen research on giving over the years as tax rates and deductibility have varied, and I believe it stays pretty steady regardless of the deduction.
Dana's Take: We recently lost our beloved neighbor, Mary Shainberg, at the age of 101. She spent her life giving generously of her time, money and talents and was loved by all. Mrs. Shainberg also always had a smile and a kind word to give. 
Despite being twice my age, I would see Mary on the driveway, dressed in a beautiful suit and waiting for her ride to take her to volunteer or fundraise for a favorite cause. She and her husband established the Herbert and Mary Shainberg Foundation to continue their positive impact on Memphis and the world. 
Talk with your financial adviser about creating your own legacy of giving.
---