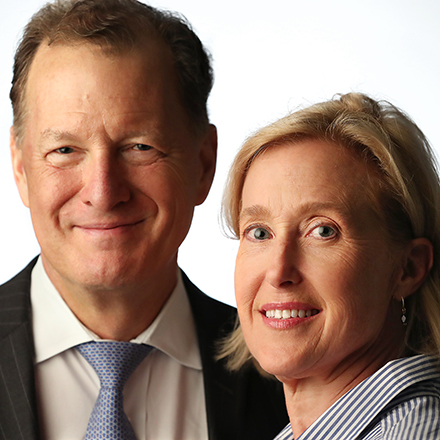 Ray and Dana Brandon
Ray Brandon, CEO of Brandon Financial Planning, and his wife, Dana, a licensed clinical social worker, can be reached at brandonplanning.com.
Rays of Wisdom: Psychological marketing
Ray's take
Did you know that diamonds aren't really all that rare or valuable?  This notion that they are was created by a DeBeers marketing campaign to sell more engagement rings. DeBeers also created the "two - to three - months' salary" requirement that "every good man" should spend on an engagement ring.
Similarly, according to an article published in The Washington Post, the Myers-Briggs Personality Test has virtually no science to support it. This test has made hundreds of millions of dollars solely from heavy marketing.
Marketers have figured out that most people make the decision to buy something extremely quickly and based on some fairly primitive instincts. After making the decision, consumers then proceed to justify their decision by finding "research" to support it and dismissing anything that doesn't.
In an article in Fast Company magazine, Robert Rosenthal notes, "The vast majority of marketers aren't psychologists. But many successful marketers regularly employ psychology in appealing to consumers. Smart, skillful, honest marketers use psychology legally, ethically and respectfully to attract and engage consumers, and compel them to buy."
This made me think about why there seem to be so many arguments about spending money in a marriage. One partner has made a largely emotional decision and can only see information that supports the choice. They are only presenting the information to their spouse as justification for the purchase.  Their partner hasn't made that emotional commitment and can see the item in question in a more objective way. It's no wonder sparks follow.
Today, we are bombarded with marketing and advertising campaigns. Many of us don't even know that we are being persuaded because of the channels used to deliver the messages to us. Marketers are using blogs, marketing videos, pop-up ads, messaging apps, search engines and smartphones in addition to traditional communication vehicles to get their messages out.
Be aware that these people are very good at what they do. They make us want things that we don't understand or need. I like to think of financial planning as taking charge of your life.  "Buyer Beware" will never go out of style.
Dana's take
Most of us are not strong enough to resist the marketing ploys of clever retailers, and now, Youtuber's and Instagrammer's. Clearing out the garage, kitchen, attic and closets is an exercise that could curtail those impulse purchases.
Lately, our family has been giving away things we no longer want to manage, dust and move. After handing over to Goodwill most of what I have bought at Target, I'm not so eager to wander those aisles.
Devoting one day a week to getting rid of clutter could be a solid deterrent to buying more stuff. Once we assembled all the shampoos in the house, for instance, Marie-Kondo-style, we realized we could wash our hair until 2025 without buying another hair product.
Clear the clutter and start saving money to fund your dreams.
---