Cancer Moonshot: Baptist shares in $9M national cancer research initiative
Sitting at the dining room table at his home in Bartlett, Dan Merrill, 67, holds his smartphone away from his reading glasses.
He's scrolling through Baptist Memorial Health Care's medical records app looking for appointment dates to better recall his battle with lung cancer.
He finds the date he was looking for.
Before his surgery on June 14, Merrill recalls sitting in the offices of Dr. Todd Robbins, a cardiothoracic surgeon. The nurse drew a picture of Merrill's lungs. He had three spots on the top right lobe.
On May 11, Merrill had a CT scan. On May 30, he had a PET scan. While waiting on the results, he had an appointment with his internist, Dr. Cary Finn, on June 4.
"That's what I like about MyChart. You've got it all right here," Merrill said, emphasizing the smartphone in his hand.
At the end of May, Merrill was diagnosed with squamous cell cancer of the right lung. By June 14, he was undergoing a procedure to remove it.
As he recovers, Merrill has relied on Baptist OneCare MyChart, an app that enables patients to communicate with their doctors, access test results, request prescription refills and manage appointments.
"I message my doctor all the time. I'm a bit of a hypochondriac, yet I smoked, which was stupid," Merrill said. "My mother had breast cancer, but I smoked for 50 years. That's what caused it."  
When Merrill came home after surgery, his blood pressure kept dropping since he was no longer smoking.
"I picked up MyChart," Merrill's wife Donna, 66, recalled, "and messaged Dr. Finn: 'This is Donna. What should we do?' Within 20 minutes his nurse called me back. I knew if I called on the phone and left a message it would be a while. I could hear Dr. Finn in the background asking her questions to ask me."  
On Sept. 1, 2019, cancer patients at Baptist will have an app specifically designed to report their symptoms to physicians.  
One of six in the country  
Baptist Cancer Center is one of six recipients in the country selected to be part of a $9 million Cancer Moonshot grant.
In 2016, Congress passed the 21st Century Cures Act, authorizing $1.8 billion to fund advancements in cancer care over the next seven years through the National Cancer Institute (NCI).
Former Vice President Joe Biden took the lead to spearhead the initiative, which aims to move U.S. cancer care delivery forward by a decade of progress in half the time, after his son Beau Biden, former Delaware attorney general, died of brain cancer in 2015 at the age of 46.  
"Even though he was vice president of the United States at the time, and had all of these high-level resources available to him, he was shocked about how little direct contact they had with providers," said Dr. Raymond Osarogiagbon, a thoracic medical oncologist with Baptist Cancer Center. "Ultimately, it led to the idea, as great as we are, we could improve a lot of things."
---
"We want to use technology to blow wide open that access barrier to patients of all types, rural, urban, suburban; black, white or Hispanic."
Dr. Raymond Osarogiagbon, thoracic medical oncologist, Baptist Cancer Center
---
In December 2017, NCI put out a request for applications to implement the IMPACT, or Improving Management of symPtoms Across Cancer Treatments, initiative, which aims to improve the management of symptoms during and following cancer care.
"We had to write this humongous grant application and get it submitted by Jan. 1," Osarogiagbon said. "That's where my Christmas and New Year's went last year."
But it was worth it. Baptist was selected as one of six U.S. cancer centers to be part of a research collaboration called the SIMPRO, or Symptom Management Implementation of Patient Reported Outcomes in Oncology, Research Center.
"We're developing an app that will be inserted into their mobile or communication device that will give them direct contact with their cancer care delivery team after they start treatment," Osarogiagbon said.
The other collaborating sites are Dana-Farber/Brigham and Women's Cancer Center in Boston; Dartmouth-Hitchcock Medical Center in Lebanon, New Hampshire; Lifespan Cancer Institute in Providence, Rhode Island; Maine Medical Center in Portland; and West Virginia University Cancer Institute.
Expanding MyChart
All of the institutions use electronic medical record software developed by Verona, Wisconsin-based Epic Systems Corp. For Baptist, that is the OneCare MyChart app Merrill has been using to communicate with his doctor.
The SIMPRO team will work with Epic to develop, implement and evaluate an app called eSyM.
Baptist will pilot the eSyM with patients who are undergoing treatment for lung cancer, cancers of the GI tract and gynecologic cancers.
Patients often develop symptoms that are caused by cancer or its treatment, said Osarogiagbon, who is a co-principal investigator for the grant and site leader for Baptist. Once they begin treatment, they see doctors at fixed intervals, which sometimes isn't enough.
"You hold all the problems you have in until I see you in three weeks. For the 10 to 15 minutes you're in my clinic, you are expected to pour everything out. Then, I am expected to digest it all and come up with a solution," Osarogiagbon said.  
With the app, patients will be able to report symptoms directly into the electronic medical record, and behind the scenes, automated reports and dashboards will be generated for providers.
Patients who've had surgery will be prompted to report symptoms three times a week for the first two weeks and less frequently thereafter. Patients who are receiving chemotherapy treatment will be prompted twice a week for a minimum of six months.
The prompts will include a short list of standardized outcomes such as nausea, vomiting and constipation as well as specific symptoms that can be reported using tools developed by NCI.
"We want to show how early reporting of symptoms and quick response can help prevent those symptoms from requiring an ER visit or hospitalization," Osarogiagbon said.
Understanding patient behavior, experience
Dr. Yun Jiang, an assistant professor at the University of Michigan School of Nursing, led a study about cancer patients' use/acceptance of apps.
"In order to create a successful innovation, we need to back up and look at self-management behavior," Jiang said. "We have to take a data-driven approach to see people's behavior and experience. Then, adjust the intervention over time for the right time and right person."  
After collecting data, Jiang found younger, higher-educated, married, employed and higher-income cancer patients tend to use apps for self-management.
Cancer patients who were newly diagnosed or still on treatment were more likely to search the internet for cancer information and communicate with health providers electronically.
Merrill admits, after his diagnosis in May, he "looked on the internet and started feeling nervous."
Body mass index and rural residency were associated with using mobile apps to reach a health-related goal or make a decision about treatment.
"Patients who live in rural areas struggle big time with having access to timely care," Osarogiagbon said. "Transportation and communicating is a huge problem. We want to use technology to blow wide open that access barrier to patients of all types, rural, urban, suburban; black, white or Hispanic."
As for the dashboards, Jiang said, clinicians are busy and likely won't have time to read them thoroughly.
"You can't bring raw data and expect clinicians to read through it all," she said.
With cancer patients having other conditions, the dashboards need to be integrated with other providers. 
"We need to work toward artificial intelligence," Jiang said. "Not just collect and create dashboards, but use machine learning to generate meaningful data to save clinicians time and guide them in their decision making."  
The reports will be checked Monday through Friday, but not on the weekends.
"It's not designed to replace good medical care," Osarogiagbon said. "It's designed to provide patients with an enhanced avenue to communicate real-time problems to his or her care team early on."
The app is anticipated to go live Sept. 1, 2019. The research consortium will track participation for 3 1/2 years and have one year to conduct analysis and publish the results.  
The app eventually will be integrated into the electronic medical record systems at each of the six participating cancer centers.  
"This is how we will be delivering cancer care across the whole U.S. in the next 10 years," Osarogiagbon said. "We've been tasked with making that happen in half the time."
As for Merrill, his recovery has been slow, but he's now back to consulting for barge wire manufacturer Paducah Rigging two to three days a week.
"I've been able to go hunting and fishing," he said. "I shot a couple deers."
He's also spending time with his two children, three grandchildren, great-grandson and his wife, Donna.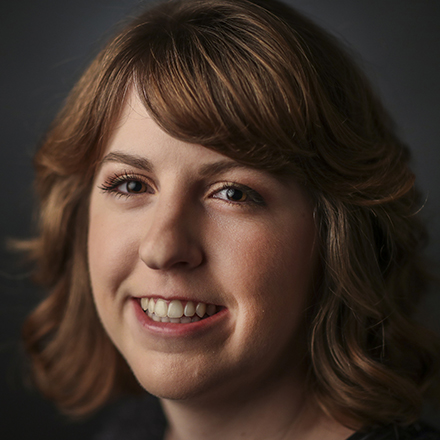 Michelle Corbet
Michelle Corbet covers business for The Daily Memphian. Prior to, she was a reporter at the Memphis Business Journal. A native Memphian and University of Memphis graduate, Michelle covered business in Conway, Arkansas after college. Michelle got her start covering business as an intern at The Commercial Appeal.
---