Olympic Career Training Institute aims to meet truck driver shortage one CDL at a time
Bill Phillips, a 37-year trucking industry veteran from Knoxville, aimed a megaphone at a student driver after repeated botched attempts to back up a big rig.
"Do you know how to drive a truck?" Phillips asked rhetorically. "I'm trying to figure out why you're in school if you know how to drive it. Listen to me! If I'm telling you to go left, I want you to go left. Stop doing things on your own, because it's wrong."
The scene played out in a vacant parking lot in southeast Memphis, where Phillips instructed students on some of the more difficult maneuvers required of professional truck drivers. It was part of Olympic Career Training Institute's commercial driver's license training (CDL) program.
Olympic made the move into CDL training in August after focusing since 2010 on grooming warehouse workers and forklift drivers for the transportation and logistics industry. The industry, which includes truck drivers, employs more than 72,000 Memphis-area residents, nearly one in eight workers.
Olympic is run by Trey Carter, president, and his sister, Kim Byrd, educational director. The children of former Pontiac dealer Pat Carter launched the career training business after seeing the need for workforce development first-hand in a family-run staffing company.
Carter said they were motivated by the looming national shortage of truck drivers, caused by mass retirements of older drivers and not enough younger drivers coming into the industry.
"Students would ask for it," Carter said. "At one point in time, we were only forklift and warehousing training. People would always ask when they're done, 'Hey, do y'all do truck driving as well?' After you hear that a certain amount of time, you realize you're missing the market."
Donna England, membership coordinator for the Tennessee Trucking Association, told a recent State of Freight conference at the University of Memphis that the national industry currently has openings for 48,000 drivers.
Less than 5 percent of drivers are 20-24 years old, while the largest demographic, 45-54 years old, accounts for nearly 30 percent of drivers, England said. Better pay, improved public relations and targeted recruiting efforts are keys to recruiting more drivers, she said.
Olympic has set a goal of training 500 drivers a year, which, at $50,000 a year for each graduate who gets hired, would translate into $25 million in new wages for unemployed and underemployed Memphians, Carter said.
Olympic's CDL program takes a month to complete and costs $4,995, Carter said. Students pay $500 down and repay the rest over time after they're hired by trucking companies. A new class begins each Monday. The company's website is www.octitraining.com.
Students spend a couple weeks in classroom instruction on Department of Transportation rules and regulations, learning truck components and a bit of engine mechanics at Olympic's training center at 2851 Lamb Place, off Democrat Road. Hands-on, behind-the-wheel training takes place at a three-acre parking lot behind Ozark Motor Lines off Lamar.
Since August, 29 of 31 students had completed training and gotten their permits, Byrd said. Once drivers are placed – Olympic's partner carriers include Ozark, Schneider National and PAM Transport – they receive more company-specific training.
Carter said Olympic's placement rate tops 90 percent. "It's not just how many complete, but how many complete and get jobs. That's a better number. There's no one that left here just sitting home with a CDL on the couch. They are working."
Carter said Olympic is scaling up to meet its goal. It has two trucks and two instructors and is looking to add more.
Phillips brought a deep familiarity with the business side of trucking, having run Heartland Transportation and W.E. Phillips Inc., companies that haul mail for the U.S. Postal Service.
Phillips, who is in his upper 50s, said the truck driver shortage is very real, and he wanted to use his experience to help younger people get a foot in the door.
"There's always a demand, and it's going to keep getting stronger. Every year the industry is setting new tonnage records," Phillips said.
In addition to providing training on safely maneuvering a 70,000-pound vehicle, Olympic's track record working with logistics employees helps students improve soft skills, such as good work habits, Phillips said.
"We're not a CDL mill. It's about producing professional, quality drivers," Phillips said.
Phillips said the trucking industry provides opportunity to people who might not qualify for other jobs because of background issues.
"This is an industry, if you do have someone that has got, say, a background, it's a felony-friendly industry," Phillips said. "They will give a second chance more often than not when other companies probably wouldn't."
---
"It's not just how many complete, but how many complete and get jobs. That's a better number. There's no one that left here just sitting home with a CDL on the couch. They are working."
Trey Carter, Olympic Career Training Institute
---
Carter said Olympic has gotten referrals from the Department of Corrections and parole offices. It also has credentials under the Tennessee Higher Education Commission, Veterans Administration and Workforce Investment Network.
Byrd said the training isn't fun and games.
When a student complained that Phillips was like a drill sergeant, Byrd said, "I should have stressed this more: this is not going to be fun. You're just going to have to stick through it. He knows what you have to do to pass. He's going to do everything to make sure you have all this knowledge, but it's not going to be fun. He wants you to be the best you can be.
"We had, in our first group, a student that was homeless, and he (Phillips) was helping her get her car fixed, giving her food money," Byrd added. "She's driving now, making $50,000 a year. It has transformed her life. She went from homeless to middle class in two months."
Sukhi Singh, who came from India 4½ years ago, quit a nursing home job to focus on getting his CDL at Olympic. He graduated Sunday, Nov. 18, and is weighing job offers. "I'm looking for a good company."
Singh, 29, said the industry had appeal because "you're making good money. You can start your own company, so you are on your own. If you work, you can take care of your family."
Taneka Pollard, 27, said she has been a professional driver since 21, but she never learned to drive a manual shift, and many companies haven't made the move yet from manual to automatic transmissions in tractors.
"Actually, I already had my CDL, but I never learned how to manual shift, so I came here," said Pollard. Knowing how to work a straight shift opens up more job possibilities, she said.
Olympic wants to provide opportunities to lift Memphians out of poverty, Carter said, while filling demand for workers in one of the nation's biggest trucking hubs.
"We want to continue to be agents of change by making contributions to further our local economy and opening the door to additional job training and employment opportunities for Memphians," Carter said.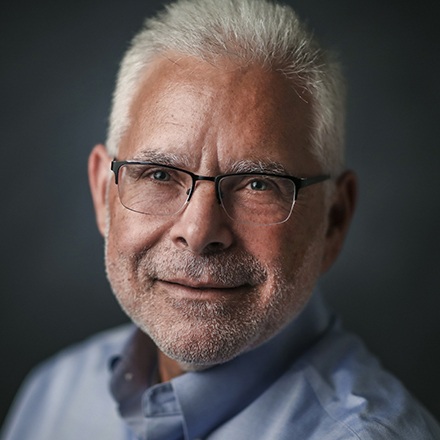 Wayne Risher
Business news reporter, 42-year veteran of print journalism, 34-year resident of Memphis, University of Georgia alumnus and proud father and spouse of University of Memphis graduates.
---