Chili's, St. Jude partnership is good for business
Today's consumers have higher expectations. They not only want a great product, but they are willing to buy from or boycott companies based on corporate values.
Last year, a study by Cone Communications, a Boston-based public relations and marketing agency, found a link between consumer decisions and companies that are socially responsible.
The study examined consumer attitudes, perceptions and behaviors about corporate social responsibility, utilizing benchmark data dating back to 1993.  
The results revealed 87 percent of consumers have purchased a product because a company advocated for an issue they care about and more than 75 percent of consumers said they would refuse to purchase a product if they discover a company supports an issue that is contrary to their beliefs.
These consumer expectations have created an opportunity for Richard Shadyac Jr., the president and CEO of ALSAC, the fundraising and awareness organization for St. Jude Children's Research Hospital — partnering with corporate America.
To date, 70 major companies around the U.S. have signed on as corporate sponsors to support St. Jude's mission that no patient family receives a bill for treatment, travel, housing or food, so every child in the U.S. and around the globe is given the chance of surviving a catastrophic pediatric disease, such as cancer.  
Chili's Grill & Bar was one the first companies to sign on as a corporate sponsor 16 years ago.  
"Chili's is a pioneer in this space. They were doing corporate social responsibility before it was fashionable," Shadyac said. "They got it very early on that doing good was also good for business and their workforce."  
Since 2002, Chili's has raised approximately $68 million for St. Jude. The effort started locally as a grassroots fundraising effort at the Chili's restaurant at Poplar Avenue and Perkins Road.
In 2006, Chili's upped its sponsorship, committing to raise $50 million over 10 years for the Chili's Care Center, which opened in November 2007 and became the first medical building on the hospital's campus to bear the name of a St. Jude corporate partner.
"There's no better cause than to cure kids with cancer, so we decided to put the weight of Chili's behind it and become the first major corporate partner with St. Jude," said Chili's COO Doug Comings.
Today, Oct. 3, Chili's Grill & Bar is donating the day's profits, up to $350,000, to St. Jude. The donation is the culmination of Chili's Create-A-Pepper campaign, in which restaurant patrons donate $1 and color a pepper in support of the hospital, Sept. 10 through Oct. 3.  
"It's not all about profit," Comings said. "People want to know they are doing good by supporting businesses that are doing good. With St. Jude, it may not be supporting the hospital in their backyard, but people around the nation and the world."
During "St. Jude season," Comings notices a significant increase in engagement from his employees as they rally around a greater cause than running day-to-day restaurant operations.
On top of consumer expectations, employees also want to work for organizations that are doing good and that stand for something.
Three-quarters, or 76 percent, of millennials consider a company's social and environmental commitments when deciding where to work, according to a 2016 study from Cone Communications.
The $50 million commitment by Chili's in 2006 also gave the St. Jude board reassurance that corporate America would be supportive of expanding the hospital's mission.
In the years since, Shadyac has spent months, sometimes years, convincing other companies to partner with St. Jude. He's found the partnerships to be most effective when there is buy-in from employees, like with Chili's.
"This should not be a top-down thing," Shadyac said. "When there's ground-floor support for St. Jude, that's when momentum really builds."
When Shadyac meets with corporate CEOs or boards, he has to make a business case for corporate social responsibility.
"With any successful partnership between a charity, cause or organization, there needs to be a benefit derived for the for-profit as well," Shadyac said.  
Chili's has been able to drive value to its brand by aligning it with St. Jude as a national team during the St. Jude Walk/Run to End Childhood Cancer and supporting the Thanks and Giving holiday campaign through donations on automated tabletop payment devices.  
By doing so, Chili's has found there is a tremendous overlap between St. Jude supporters and its customers, Shadyac said.
"If they come up with an idea, if I do, or if our team does, Chili's is open to considering it as long as there is synergy between their business objectives and ours," Shadyac said.
Beginning Monday, Oct. 1, Chili's brought back its Paradise Pie, a sought-after menu item that was discontinued a few years ago. From now on, 50 cents of every Paradise Pie sold will be donated to St. Jude.  
Rooted in hospitality, Chili's objective is to make restaurant patrons feel welcome and special, which aligns with St. Jude's objective to take care of its patients.
"We nurture through food, and they nurture people back to wellness," Comings said.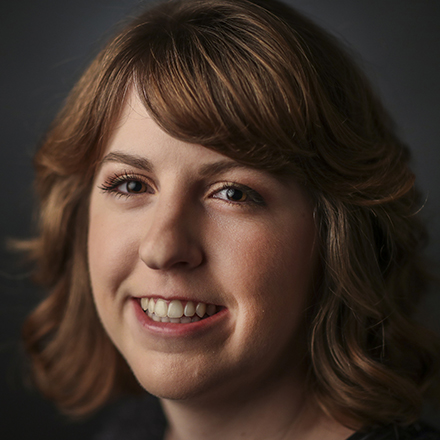 Michelle Corbet
Michelle Corbet covers business for The Daily Memphian. Prior to, she was a reporter at the Memphis Business Journal. A native Memphian and University of Memphis graduate, Michelle covered business in Conway, Arkansas after college. Michelle got her start covering business as an intern at The Commercial Appeal.
---