Memphis Democrats seek removal of Forrest bust
Hardaway, Lamar also call for investigation into embattled representative
Memphis Democratic House members are calling for the removal of the Nathan Bedford Forrest bust from the Tennessee Capitol and a probe of 30-year-old sexual misconduct allegations against a Republican House member.
State Reps. G.A. Hardaway and London Lamar said during a press conference last week they believe the Legislature should investigate sexual misconduct accusations made by three women against Rep. David Byrd of Waynesboro when he was their girls' basketball coach at Wayne County in the late 1980s.
"I don't think any crime against children should have a statute of limitations. I don't know whether it's true or not true. I do know that these women have a lot of courage. It takes a lot of valor for them to stand up and reveal information that has literally gotten them ostracized from their community," Hardaway said.
Based on information made public, Hardaway said the Legislature should hold hearings and reach a conclusion, not just so it can get back to regular business, but because "justice cries out and says these women need to be heard."
Lamar called the women's claims "very valid" and said the Legislature should "take those seriously."
"I think we want to call on the speaker to launch a full investigation on the claims and ensure we can bring closure to these women," Lamar said.
Such a probe is highly unlikely, though.
Rep. Cameron Sexton, chairman of the House Republican Caucus, said Friday a request for an investigation was made last year to the chairman of the House Ethics Committee, and in consultation with its attorney Doug Himes, the panel determined the alleged acts from the 1980s fell outside the House's jurisdiction to investigate because the allegations pre-date Byrd's time in office.
"We would stick by the same response from last year when (Rep.) Jason Powell asked the same thing," Sexton said.
Even though phone calls have been recorded of Byrd apologizing to one of the women for an unspecified situation and a longtime confidant of Byrd's spoke to the media about the alleged incidents within the last year, Sexton said he doesn't believe the House can go back and investigate every situation in members' lives before they took office.
The matter came to a head early in the week when a group of women with Enough is Enough held up protest signs in the House Education Administration Subcommittee, which Byrd chairs.
At the Tuesday meeting's outset, none of the lawmakers whose bills were to be heard showed up, and Byrd recessed the meeting for a short period. Rep. Jerry Sexton, a Bean Station Republican, began talking to the women who were sitting in the room's front row.
A state trooper then asked the women to put down their signs and, ultimately, escorted them out of the room at the request of House Speaker Glen Casada.
Democratic and Republican legislators disagree on whether they were disrupting the meeting.
Casada has said several times this year he is standing by his decision to name Byrd, a former coach and principal at Wayne County High, as chairman of the education subcommittee. He won re-election amid the allegations last year with more than 70 percent of the vote in District 71, which includes Wayne, Hardin, Lewis and part of Lawrence counties.
Casada, who gaveled down Rep. Bo Mitchell and House Minority Chairman Mike Stewart when they tried to speak Thursday on the House floor about the protesters' expulsion, said he stands by the decision to have them removed.
"There must be order. The people's business must be done, and there's individuals who want to disrupt that to bring attention to themselves. We won't stand for that," Casada said.
Asking during a press conference if the protest stems from his decision to make Byrd the chairman, Casada said only that protest must be done "in an orderly manner."
No official request or piece of legislation has been filed for an inquest into the accusations against Byrd. The House Ethics Committee is chaired this session by Rep. Matthew Hill, who spoke in support of the new House rule restricting personal statements at the beginning of House floor meetings. Those are now limited to personal honors and recognitions.
Yet, at the request of Hardaway on Thursday morning, Democratic Rep. John DeBerry of Memphis was allowed to speak at length about the impact his father had on him during the 1960s civil rights movement.
Later, House Majority Leader William Lamberth of Portland said, "When that man is giving a speech, I would recommend that everybody tune in, because what he's lived and what he stands for is amazing. So whether or not it's in the rules, when John DeBerry speaks, I recommend everybody listen."
The Forrest fight
Republican leaders, Lt. Gov. Randy McNally and House Speaker Casada, say they favor adding historical context to the bust of Confederate Gen. Forrest located next to an elevator in the Capitol.
Two students were arrested there Thursday and face criminal charges, one for throwing coffee into the elevator and hitting Casada and Rep. Debra Moody of Tipton County and the other for trying to launch herself toward the Forrest bust. House Democratic leaders criticized the students' violence, and Casada on social media called them "radicals."
---
SAM STOCKARD: Two protesters arrested in Capitol clash over Forrest bust
---
Nevertheless, their continued protest of the Forrest bust is spurring talk about how to handle the monument to the embattled general, who was a slave trader, Confederate general in command at what many consider the Fort Pillow massacre and first grand wizard of the Ku Klux Klan before purportedly seeking redemption and calling for the races to work together during Reconstruction.
Casada also said the matter could be handled legislatively if a lawmaker files a bill and can carry it to passage.
However, McNally, who has said he supports a revolving display of monuments in the Capitol, backs the Legislature's process of taking the matter to the Capitol Commission, a combination of state residents appointed by the governor, two legislators, constitutional officers and governor's cabinet members.
"It would have to be some type of emergency to (consider a late-filed bill), and I'd rather give the Capitol Commission a chance to act first," McNally said, though no move has been made by the commission's new chairman, Stuart McWhorter, to consider the matter.
Senate Majority Leader Jack Johnson, a Franklin Republican who supports keeping the bust in the Capitol, pointed out the Capitol Commission in 2017 voted 5-7 against moving the bust to a museum at then-Gov. Bill Haslam's request. He noted the calls he received from constituents and people across the state were 9-1 in favor of keeping the bust in the Capitol.
Sen. Ken Yager of Kingston, who chairs the Senate Republican Caucus, said he believes the Forrest bust protesters are failing to look at Forrest's entire life.
"He saw the error of his ways and made a complete change and in some circles made some controversial speeches where he advocated for a better life for the ex-slaves and black citizens of our country. And we need to look at that full picture as we make these decisions of a life changed really, in my opinion, instead of trying to be revisionists focusing on just the objectionable parts of his career," Yager said.
Hardaway and Lamar hold a completely different view, in light of upheaval over the Forrest bust and recently unveiled photos of Gov. Bill Lee wearing a Confederate uniform while participating in Old South days as a Kappa Alpha Fraternity members at Auburn University some 40 years ago.
"I think the fight for freedom is ongoing. I think the civil rights movement is continuing and we're still here fighting for African-Americans' freedom, their respect, their dignity," Lamar said. "No one wants to see that bust statue in the Capitol building. It is very … hurtful to see it, especially given the history, and it's just a constant reminder of why I'm here, and the issues I need to speak up about."
U.S. Rep. Steve Cohen, a Memphis Democrat, has asked Gov. Lee to request removal of Forrest's bust and to put up alternatives such as Cherokee Chief Sequoyah or Ida B. Wells, a black journalist who reported on lynching in the Memphis area.
Said Hardaway of the Confederate general: "There's absolutely nothing that that rascal brings to history except dishonor. So there's no reason to have him in a place of honor, and that's what it is."
Hardaway further contends the bust is no different than the Forrest equestrian statue removed from his grave along Union Avenue. They're both designed to teach "communities of color" to stay in their place, and away from full citizenship as part of the Jim Crow South attitude, he said.
Rep. Jesse Chism, another Memphis Democrat, pointed out the State Capitol should be a welcoming place for all Tennesseans. He noted Tennessee has a "dark history" in which slave holders made their wealth on the backs of slaves, and the Forrest bust is a reminder.
"I'm a new legislator and as I go into the chamber, I look up at that statue and it gives me a sense of sadness, because this person is not being honored because he was a great soldier. He's not being honored because he was a great American or a great Tennessean. He's being honored because of a group that he founded that terrorized people that looked like me," Chism said.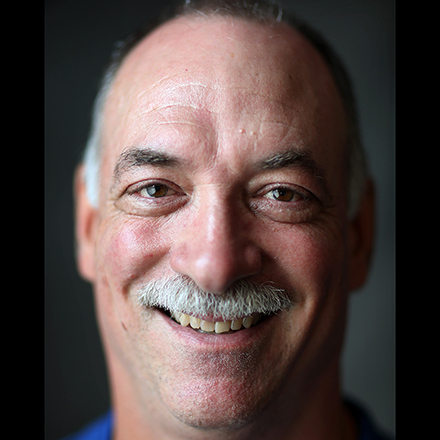 Sam Stockard
Sam Stockard is a Nashville-based reporter with more than 30 years of journalism experience as a writer, editor and columnist covering the state Legislature and Tennessee politics for The Daily Memphian.
---