Jail program teaches prisoners about entrepreneurship
At Crispy Cuts barbershop and salon, they plan to give free haircuts to the community once a month and host a block party every three months. 
Crispy Cuts was one of 10 businesses displaying their entrepreneurial ideas Thursday morning, but this business expo was held inside the Shelby County Jail at 201 Poplar.
And those pitching their business plans were prisoners in the jail's youth offender pod, a unit for prisoners who are 18 to 25 years old.  
The 45 prisoners took part in the "Business Bonanza," a first-time program created by the Shelby County Sheriff's Office to help the prisoners learn about starting a business when they get out of jail. 
"It is so hard for inmates to get a job when they get out of jail, so we wanted to teach them how to market and brand a business," said Tamela Hilson, a counseling supervisor with the Shelby County Sheriff's Office.
Hilson, along with Camille Harris, came up with the idea to have the inmates create businesses and then put them on display. 
Jail Annex 1-F, where the inmates in the youth offender pod live, was transformed into business central. The prisoners dressed in their dark blue jail scrubs and were given neckties donated by the jail staff to help look the part of business owners.
Memphis Mold Masters – or MMM, a mold-removal business created by a group of five prisoners – was one of the first businesses that visitors saw when they came into the pod lined with booths. The MMM booth was elaborate and included mold-removal equipment the group of five spent hours making out of boxes and decorating with glitter and construction paper.
Farough, whose last name was not released by the jail because of privacy issues, was one of the pitch men for his group's mold-removal business. It was a job he did for two years before he was jailed two months ago and a business he plans to pursue when he gets out of jail.
"We want to break the idea that jail is just a place that prisoners go to sit around and do nothing," the 21-year-old said. "We are bettering ourselves for re-entry into society and when we do get out, I hope and pray we are doing as good as we are doing in here."
For the past 30 days, the prisoners – in addition to some going to class to get their high school diplomas – have worked on their business plans.
A red paper carpet greeted visitors who stopped by the "Don't Buy New, Just Renew" small-engine repair business.
"You get the red carpet fame treatment when you come to our business," 21-year-old Martervius promised visitors.
Community outreach was included in many of the business plans by the prisoners, who said it was an important part of entrepreneurship.
"We want to be the barbershop that helps the community come together," 21-year-old Quatavious with Crispy Cuts barbershop said about his group's business model. "We want to be the shop that gives back and celebrates people in our community with block parties that we call the 'kick in,' where we have barbecue and music and we all just kicking it."
Giving back to the community was a plus to the Howard University students who were invited to tour the jail and judge the businesses created by the prisoners.
The Howard students were spending their "alternative spring break" in Memphis doing outreach centered on poverty and crime.
After tallying up the scores, the students chose the mold-removal business as the first-place winner because of its attention to detail in the plan and the creative display.
"We were impressed with all the businesses," Howard University senior Najuma Louison said. "They were well-planned and well-researched, and you could tell they were passionate about the businesses. I hope they are given the opportunity to turn their business dreams into reality."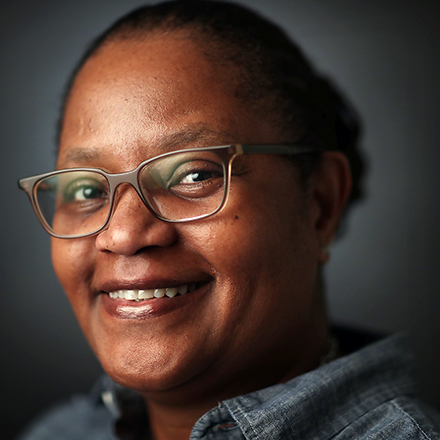 Yolanda Jones
Yolanda Jones covers criminal justice issues and general assignment news for The Daily Memphian. She previously was a reporter at The Commercial Appeal.
---