St. Patrick's Day Parade rolls through Beale Street
Revelry rolled through Downtown Memphis as the Beale Street Merchants Association hosted their 46th annual St. Patrick's Day Parade on Saturday afternoon.
Thousands of Mid-South residents and visitors lined up along metal barricades and on the porches of iconic restaurants and bars to catch the festivities, as well as handfuls of beads, candy, cups and more unusual throws.
Kevin Edwards and Jamie Wilson both caught cabbages, a staple food for Irish citizens during their historic potato famine.
"It bounced off her head, and I caught it," Edwards said, pointing to Wilson's noggin.
Wilson said she plans to keep the cabbage, thrown to her by a stranger on a float.
"We're going to clean the first layers off and cook it with some corned beef," she said.
While not all of the traditions on display were specific to Irish heritage, as many demonstrated a "party for party's sake" approach to parading, one specific group came to share their version of authentic Irish music.
The Gallowglass Pipers, a local performance troop, arrived in Irish garb, playing Irish marching songs. They've attended the Beale Street parade since 2002.
Bruce Erskine, a retired University of Memphis music instructor, has been in the Pipers since the group's founding in 1995. He has been playing bagpipes since the 1960s. A third generation bagpipe player, he follows in the footsteps of his father and grandfather.
Before the parade took off, he and fellow piper J. Steven Sanders practiced their bagpipes by playing for Memphis Redbirds mascot, Rocky the Redbird, who danced along.
"We do it for fun," Sanders said of the parade, explaining that they usually travel, playing for money. "This is the one day of the year, we don't take any gigs. This is our day."
While the parade may have been recreational for the Pipers, no one was as relaxed as the Blues Krewezrs, a social club of men parading on motorized reclining chairs.
Kicked back in their furniture, they drew cheers from the crowd.
Scot Bearup said he and his krewe place their recliners on top of mobility scooters in order to achieve their unique mode of transport. He said some of the rigs are more difficult for him and his pals to construct than others.
"I'll be honest, it usually involves a lot of alcohol," he said.
"Every year, the parades get better and better," he added. "Memphis is finally getting it's act together and having some fun."
The Grand Krewe of Luxor had a hit with their Luxor Twirlers, a team of baton-swinging senior majorettes.
"I used to be a twirler years ago, and we all decided to get together and twirl in front of our float," said Patricia Ramage, who effectively tapped into her days as a majorette in the 1972 class of Jackson Central High School in Jackson, Tennessee.
Ramage started coaching the group eight years ago.
"You won't find anyone prettier … or older," one of her fellow twilight-year twirlers said, just before the parade took off down Beale.
If there were any parading groups who didn't receive a warm welcome, it was the Cincinnati Bearcats pep band, who received a few boos from Memphis Tiger fans along the route.
The group is in town to support their basketball team, participating in the American Athletic Conference tournament, being held around the corner at FedExForum.
Associate band director Nick Angeles said the band was invited over to play by the Beale Street Merchants Association, and he jumped at the chance to let his group warm up before their matchup against Wichita State later in the afternoon.
"I thought it'd be a great opportunity for the students to experience Memphis and Beale Street, to check it all out," he said.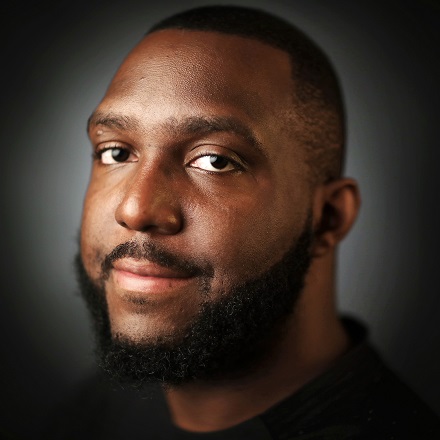 Jared Boyd
Jared Boyd is a general assignment reporter with The Daily Memphian who can be found covering just about anything people in the Mid-South might find interesting. His friends call him "Jay B.," and you can, too.
---