River turns wheels of industry, stokes city's economic engine
Would you like a couple thousand big rigs rolling down Riverside Drive as the sun sets over the Mississippi River?
The 9,000-plus people working in river-related jobs in Memphis didn't think so.
But that much coal, grain, petroleum and other product cruises past the city's front doorstep multiple times a day in flotillas of 30-40 barges navigating America's original interstate route.
And the waterborne superhighway is only going to get busier with the expected arrival of inland container ships – slimmed down versions of ocean-going freighters – and growth of overnight cruises carrying well-heeled tourists.
The Mississippi has been lubricating the economic machinery of Memphis since land speculators bet on an influx of people and goods at a strategic spot where a high bluff overlooked the muddy terminus of the Wolf River.
The heyday may have been the era of steamboats and one of the world's busiest cotton markets, a past that lives on today in paddlewheel excursion boats that ply the river.
"Cotton has always been an important part of it in many regards from an agribusiness perspective," said Ken Eriksen of Informa Economics, an agribusiness intelligence firm. "How many pictures have you seen around Memphis that will have bales of cotton going onto barge tows and then moved down to be loaded for export?"
Indeed, the Memphis wharf master in 1858 counted 2,279 steamboats and 379 flatboats arriving at Memphis, according to a source cited by an application that put the cobblestones on the National Register of Historic Places in 2011.
In a single year, 1860-61, the port handled the equivalent by today's values of more than a half billion dollars in cotton, 95 percent of which left by steamboat, the application said.
"The Memphis Landing distinguished Memphis as the major shipping and distribution hub for cotton commerce and was more important to the early city and its commercial and economic development than the Memphis International Airport is today," researcher Judith Johnson wrote in the National Register application.
A tale of two ports
But the story of river commerce in Memphis is actually a tale of two ports.
For a good part of the city's first 133 years, the Wolf River harbor and Memphis Landing, popularly known as the cobblestones, dominated business and economic life.
For the past 67 years, heavy industry and river businesses have migrated a few miles downriver to Presidents Island, a public works marvel that cost the equivalent of $567 million in today's dollars to build, starting in the 1940s.
Between the two harbors, Memphis has seen the rise and fall of steamboats and the cotton economy; the advent of intercontinental railroads and shift of commerce from water to rails; and growth in barge traffic to serve a growing industrial base in the 20th century.
More recently, river commerce has come full circle with a renewed focus on the Downtown riverfront as a residential and recreational amenity, the Mississippi's timeless appeal to tourists and the river's integral role in attracting new industry.
Looking ahead, operators of river businesses see recent trends continuing.
Cruise business steams ahead
An estimated 23,000 tourists are scheduled to arrive on 67 overnight cruises docking in Memphis this year, said Memphis River Parks Partnership external affairs director George Abbott. This comes seven years after the cruise industry returned to the river after a hiatus, attracted in part by the new Beale Street Landing docking facility.
Two companies, American Cruise Lines and the American Queen Steamboat Company, are operating cruises, and others, including European giant Viking Cruises, have stated plans to wade into the Mississippi River market.
Charles Robertson, CEO of Guilford, Connecticut-based American Cruise Lines, said, "We think it's terrific and we're building more vessels for the Mississippi River. We have one that's almost done, that will go into service this summer, and three more behind it, so we're a believer in the Mississippi River, for sure." 
Robertson's shipyard is building the American Harmony to join the Queen of the Mississippi and the America on the river this summer. His Indiana-based competitor's American Queen and American Duchess also serve Memphis and were formerly headquartered here.
"Over the next four or five years, I think you're going to see a whole lot more, whether it's us or Viking or whoever," Robertson said.
As river cruise business grows, Memphis' current facility may be pressed to accommodate the growth, even though Beale Street Landing is one of the newer docking facilities, Robertson said.
Cruise ships already are redirected to alternate landing sites on Mud Island during extremely high water, but the Memphis River Parks Partnership has been studying modification of the landing to handle more traffic.
"That's a good facility for sure, but if you look down the road 10 years, it's not going to be adequate. I'm not sure right now, how impacted it is by the high water as well," Robertson said.
---
BILL DRIES & CHRIS HERRINGTON: The river defines who we were and who we will become
---
While there's still interest in Victorian-style paddlewheelers, Robertson sees the market shifting to modern riverboats, "which are faster and quieter, more glass, higher ceilings and bigger state rooms, faster elevators and meet all the new environmental requirements…"
Robertson believes the river's appeal will stand the test of time.
"I think the Mississippi River is special. It's woven into the fabric of America moreso than many other places. It's special, and I can't exactly put my finger on it, but it has a draw and an intrigue that many other places and many other rivers don't have," Robertson said.
Commodities, containers are the future
On the cargo side, millions of tons of American agricultural and bulk products pass through the Port of Memphis, and heavy industry continues to be drawn to the vicinity of Presidents Island.
But the volume is off considerably from what was passing through the port before the Great Recession.
Officials believe planned port improvements and the eventual arrival of container-on-barge traffic on the Mississippi will figure prominently in the future.
The port's volume peaked at 19.1 million tons in 2006, but fell to 12.2 million tons in 2016.
The amount of coal coming downriver has plunged because of clean air rules. Coal fell further with TVA's replacement of the old Allen Fossil Plant with a new natural gas-fired generation plant. Soybean, rice and sorghum shipments have increased, while corn lost ground, according to statistics from Informa Economics.
"Memphis is at a very important crossroads on the river system," said Eriksen, Informa senior vice president, client advisory and development, energy and transportation. "All the barge lines go past Memphis."
"You can load the barges heavy, and you've got one set of locks between here and Asia, and that's the Panama Canal. Just by loading the barges heavier, you get a better per unit cost to move to a market position, and that's very attractive to Memphis to be able to do something like that," Ericksen said.
Officials said container-on-barge has potential for Memphis, but it faces a steep climb due to a big capital investment and the need for backing from major players such as ocean shipping lines.
The Port of Memphis signed a memorandum of understanding last year with proponents of an inland container shipping network based in Louisiana.
Port Commission executive director Randy Richardson said, "The real change you're going to see somewhere out there in the future when they finally figure out how to make the economics work is the containerization of a lot of that product."
"There's a lot of farmers out there and agribusinesses that are very interested in the ability to move product by container. It's been a little difficult to pull off because of technology issues but now the technology is coming around where you can actually pack containers with corn, soybeans, lumber products…" Richardson said. By loading directly into containers, producers can bypass middle men, he said.
Eriksen said widespread movement of container on barge through Memphis "would be quite a ways down the road."
He said, "It's a matter of demonstrating the volume and the opportunities that would serve steamship lines coming into New Orleans. Memphis becomes not just a stop on the map for New Orleans, it actually becomes even more integral to what they do."
The port master plan identifies a potential site for a container or bulk marine terminal near the Allen generating plant site in Frank C. Pidgeon Industrial Park. Pidgeon is a 1967 expansion of industrial land across the harbor from Presidents Island.
The idea of connecting the Port of Memphis to ocean shipping isn't new.
Robert A. Sigafoos, in his 1979 "Cotton Row to Beale Street: A Business History of Memphis," noted the Deep-Water Convention in Memphis in 1892 promoted opening the river to ocean-going ships.
Harper's Weekly commented that the convention "may be able to settle definitely whether the scheme is feasible and before long there may be a Memphis and Liverpool line of steamers, and the Memphis of the Nile overshadowed by her Tennessee namesake," Sigafoos wrote.
River, rail unbeatable combo
In the 1880s, railroads displaced steamboats as cargo haulers of choice from Memphis, and barge lines formed in competition with the railroads. The river was seen as a counterweight against dominance of the shipping market by railroads, a competitive balance that continues today.
The river formed the original barrier between eastern and western railroad lines, creating market areas that still apply; Memphis' river-based economy gained steam in 1892 when the Frisco Bridge became the next east-west connection south of St. Louis, Richardson said.
Richardson and former Shelby County historian Jimmy Ogle said it was the one-two combination of river and rail that cemented Memphis as an economic powerhouse moving into the 1900s.
"The combination of river and rail on a high piece of ground, that's really what put Memphis on the map: Being a transportation center between river and rail and also being the hardwood capital and the cotton capital and the mule capital," Ogle said.
The cobblestones, laid between the 1850s and 1890s, gave the original Memphis harbor staying power, Ogle said, because they made it possible to load and unload boats without sinking in mud.
"Laying those cobblestones over a 40-year period of time, from 1850 to 1890, was key to making us a big transportation center," Ogle said.
Presidents Island shifted industrial focus
Development of Presidents Island began as a response to a civic crisis between the two World Wars. The Memphis Landing and Downtown riverfront had run out of room for industry and couldn't accommodate movements of towboats and larger barges.
Harbor congestion was also dangerous. In the record flood of 1937, a barge broke loose in the harbor and "by the time it had careened its way to the mouth of Wolf River, it had caused $5 million damage," noted a 1963 Port Commission brochure marking the 11th anniversary of the first business moving to Presidents Island. That's $88 million in today's dollars.
"The barge industry growing between World War I and World War II, that's what really made the shift down to Presidents Island," Ogle said. "You couldn't bring 20 barges into the Wolf River Harbor. It was too narrow."
The exodus to Presidents Island began in 1952, but it took decades for businesses to leave the Wolf River Harbor area, and some of the last to leave have been the grain elevators at the north end of the embayment.
The departure of heavy industry has cleared the way for recreational and residential development around the east side of the harbor, a variation on what's happened to Mud Island since the 1980s.
George Leavell, executive vice president of Wepfer Marine, said the shift to Presidents Island created a mutually beneficial separation between industry and Downtown.
"Presidents Island has allowed the city to develop the riverfront for recreational uses and put a good face on the city," Leavell said. "It also has allowed industry to be compartmentalized down here. In a lot of ways, I think having Presidents Island down here has made it safer for the community."
Family-owned Wepfer Marine moved to Presidents Island in the early 1970s from Downtown, where predecessor companies including Warner & Tamble had worked the harbor since the early 1900s.
Wepfer, which employs more than 100 people in Memphis, serves as the harbor's switchyard. It moves, cleans and repairs barges and boats for towing companies, barge lines and others.
$9.2 billion impact: Is it too low?
Leavell said the economic contribution of port industries is impressive and often overlooked.
The Port Commission says the port's 2018 economic impact was $9.2 billion, supporting 9,128 jobs and indirectly supporting another 13,337. Leavell thinks that's low.
"When you look at how many farmers, farm implement companies, jobs at FedEx are impacted when petroleum products come in through Valero, it has a wide reach that people like to cut off, I think, way too soon," Leavell said.
"We bring in rock and cement through this port. You look at how many homebuilders use rock and cement, so that one job can support a whole lot of jobs out there," Leavell said.
Ongoing challenges include funding for maintenance and repairs of inland waterway locks and dams and dredging to keep shipping channels open. There's also potential impact of international trade conflict on American agricultural exports.
Leavell said Memphis' river commerce has a positive story to tell.
"We're the most fuel efficient mode of transportation. One barge is equal to 70 semi tractor trailer truckloads and is equal to 16 rail cars. One tow out there has got 40 barges," Leavell said.
"You're not damaging infrastructure, a lot of the chemicals that go by rail and truck, down Poplar and all that. We don't go through a lot of the heavily populated areas. So we think we have a very good environmental story to tell," Leavell said.
More Memphis@200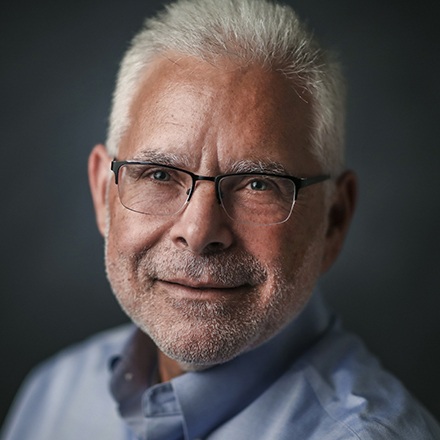 Wayne Risher
Business news reporter, 42-year veteran of print journalism, 34-year resident of Memphis, University of Georgia alumnus and proud father and spouse of University of Memphis graduates.
---