Modern manufacturing inspires the next generation
Last Friday, a group of students from Bolton High School toured Competition Cams Inc., a Memphis-based manufacturer of performance camshafts and other valve train parts. At the beginning of the tour, feet were dragging and yawns were contagious, but as students moved through the production process and more machinery came into play, they began to ask questions.
When hearing how many parts are produced each year in Memphis, some students shook their heads in disbelief.
When the group turned the corner and saw a fully restored 1969 Camaro in the research and development lab, the smartphones came out.
"This is the heart and soul. Once engineers make a product and sales says yes, it comes back here to make sure it can be proven," said Dave Henninger, director of product development for the COMP Performance Group.  
"Can we start this up?" a student asked. As the engine cranked, hands covered mouths and eyes widened. The louder the engine revved, the louder the teens got as they snapped pictures and took videos for their social media accounts.  
"This could be entry-level for someone who has a passion for taking things apart and using their hands," Henninger told the excited teens.  
The students were just a handful of the more than 500 students and 18 schools that toured 16 different manufacturing operations across the city Friday, Oct. 5, as part of national Manufacturing Day, a celebration of modern manufacturing meant to inspire the next generation of employees.
The first Friday of each October, the Greater Memphis Chamber helps Shelby County Schools coordinate tours of local manufacturing operations.   
"They have the students and we have the connection to the companies, so jointly, we are able to bring the two together," said Ernest Strickland, senior vice president of workforce development at the chamber. "We want young people to know, through career exploration, how they can complete career technical training programs through SCS and know what to expect as far as opportunities upon graduation."  
Bolton High assistant principal James Bacchus brought 26 students from the north Shelby County high school's College, Career and Technical Education program, CCTE.
"It's for students who are interested in college, technical college or a career right outside of high school, so they can earn industry certifications in that career path," Bacchus said.  
With low unemployment, many of the participating companies are interested in how to grow the workforce pipeline in Memphis and Shelby County.  
"Nationally, we have a labor shortage as it relates to skills," Strickland said. "There is a skills gap. Programs such as Manufacturing Day help us bridge that gap and give students an opportunity for career exploration.
"When you are in 12th grade, you don't know the answer. You only know the question," Strickland added. "Through career exploration, you're able to get exposed to what's available and you can start connecting the dots between what you are learning and what opportunities exist right here in Memphis."  
Kirk McIntyre, an automotive manufacturing development associate for COMP Performance Group, the umbrella company for Competition Cams, was one of those 12th-graders.
McIntyre started working at COMP Cams when he was a 17-year-old Bolton High student. After graduating in 2011, McIntyre moved up in the company.
"I went from pulling stuff off the shelf to running machinery to now, I have my own office," McIntyre said, who has returned to college to pursue an engineering degree.
"He will be more qualified than any other candidate because of the hands-on experience he's had at COMP Cams," Henninger said.   
The excitement the students exhibited over the Camaro is how COMP Cams finds many of its employees. With customers ranging from hot-rodders who want to get more power on the street, all the way up to professional NASCAR drivers, many COMP Cams employees are also car enthusiasts.  
"The passion of being a hot-rodder helps them in their job," Henninger said.
Paul "Scooter" Brothers, president and co-founder of COMP Cams, said the heart and soul of the company is the people who work there and he's always looking for great employees.
"When you leave here, take with you we have almost 400 people and they all come from high school," Brothers said. "If you graduate, we have a place for you. If you want a good job, we've got a place for you."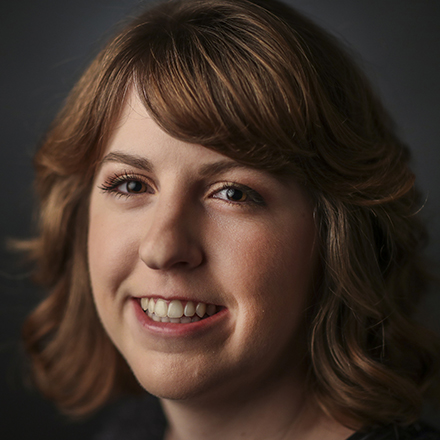 Michelle Corbet
Michelle Corbet covers business for The Daily Memphian. Prior to, she was a reporter at the Memphis Business Journal. A native Memphian and University of Memphis graduate, Michelle covered business in Conway, Arkansas after college. Michelle got her start covering business as an intern at The Commercial Appeal.
---