Memphis' interfaith ties strengthen in aftermath of Pittsburgh synagogue massacre
Mimi Kaufman Clemons was born in Detroit. She came to Memphis about 40 years ago to attend graduate school and was surprised to find such a tight and affiliated Jewish community in the South.
"There were a lot more Jews in Detroit, but you took it for granted. In Memphis, you have an outward pride in your associations," said Clemons, current president of the Jewish Historical Society of Memphis and the Mid-South.  
Clemons quickly learned through her husband, Mark, the Jewish community in Memphis was just one part of a tight-knit city often described as a small town. 
"I'd ask him, 'Do you know my new friend so-and-so?' And he'd say, 'Who did she used to be?' talking about her maiden name," Clemons said. "It was funny to me, but he grew up in Memphis. The people here know each other. That has grown on me in the 40 years I've lived here – people really do know and care about each other."
In talking with friends, Clemons has learned the Squirrel Hill community in Pittsburgh – where a gunman took the lives of 11 people at a local synagogue Saturday in the largest act of anti-Semitic terrorism in U.S. history – is also a place where people knew and cared about each other.
"That's the hardest thing about seeing what happened in Pittsburgh," Clemons said. "Even if not related, they were family. I don't want to get into politics, but the sad thing is, it's going to happen again. There are people hating people, and that's awful."   
Anti-Semitism on the rise
"It's a terrifying time for the Jewish community all over the country and it definitely hits home," said Mark Fogelman, president of Temple Israel's board of trustees. "We're told it's the deadliest attack on Jews and it happened in a city similar to Memphis. ... It is an emotional time for the entire community."
In its annual audit of anti-Semitic incidents, the Anti-Defamation League (ADL) found the number of anti-Semitic incidents in the U.S. rose 57 percent in 2017 – the second-highest number reported since ADL started tracking such data in 1979, and the largest single-year increase since then.
A confluence of events in 2017, including bomb threats, cemetery desecrations, white supremacists marching in Charlottesville and harassment in schools, led to a surge in attacks on the Jewish community, said ADL CEO and national director Jonathan A. Greenblatt. 
"These incidents came at a time when we saw a rising climate of incivility, the emboldening of hate groups and widening divisions in society," Greenblatt said.
Sunday night, Jewish Community Partners (JCP) held a night of solidarity in response to the Pittsburgh massacre.
"We can respond by withdrawing from the community, by letting that fear define our choices and shunning activities that define us as Jews. Or we can respond by coming together to denounce bigotry and anti-Semitism and to assert ourselves as proud Jews," JCP chair Michael Greenberg said at the opening of the event. "All of you are here tonight because you've chosen the latter, and for that I thank you."
Traditionally the largest Jewish community in Tennessee, Memphis is home to a Jewish population of about 8,500.
---
"It's a terrifying time for the Jewish community all over the country and it definitely hits home. We're told it's the deadliest attack on Jews and it happened in a city similar to Memphis."
Mark Fogelman, president of Temple Israel's board of trustees
---
The Jewish community is comprised of seven synagogues – four Orthodox, two Conservative and one Reform – two Jewish day schools, one Orthodox yeshiva for high school students, several social service and issue-focused agencies and a Jewish community center.
With such a large Jewish presence, Memphis in July became the first faith-based community to pilot a regional security director program, modeled after a U.S. Department of Homeland Security program that coordinates efforts to protect the well-being of Jews by local law enforcement all the way up to the U.S. Secret Service and FBI.
After identifying areas of mutual concern as well as opportunity, the JCP in partnership with the Secure Community Network, the official homeland security initiative of the organized North American Jewish community, hired Stuart Frisch to lead the first-of-its-kind program.
Frisch is a native Memphian who worked for the Memphis Police Department for more than a decade and then served as coordinator of security for St. Jude Children's Research Hospital, where he created a security policy for more than 5,000 employees across 17 countries.
"The program is an evolution of strategy and the way the Jewish community is dealing with security issues," Frisch said. "In today's world, it makes good sense to plan rather than react."
Frisch is the point person for public safety issues and terrorism. He develops safety initiatives and training, regularly assesses the security needs of Jewish organizations and maintains relationships with law enforcement. 
Since Saturday's incident in Pittsburgh, Frisch said, "What I'm doing hasn't changed, it has just intensified."
Memphis has not experienced a critical anti-Semitic incident since he was hired in July.
"There have been some anti-Semitic social media postings, that I don't think ever stop," Frisch said. "That's a nationwide phenomenon. It's not germane to Memphis."
Frisch does not monitor social media directly, but coordinates with law enforcement agencies, which would notify him if a threat was made targeting the Memphis Jewish community.
Following Saturday's attack on the Jewish community in Pittsburgh, Frisch wants the Memphis community to know "vigilance and awareness is called for and not fear." 
Faith overcoming fear
Rabbi Micah Greenstein of Temple Israel, Memphis' largest synagogue, echoed a similar sentiment during his remarks at Sunday's night of solidarity.
A phrase repeated in Jewish scripture is "Al Tirah," or "Do not be afraid. Do not live in fear."
"Meaning, do not ever turn your synagogue into a bunker. Turn it into a sanctuary like the Tree of Life and Or L'Chayim congregations created, a sanctuary which drew these 11 to their building from ages 54 to 97," Greenstein said.
Within hours after the tragedy in Pittsburgh, Greenstein had received eight voicemails, 15 texts and 64 emails. 
"The first three texts and calls were from a Muslim physician, professor, and imam (one even drove to our synagogue to express his sadness and solidarity)," Greenstein shared Sunday.
When reached by phone Monday night, the messages in Greenstein's inbox had exceeded 380, he said, mostly from non-Jews wanting to show their love and genuine, caring concern for Temple Israel and the local Jewish community.
"In times like this, when the Jewish community is under attack, you know you want other faith communities to understand what you've gone through, and the Muslim community has," said Safi Khan, youth director at the Memphis Islamic Center. "There have been hate crimes in Muslim communities over the past couple of years, and just as we would like them to reach out to us and have their prayers be with us, I'm sure they would want the same as well from us to them."
---
"In times like this, when the Jewish community is under attack, you know you want other faith communities to understand what you've gone through, and the Muslim community has."
Safi Khan, youth director, Memphis Islamic Center
---
With Christians, Jews, Muslims, Buddhists and Hindus, Memphis has long been home to people of varying faiths.
"Memphis takes for granted how unique and deep our interfaith bonds and ties are as a community," Greenstein said. "Most larger cities are past the point of no return, but faith undergirds everything in Memphis."
Clemons recalls during the civil rights movement it was the Jewish faith leaders who marched at the forefront with Martin Luther King Jr. and it was Jewish merchants and professionals who first accepted blacks as their customers and co-workers.
"There's been an affinity for people who are displaced from where they started from, an affinity for those who have experienced faith persecution in any way," Clemons said.
In addition to Memphis' history and legacy of civil rights, Greenstein said, another way Memphis is unique is how faith informs so much of the city's population.
"The people of Memphis believe in the power of one, that one person can make a difference," Greenstein said. "We are souls that are unique and special, Jewish-Muslim, gay-straight, male-female, we are all children of God and we want to bring out that image in others."
Last year Memphis was named the most generous metro area in the U.S. by The Chronicle of Philanthropy because its citizens on average give 5.6 percent of their incomes to charitable causes.  
"In Memphis, it's not about the organizational or institutional, but the relational," Greenstein said. "If life is about relationships, especially spiritual, then we have within Memphis the third poorest ZIP code in America, yet we're the most giving city in America. You can't explain it without faith."
History runs deep
When Clemons recently organized a tour of historical Jewish sites, she had to take people around on a bus.
The Jewish population may have migrated to different areas of the city over the years, but one thing that remained constant is the sense of community among them.
Most of the Jewish families in Memphis have roots that trace back to the settlers of the 1800s. Like most southern river towns, Memphis attracted peddlers, tailors and shopkeepers along the banks of the Mississippi River.
The Pinch District was where the German and later Eastern European Jews were welcomed by the settlers of other ethnicities.
Near the intersection of Main Street and Jackson Avenue, now covered by the interstate, there was a thriving community with a synagogue and Jewish Neighborhood House that met the educational and social needs of the community.
The community gradually moved east with the first synagogue Congregation B'Nai Israel built near St. Jude Children's Research Hospital in 1853. Today it is Temple Israel, the city's Reform congregation. 
Baron Hirsch, Memphis' largest Orthodox congregation, was  established in 1892 on Fourth Street in Downtown Memphis. Today, it is located in the heart of East Memphis, which has become the center of the Jewish community.     
The Clemonses attend the Beth Sholom Synagogue on Humphreys Boulevard, but don't consider themselves "synagogue goers."
"Being Jewish is cultural just as much as religious," Clemons said. "Am I a weekly synagogue goer? Not by a long shot, but in our heart and soul and core, we're Jewish from beginning to end."   
Though Memphis has a legacy of being welcoming, Clemons said, assimilation wasn't always easy.
"Why is our name Clemons for example, when most of our relatives are named Kaplan? It's because my husband's grandfather did not want to be known as a Jew," Clemons said.
Clemons' relatives have shared stories of looking for work and finding signs that read, "No Cohen or O'Malley need apply," meaning the businesses did not want to hire Jewish or Irish individuals.
"We find now, the families who are here have been here for several generations. We hope our children will stay here, but oftentimes, they move for economic reasons," said Clemons, whose son moved to Chicago for work and her daughter to Michigan.
The JCP estimates Memphis' Jewish population to be about 8,500 people. While the organization does not scientifically track changes in population, anecdotal evidence suggests it has remained stagnant or could be declining.
"The most important thing to know in Memphis: It is a tight community. If you're Orthodox, Reform, go to one synagogue or another, maybe not anywhere, you belong to the community no matter what," Clemons said.
The call for solidarity
The Jewish Federations of North America is meeting the deadliest act of anti-Semitism in North American history with a call for the greatest act of solidarity.
The organization is joining with major religious streams for a Solidarity Shabbat on Saturday, Nov. 3, to mourn the victims of the attack in Pittsburgh and to demonstrate that Jews will not be intimidated – whether in a synagogue or elsewhere.
Temple Israel is planning a CommUnity Shabbat, with an emphasis on unity, Friday, Nov. 2, beginning at 6 p.m. as a follow-up to the outpouring of love that continues from the entire faith community.
"It seemed natural when they asked, 'Can we come to service at temple?' to say, 'Yes, of course,'" Greenstein said.
The one-hour service will be based on Martin Luther King Jr.'s sermon about loving your enemies, which states in part, "Hate cannot drive out hate, only love can do that."
The minister and civil rights activist wrote the sermon when he was in jail for nonviolent protests and later delivered it at Dexter Avenue Baptist Church in Montgomery, Alabama.
"I want us to celebrate what love looks like," Greenstein said.
The service is dedicated not just to the victims of the Pittsburgh synagogue shooting, but to all victims of hate and senseless violence.
"Women who are victims of sexual violence cannot stop it, just like black people cannot stop racism," Greenstein said. "It takes us all."
Daily Memphian reporter Omer Yusuf contributed to this article.
Correction: This article has been updated to reflect current figures of the Jewish population in Memphis. An earlier version of this article was incorrect.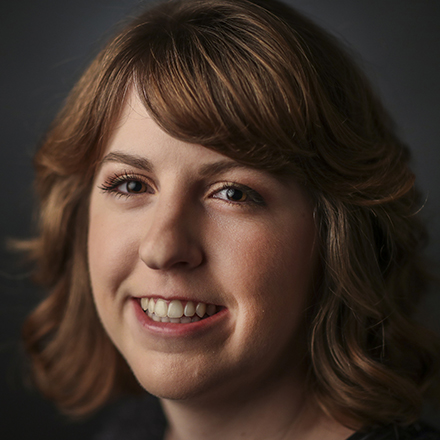 Michelle Corbet
Michelle Corbet covers business for The Daily Memphian. Prior to, she was a reporter at the Memphis Business Journal. A native Memphian and University of Memphis graduate, Michelle covered business in Conway, Arkansas after college. Michelle got her start covering business as an intern at The Commercial Appeal.
---