Public, city clash over need for more Downtown Memphis parking
If there was any doubt about the Downtown Memphis master plan being driven by the public, the top 10 list of priorities makes it clear.
The No. 1 priority, by a 2-to-1 margin, is attracting a grocery store Downtown. The list is rounded out by a request for more parking.
Attract grocery store.
Preserve historic buildings.
Support startups and entrepreneurs.
Renovate the park and expand access to the riverfront.
Expand music and the arts throughout Downtown.
Build more workforce/affordable housing.
Create and maintain more parks and public space.
Recruit more corporate offices.
Expand the trolley to the Medical District.
Building more parking decks.
"Retail in Downtown will follow housing," said Craig Lewis, principal of international community design firm Stantec's Urban Places Group.
During Monday's discussion on retail, as part of a weeklong visioning session for the Downtown master plan, Lewis spoke with commercial real estate professionals about how much neighborhood-servicing retail the 10,000 housing units coming in over the next 10 years will generate.
"Getting a grocery store comes down to having concentrated housing all in one place. It will take time for that to happen. The more housing becomes compact in a certain area, the more we get to yield the impact of that density," Lewis said.
As for the public's desire for more parking, the city of Memphis may not be on the same page.
With efforts underway to reinvigorate the Memphis riverfront, planners are exploring ways to expand that greenspace into the Downtown core, which may cost some of the public parking along South Front Street.
"We're trying to move Memphis into its third century. Parking garages don't go on the riverfront," said Mary Claire Borys, manager of strategic initiatives for the city's Division of Housing and Community Development.
The new riverfront includes plans by Memphis Brooks Museum of Art to move from Overton Park to South Front Street, displacing a 600-space public parking garage.
Darius Stewart, an architectural designer, parks in the scheduled-to-be-demolished garage each day he goes to work at Hord Architects at 66 Monroe Ave., which is adjacent to the garage. 
"If the goal is to get people to come Downtown, why take away opportunities to visit if it's not going to be replaced?" Stewart said of parking at the doomed garage, which he said is used by many nearby businesses and for parking during the Memphis in May International Festival.  
"I can't, and the city is not going to commit to replacing those spaces because we're not convinced that's where those spaces need to be," Borys said. "Maybe 50 need to be added here or over there."
Engineers are currently engaged to see if a parking garage could be built underneath Front Street, but Borys said she already knows it will not accommodate all of the spaces that will be lost at the three-story garage.
Knowing the changes that were coming, the Downtown Memphis Commission last summer commissioned a parking study by transportation consultant Nelson/Nygaard.
DMC president and CEO Jennifer Oswalt said it's not that Downtown doesn't have enough parking, but people will have to be willing to walk a little farther to use it. 
The study found the Downtown Central Business Improvement District, which includes areas north and south of the Downtown Core and the Medical District, has about 70,000 parking spaces, 65,000 of which are either a surface lot or parking garage.
Overall utilization was less than 60 percent of available parking spaces, the study found.
"That's not to say there aren't hot spots like Beale Street and certain office buildings," said Iain Banks, a senior associate at Nelson/Nygaard.
With those hot spots, some Downtown parking stakeholders want a more refined study of parking needs specifically in the core.
"People who are parking in the Medical District aren't coming Downtown. Don't let anything north of Fourth Street skew your numbers," said Morris Thomas, Belz Enterprises' director of brokerage.
Planners are identifying surface lots in the Downtown Core to determine if they should be converted to parking decks with mixed-use development.
"Unfortunately, these privately-owned surface parking lots are low-risk and profitable, as compared to developing that surface lot for a higher and better use," Banks said.  
Planners also have to figure out parking for South City residents as well as short-term transit options and employer locations if more people are going to live car-less.
"SouthernSun (Asset Management) wouldn't move Downtown without the guarantee that they had enough parking," said John Dudas, vice president of Belz Enterprises. "Even though Downtown is becoming very attractive to firms who want to be in a creative environment, they haven't given up private parking."  
For office leases, Thomas said, parking typically is negotiated in terms of square feet. For example, an employer might get one parking space per 1,000 square feet.
Downtown brokers are working to fight a false perception that office parking in East Memphis is "free."
The cost to build and maintain parking garages in East Memphis is built into the rental rate.
"If you add parking (costs) to the rental rate, Downtown is still the cheapest option out of anything you'd compete with," Thomas said, as the typical Downtown office space is $21 per square foot, compared with $25 to $30 per square foot in East Memphis.
Downtown parking stakeholders have curbed the perception that it is hard to find parking or it's too expensive.
"But when you have multiple events going on, on a Friday night – Grizzlies, Redbirds, Beale Street – you get stuck in a garage for a long amount of time or stuck in traffic," Thomas said. "That's the negative perception."
While the hope is that those people will walk to restaurants, bars or shops immediately following a large event, the reality, Thomas said, is that many run to their vehicles trying to beat what could be a long wait to get out of the garage.  
"At the end of the night, they are going to leave and you want it to be a good experience because you want them to come back," he said.
---
"Local Memphians have a historic culture of either not paying for parking or paying a very low rate. The culture will have to change because eventually the parking owners won't make any money."
Iain Banks, senior associate, Nelson/Nygaard
---
When it comes to paying for parking, of the 7,500 spaces that are not in a garage or surface lot, 2,100 are regulated and 1,400 are two-hour metered, the parking study found.
"Numerous people who either live, work or visit Downtown said they will never pay because there are places they know they will be able to park for free," Banks said.
If not for free, some surface lots Downtown charge as little as $2 a day. The study found parking rates have not increased in 15 years.
"Local Memphians have a historic culture of either not paying for parking or paying a very low rate," Banks said. "The culture will have to change because eventually, the parking owners won't make any money."
"The last thing you should be concerned about is if parking owners are not making money," Thomas said. "When the demand is high, you're going to pay more for parking. People out east are coming Downtown when demand is high."  
The parking study is being completed in conjunction with the Downtown Memphis master plan. The first drafts are anticipated to come out in April.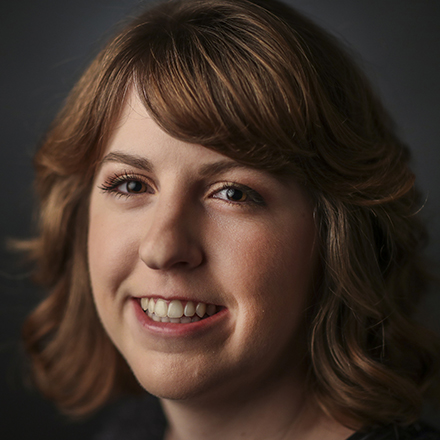 Michelle Corbet
Michelle Corbet covers business for The Daily Memphian. Prior to, she was a reporter at the Memphis Business Journal. A native Memphian and University of Memphis graduate, Michelle covered business in Conway, Arkansas after college. Michelle got her start covering business as an intern at The Commercial Appeal.
---