Volunteers ready $5M Whitehaven park for summer opening
With a break in the rain, volunteers gathered at David Carnes Park Tuesday to assemble picnic tables, benches and fitness equipment that are part of a $5.4 million overhaul to turn the Whitehaven park into a true community asset.
"Is everybody ready to build some play equipment?" Scott Cunningham, president of Cunningham Recreation, asked the assembled volunteers. "We've had a lot of rain, but you'll be surprised how little needs to be done to make this the playground we know it will be for many years to come."  
The $5.4 million renovation of David Carnes Park is the first project under the BlueCross BlueShield of Tennessee (BCBST) Health Foundation's BlueCross Healthy Place program.
The foundation's investment includes $4.5 million in new construction and a $900,000 endowment for maintenance.
"An emphasis of the program is not only physical health, but creating opportunities for interpersonal relationships," said John Hawbaker, public affairs manager for BCBST. "We picked this location because the community was already engaged and asking for resources for the park."   
---
The Daily Memphian Staff: Video: 'Healthy Workplace' seminar highlights
---
Beginning in April 2018, members of the Whitehaven community provided input on what amenities they'd like to see in the park, including a walking track, fitness area and splash pad, all of which were incorporated into the design.
"It's a remarkable thing to see a community come together to transform a park that is already an important part of their community and take it to that next level — to write the next chapter of their story," said Kent Callison, director of marketing communications for commercial playground manufacturer GameTime, a PlayCore company.
The renovated park will also have a challenge course modeled after the popular television show "American Ninja Warrior"; a 40-yard dash with a timer, so friends can race each other; and playground equipment that is accessible for kids with all abilities.   
"The products are just tools," Callison said. "They're just things to do. It's the community that makes them special and this community in Whitehaven has a great story and they are really close-knit; they love one another and they love Memphis."
Other amenities include a pavilion gathering space and an art installation to honor the park's namesake, who was one of the first African-Americans to purchase property in Whitehaven.
Malika Collins, a visual art and photography teacher at Whitehaven High School, said not only was Tuesday's volunteer event a great opportunity for students to give back, but a great lesson as well.
"They can see what it takes for something like this to come about," she said. "Normally, they would just get on the equipment, but now they know what it takes, and they put in the work, to put it together."
Sharon Milam, a visual art teacher at Whitehaven High, remembers having her own senior class picnic at David Carnes Park about 20 years ago.
"We didn't have all this going on," she said, looking across at the new playground and fitness equipment. "This is a huge transformation."
Construction crews are busy trying to complete renovations in time for a grand opening in mid-June, tentative on weather.
BCBST marketing employee Joseph Jones had an opportunity to give back to his own community Tuesday. The Whitehaven native and current resident visits the park regularly with his daughters and wife.  
"Me and the kids, we park and play, while she walks," he said.
BCBST's presence builds on recent commercial activity, Jones said, referencing Kroger's $5 million investment in renovating its store at Shelby Drive and Elvis Presley Boulevard.  
"People are waiting for something new to come to the community," Jones said.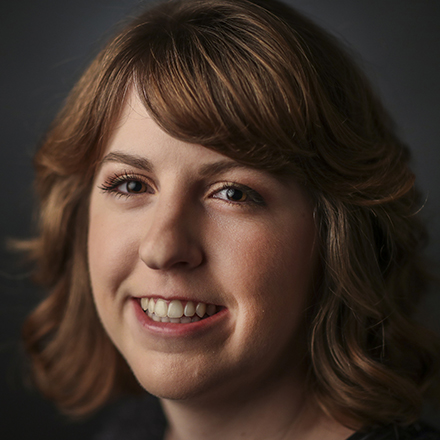 Michelle Corbet
Michelle Corbet covers business for The Daily Memphian. Prior to, she was a reporter at the Memphis Business Journal. A native Memphian and University of Memphis graduate, Michelle covered business in Conway, Arkansas after college. Michelle got her start covering business as an intern at The Commercial Appeal.
---