Opinion
Opinion
Nelson: Can the Democrats win November Senate elections in Tennessee and Mississippi?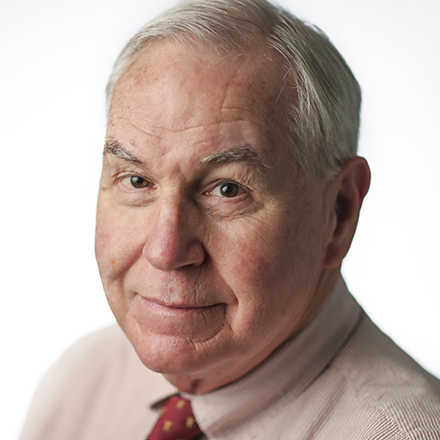 Daily Memphian
Michael Nelson
Michael Nelson is contributing editor and columnist for The Daily Memphian, the political analyst for WMC-TV, and the Fulmer professor of political science at Rhodes College. His latest books are "Clinton's Elections: 1992, 1996, and the Birth of a New Era of Governance" and "The American Presidency: Origins and Development, 1776-2018."
With the primaries over and the general election less than three months away, will the Democrats be competitive in Tennessee and its Mid-South neighbors?
It's been a while since that was a question worth even asking. Tennessee hasn't elected a Democrat to the Senate since 1990, when Al Gore won a second term against token opposition. Mississippi Democrats' record of futility goes back even further, to 1988 when Sen. John Stennis retired and then-U.S. Rep. Trent Lott was elected to the seat.
And although Arkansas has the region's shallowest Republican roots — it voted Democratic twice for native son Bill Clinton for president in the 1990s and had two Democratic senators as recently as 2010 — it offers the Democrats their least promising prospect this year. Sen. Tom Cotton, whose eye is on the White House in 2024, is unopposed for reelection in November.
What a change from the first half of the 20th century, when everyone knew what the term Solid South meant: the Solid Democratic South. By the end of the century, the South had become so solidly Republican that Gore, a native Tennessean, failed to carry a single Southern state in the 2000 presidential election, including Tennessee.
---
---
Still, in politics the only constant is change, and this year's elections could augur another reversal of fortune between the two parties.
Consider what's been happening in other parts of the South. In 1976, Virginia was the most Republican state in the region — the only one to vote for Republican President Gerald Ford against Jimmy Carter, the former Democratic governor of Georgia. Since 2008 Virginia has been bright blue. 
Florida, Georgia, North Carolina and Texas all appear to be on a glide path from red to pink to purple and perhaps beyond. Even ruby red Alabama has a real Senate contest. Democrat Doug Jones, whose election to a vacant seat in 2017 was universally regarded as a fluke, has a genuine shot at winning a full term.
How about Tennessee and Mississippi, which both have Senate elections this year? Do the Democrats have a chance?
If this was an ordinary year, the answer would be no. Just two years ago, Tennessee handed the two most popular Democrats in the state landslide defeats. Former governor Phil Bredesen lost to U.S. Rep. Marsha Blackburn by 11 percentage points and former Nashville Mayor Karl Dean lost to businessman Bill Lee by 21 points.
Mississippi Democrats also saw their two strongest candidates lose when agriculture commissioner Cindy Hyde-Smith defeated former U.S. Rep. Mike Espy for senator by 54% to 46% in 2018, and Lt. Gov. Tate Reeves turned back state attorney general Jim Hood by 52% to 47% in 2019.
Similarly, if 2020 were an ordinary year, former ambassador Bill Hagerty would be a sure thing against his Democratic rival, Memphis environmental activist Marquita Bradshaw, and Hyde-Smith would easily win her rematch with Espy in Mississippi.
But why should we expect that this will be an ordinary year politically when it has been extraordinary in every other way?
Think back four decades to 1980, another extraordinary year of crisis marked by Americans held hostage in Iran and sky-high inflation and interest rates at home. Heading into the November election, nearly every expert predicted that the presidential election between President Carter and former California Gov. Ronald Reagan would be close.
Except it wasn't. Reagan defeated Carter in the largest landslide against an incumbent president in history: 489 electoral votes to 49. Among the 45 states Reagan carried were solidly Democratic New York, New Jersey and Oregon. Four years later, he repeated, adding midnight blue Rhode Island and Maryland to his improbable coalition.
Just as astonishing, the GOP gained 12 Senate seats, regaining control of the chamber for the first time in a quarter century.
Or consider 1932, another year of crisis, when Gov. Franklin D. Roosevelt of New York swept out President Herbert Hoover in almost as large an electoral vote landslide: 486 to 52. 
In that same election, FDR's fellow Democrats gained 12 seats in the Senate, thereby replacing the GOP majority with a Democratic one.
If 2020 turns out to be that sort of wave election, ushering in a victory of similar magnitude for Joe Biden and the Democrats against Donald Trump and the Republicans, are Bradshaw and Espy in position to be swept ashore?
The national experts — the Cook Political Report, Sabato's Crystal Ball, FiveThirtyEight and others — say no.
I'm not so sure.
Bradshaw was on no expert's radar screen as a serious challenger for the Democratic nomination. Her campaign was underfunded and had no support from the party's establishment at all. But in a year of Black Lives Matter and progressive activism, she clearly had the wind at her sails. She may also have benefited from the neglect Shelby County and other West Tennessee Democrats have felt as the party has turned for its recent nominees toward Nashville and Middle Tennessee. Bradshaw essentially swept the western third of the state.
As a surprise underdog nominee who is likely to energize young Democrats around the state, Bradshaw also will head a united party, with all the attendant advantages that brings. So did Marsha Blackburn when she was essentially unopposed for the 2018 Republican Senate nomination. 
No such luck for the GOP this year. Although Hagerty and Sethi ran campaigns that were identically idolatrous in their devotion to Trump, they nevertheless managed to conduct what Politico rightly described as "the nastiest Republican primary in the country" against each other.
---
---
The fight wasn't over anything meaningful like, say, the issues facing the country in a year of pandemic, economic collapse and racial tension. 
What separated the two Republican contenders instead was playground taunts. 
Hagerty is "Mitt Romney's guy," Sethi repeatedly charged, as if supporting their party's nominee for president in 2012 was somehow shameful. Oh yeah, Hagerty rejoined: Sethi is "Massachusetts Manny," with a foreign-sounding name real Americans can't even pronounce, so I'll call him "Set-ee" instead.
Wounds like these don't heal overnight, if they ever do. And if the president's public standing continues to deteriorate, the months and millions Hagerty and Sethi spent folding the Tennessee GOP's identity into Trump's may backfire in the general election.
As for Espy, consider what has happened in Mississippi since he ran in 2018. A new flag is in the works, stripped of the old one's Confederate stars and bars. A state Supreme Court election is on the ballot in which a second African American justice may well be elected. Remarkably, Espy has raised considerably more money for his campaign than Hyde-Smith.
As an African American Democrat in a state that is 39% Black, the highest percentage in the nation, Espy can build his coalition on a high floor of support. In the past that floor has also been a ceiling for Democrats. 
Could this year be different? All Espy needs is the support of about one of every five white voters. In other words, he can lose the white vote by nearly 80% to 20% and still be elected.
Could, may, perhaps — yes, Bradshaw and Espy have a chance to win but don't bet on them unless you get really good odds. It would take an astonishing turn of events for Biden to earn a victory large enough to bring in two Mid-South Democrats on his coattails.
Almost as remarkable as Ronald Reagan carrying New York.
A previous version of this column misidentified Jim Hood, former Mississippi state attorney general.
---