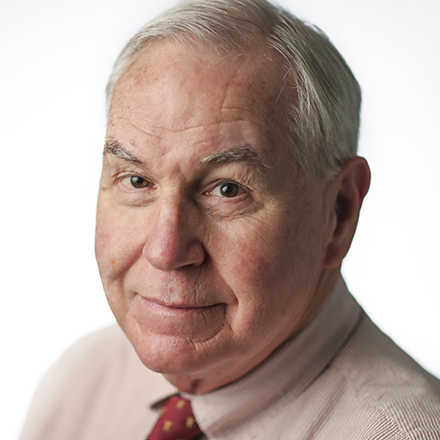 Michael Nelson
Michael Nelson is contributing editor and columnist for The Daily Memphian, the political analyst for WMC-TV, and the Fulmer professor of political science at Rhodes College. His latest books are "Trump: The First Two Years" and "The American Presidency: Origins and Development, 1776-2018."
Nelson: The Mid-South is getting redder; the rest of the South is not
Now that November is behind us, where does the Mid-South stand politically?
Pretty much all by itself.
Election Day saw Democrats make gains in nearly every Southern state except Tennessee, Arkansas, Mississippi and Alabama. Technically, Alabama may or may not be a Mid-South state, but it shares long borders with two of them: Tennessee and Mississippi.
Let's run down the list of the other seven states in the South, then bring it home to our part of the region.
Virginia
The only Southern state that did not vote for Jimmy Carter in 1976 is also the only Southern state that voted Democratic in each of the three most recent presidential elections.
Virginia is also alone in the South in having a Democratic governor and two Democratic senators. In no other state in the region do Democrats hold even two of these three offices.
Most important, Virginia's delegation in the U.S. House of Representatives just flipped from 7-4 Republican to 7-4 Democratic.
Get out your Crayola box and color Virginia blue.
North Carolina
Democrats picked up six state Senate and nine state House seats on Nov. 6. They may have flipped a still-undecided U.S. House seat in the 9th District, whose suburban-rural voters went for Trump by 12 points in 2016. Two years ago, North Carolina elected Democrat Roy Cooper as governor, defeating the incumbent Republican.
Color North Carolina purple.
South Carolina
Democrats picked up a state Senate seat and a U.S. House seat in the 1st Congressional District, which runs south along the Atlantic coast from the wealthy parts of Charleston to Hilton Head.
Color South Carolina brick – not bright – red (love those Crayola colors).
Florida
Republicans narrowly won a U.S. Senate seat but lost two in the House. Democrats picked up two state Senate seats, six state House seats, and came close to electing the first African-American governor in Florida's history.
Color Florida purple.
Georgia
The Peach State nearly elected its first African-American and female governor. Stacey Abrams came within 1.5 points of winning, closer than any Democratic candidate for governor has in 20 years. Democrats also gained one (and almost two) U.S. House seats, three state Senate seats and 12 state House seats.
Color Georgia pink.
Louisiana
No major elections were scheduled this year but in 2015 Louisiana elected Democrat John Bel Edwards governor by 12 points.
Color Louisiana brick red.
Texas
Democrats picked up two U.S. House seats, launched narrowly defeated Senate candidate Beto O'Rourke into national political orbit, and cut into the GOP majority in the state legislature by gaining a Senate seat and 11 House seats.
No Democratic candidate for governor or senator has come as close as Beto (yes, like Elvis, he's become a one-name wonder) in more than a quarter-century.
Color Texas pink.
All seven of these Southern states now fit somewhere along the partisan spectrum from blue (Virginia) to purple (Florida and North Carolina) to reddish rather than red (the other four).
Meanwhile Alabama and the Mid-South all burn scarlet – redder than red.
Alabama
Alabama Republicans gained five seats in the state House of Representatives to increase their already massive majority. Gov. Kay Ivey won a full term by 19 points.
Arkansas
For decades, Arkansas was arguably the most Democratic state in the South. Until 1972, it went an entire century without ever voting Republican for president, the last holdout in the entire region.
The governor of Arkansas and both senators were Democrats as recently as 2010; so were three of four U.S. representatives. Both houses of the state Legislature were overwhelmingly Democratic as well.
Yet on Election Day this year, the Republicans added to their massive majority in the state House of Representatives and re-elected Gov. Asa Hutchinson by a 33-point margin.
Tennessee
Tennessee abandoned its pattern of alternating Republican and Democratic governors every eight years. Republican Gov. Bill Haslam will be succeeded next month by Republican Gov. Bill Lee, who won by 21 points.
As for Tennessee's U.S. Senate election, Democrat Phil Bredesen, who carried all 95 of the state's counties when he was re-elected as governor just 12 years ago, lost 92 of them to Marsha Blackburn this year.
Meanwhile the GOP held on to its 7-2 majority in the U.S. House delegation, its 73-26 majority in the state House of Representatives (down by only one), and its 28-5 majority in the state Senate.
Crayola needs a new color that's brighter than scarlet. Call it Tennessee red.
Mississippi
Cindy Hyde-Smith's eight-point victory in the special Senate election is proof enough that even a weak Republican can beat a strong Democrat in Mississippi. More typical was Sen. Roger Wicker's 20-point win in his bid for re-election.
---
Historically, the fault line in the South ran between the plantation-based, heavily African-American Deep South states of Alabama, Georgia, Louisiana, Mississippi and South Carolina, and the Outer South states of Arkansas, Florida, North Carolina, Tennessee, Texas and Virginia.
The Outer South was the first to vote Republican for president when the GOP ran moderate candidates like Dwight Eisenhower in 1952 and 1956 and Richard Nixon in 1960. The Deep South moved in that direction when the Republicans ran hard-right candidates like Barry Goldwater in 1964.
The Outer South-Deep South distinction no longer seems to apply.
Nowadays it's the Mid-South – previously Deep South Alabama and Mississippi, with their large black populations, plus previously Outer South Arkansas and Tennessee, with their smaller black populations – that is politically distinct in its movement toward the GOP, even as the rest of the region is becoming less red.
In 2016, Donald Trump carried every Southern state but Virginia. Within the South, however, his top three states were Alabama, Tennessee and Arkansas, in that order. Mississippi was fifth.
Compare that to, say, the 2000 election, when Arkansas and Tennessee gave much less support to George W. Bush than Texas, South Carolina, North Carolina and Georgia did.
Puzzling over this recent divergence between the Mid-South and the rest of the region, I contacted the smartest political analyst I know, Memphis' own John Ryder.
Here's what he told me: Look at population density.
As the Republican Party increasingly becomes the party of the countryside and the Democrats the party of the cities, the states with the lowest density have moved toward the GOP and those with higher density have moved away from it.
Guess what: Of the 11 Southern states, Arkansas has the lowest population density. Then comes Mississippi. Then Alabama.
Tennessee is more densely populated than fourth- and fifth-place Louisiana and Texas, but not by much: it's 26th in the country.
Ryder's insight makes explicable what previously was not. It also augurs a Mid-South future that, unless people start flooding in, is likely to get even redder as the rest of the region, where population density is still growing, gets pink, purple, and even blue.
---