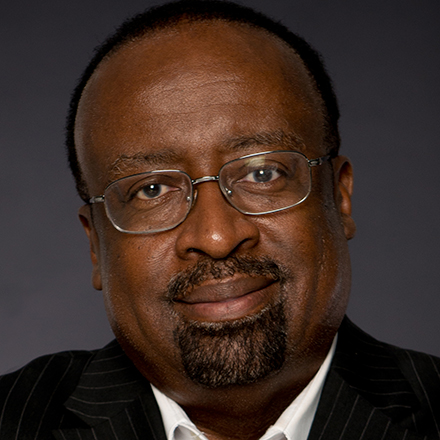 Otis Sanford
Otis Sanford holds the Hardin Chair of Excellence in Journalism and Strategic Media at the University of Memphis and is the political analyst and commentator for WATN Local 24. Contact him at 901-678-3669 or at o.sanford@memphis.edu. Follow him on Twitter @otissanford.
Sanford: Will U.S. Sen. Lamar Alexander seek a fourth term in 2020?
Will he or won't he?
That's the salient question swirling in statewide political circles these days over whether U.S. Sen. Lamar Alexander will seek a fourth term in 2020.
"He told me that I would be the second person to know right after he knows," state Republican Party chairman Scott Golden said this week, recalling a recent meeting with Alexander in Washington.
When pressed, Golden said his gut tells him Alexander will run, and his staff is gearing up for it, but it's not a sure thing.
Former Knoxville mayor Victor Ashe, however, is more certain.
"Remember, you heard it here first, but all signs are that Alexander will run again," Ashe wrote last month in a column in the Knoxville News Sentinel. "It is a go in my opinion at this time."
But is it? Alexander, who will turn 80 in July 2020, has said next to nothing publicly about his intentions, only that he will make a decision before the end of the year.
If he does run, Alexander will be heavily favored in the GOP primary – even though he will have credible opponents vying to knock him off. And he will be more heavily favored in a general election, despite assertions from state Democratic Party chair Mary Mancini that, "we have a bench of Democrats looking at this seat."
Internal polling made public this week by Alexander's longtime pollster, Virginia-based North Star Opinion Research, told us nothing we didn't already know. Alexander's favorability rating among GOP primary voters stands at 65 percent. That's virtually unchanged from 2014 when the senator faced a spirited challenge from ultraconservative Tea Party candidate Joe Carr.
But Alexander's pending decision should not be based on his likeability or the prospects that someone more credible than Carr can overtake him from the far right. This decision should be about the future of the state and the country well beyond 2020. And whether the proverbial fire in the belly will last until 2026 when Alexander will be 86.
So with that, my unsolicited – and very likely unheeded – advice to Alexander is to not run. I say that not because of his age or because he has nothing more to offer. But because he has already offered enough.
This is a man who has been in public life for more than 44 years, with a lengthy string of political victories and defeats to prove it. Let's review.
In 1974, he lost the Tennessee gubernatorial race to Democrat Ray Blanton. It was the last election in which a Tennessee governor could not succeed himself. Four years later, Alexander tried again and was elected amid a pardon and parole scandal surrounding the outgoing governor. With help from the state's top Democratic lawmakers, Alexander took office three days early to prevent Blanton – who had already pardoned 52 state inmates including 20 convicted murderers – from releasing more prisoners.
Grateful voters reelected Alexander in 1982, and after completing a successful second term, the education governor was named president of the University of Tennessee. He left that position in 1991 to be secretary of education in President George H. W. Bush's administration, where he was one of the first education leaders to push for school vouchers.
By then, Alexander had become a national political figure. He ran for the presidency twice – first in 1996, and made a respectable showing before eventually bowing out to Kansas Sen. Bob Dole. But not before making an issue of Dole's advancing age. During a debate in Iowa that year, Alexander quipped to Dole, then 72, "It may be your turn, but it is not your revolution. It's time we moved on."
With Dole's eventual defeat, Alexander launched a second presidential bid in 1999, but dropped out early after he was no match for Texas Gov. George W. Bush in fundraising. In a telephone interview with The New York Times in August 1999, Alexander complained that because of campaign finance rules at the time that limited individual contributions to $1,000, he could not compete with Bush's massive support.
"The rushing to judgment (in favor of Bush) combined with the $1,000 limit makes it virtually impossible for anybody except the rich and the famous the run," Alexander told The Times. He then added, somewhat prophetically, "So we can look forward to a race between Donald Trump and the latest Powerball winner."
With his hopes for the White House gone, Alexander found new political life back home in Tennessee just as the Republican Party was poised to become a statewide force. He defeated Democrat Bob Clement to win his first senate race in 2002 with 54 percent of the vote.
His reelections in 2008 and 2014 were both landslides over nominal Democratic opponents. And for the last 15 years in Washington, Alexander has been a moderate at times and willing to work with Democrats on issues related to healthcare, the environment and education. But make no mistake, he is a reliable conservative vote.
Alexander's supporters point to his work dealing with the Opiod crisis and the Every Student Succeeds Act, which replaced No Child Left Behind. He also was one of the architects of recent bipartisan legislation, known as the Music Modernization Act, reforming music copyright laws.
Critics within his own party can only argue that Alexander is not conservative enough, while Democrats contend he does not pay enough attention to concerns in the state's urban areas of Memphis and Nashville.
And that brings me to why I think he should forgo a fourth term. It can be summed up in two words – Donald Trump. The next 20 months are shaping up to be the equivalent of a political civil war for the presidency and control of Congress. No matter what comes of the Mueller investigation and the congressional hearings into Trump's numerous scandals, all of it will consume the run up to the 2020 campaign.
And while Alexander could easily play it safe, keep his mouth shut and win re-election, the looming turmoil is just not worth it. Because, again, it's not just about 2020. It's about the years to come.
So I say let the mad scramble begin with a new generation of Republican upstarts – or even Mancini's bench full of Democrats hoping against hope for a reversal of fortunes.
Alexander has already been through enough wars. He's won some and lost some. His legacy in public service is cemented. And while he may have more to give, he has nothing else left to prove.
---