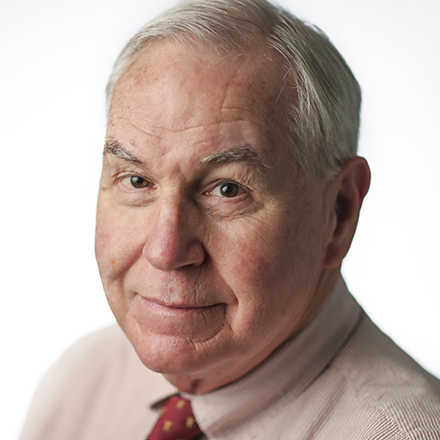 Michael Nelson
Michael Nelson is contributing editor and columnist for The Daily Memphian, the political analyst for WMC-TV, and the Fulmer professor of political science at Rhodes College. His latest books are "Trump: The First Two Years" and "The American Presidency: Origins and Development, 1776-2018."
Nelson: Some Civil War monuments need to go, others ought to stay, and still others should be built
There are Confederate monuments, and there are Confederate monuments.
The Nathan Bedford Forrest and Jefferson Davis statues in Memphis needed to come down – and did, exactly one year ago Thursday, Dec. 20. So, for that matter, does the Forrest statue on the Tipton County courthouse lawn in Covington.
In contrast, the Confederate soldier statue on the University of Mississippi campus in Oxford ought to remain, despite the protest led three weeks ago by a well-meaning group called Students Against Economic Injustice. So should the Confederate Rest Monument in Memphis' Elmwood Cemetery, where more than a thousand Confederate veterans are buried.
On the off-chance I haven't alienated half of you because you're mad about losing the Forrest and Davis statues, and the other half because you're mad about keeping Confederate veterans' statues in place, here's the distinction I'm drawing.
As president of the Confederacy, Davis sent men into battle against his country. Forrest, who rose to the rank of lieutenant general in the Confederate army, led men into battle against his country.
The Ole Miss and Elmwood statues, like many others throughout the South, honor the bravery of ordinary Southerners who fought at Davis' direction and Forrest's (and other generals') command.
Were these soldiers slave owners fighting to defend slavery, as Davis and Forrest clearly were?
In most cases, no.
As the late Shelby Foote, author of the three-volume history "The Civil War," told the story to filmmaker Ken Burns in his PBS series of the same name, when a "ragged Confederate, who obviously didn't own any slaves" was asked by a group of Northern soldiers why he was fighting for the South, he replied, "I'm fighting because you're down here."
Down here is exactly where the war was fought. With few exceptions – notably Robert E. Lee's unsuccessful foray into Pennsylvania, culminating in the Union victory at Gettysburg – nearly every battle of the war took place on Southern soil. That's one reason why you see many more Civil War monuments in the South than in the North.
As in any war, part of the Union Army's presence in our region involved seizing or destroying the homes, businesses and crops of Southerners where they lived. As the war unfolded, this came to involve more than the collateral damage that keeping an army in the field necessarily entails. Famously, Union Gen. William Tecumseh Sherman's march through Georgia to the sea, which culminated in Savannah 154 years ago Friday, Dec. 21, was animated by a scorched-earth strategy.
Monuments to the sacrifice not just of soldiers, but also of other ordinary Southerners ought to be exempt from the legitimate campaign to remove memorials to their leaders. The Monument to Confederate Women on the grounds of the state Capitol in Little Rock, for example, shows a mother and two children saying goodbye to her older son as he goes off to fight. It expresses the toll taken on any family in any war.
If the distinction that I'm drawing between Southern leaders and Southern soldiers in the Civil War seems artificial, think about how we remember our own frustrating wars today.
The war in Vietnam of a half-century ago, like the Southern rebellion, is largely regarded as a mistake. Rightly, there's been no effort to erect statues of Gen. William Westmoreland or Secretary of Defense Robert McNamara.
What we erected instead was the Vietnam Memorial in Washington. On a long, V-shaped, polished black granite wall carved into the ground, one finds the names of each of the 58,318 Americans who died in that war.
Similarly, no one is rushing to build statues of the generals and civilian leaders who got us into the wars in Iraq and Afghanistan. But that doesn't stop us from standing and cheering when men and women who serve in those wars are introduced at Grizzlies games and other events.
"During times of peace the sons bury their fathers," wrote the ancient Greek historian Herodotus, "but in war it is the fathers who send their sons to the grave." When remembering the Civil War in the South, it is the not the fathers whose monuments deserve to stand, but the sons and their mothers.
If, as I argue, some Civil War monuments should go and others ought to stay, still others need to be built. New memorials should honor the sacrifice of the roughly 200,000 African-Americans – most of them escaped or liberated slaves – who fought for freedom in the United States Army and Navy, as well as the families they left behind to do so. They were Southerners too.
Interestingly, in South Africa – a nation whose racial history is even more troubled than our own – the government's approach since the mid-1990s has been to build new memorials while preserving old ones. In Pretoria, for example, a monument commemorating the anti-apartheid struggle stands near the Voortrekker monument to white Afrikaner pioneers. According to Mississippi State University political scientist Carolyn Holmes, the South African approach has been to freeze the country's racist past as prelude, "peacefully transformed into a multiracial present."
As best I can tell, there is one Mid-South monument to the United States Colored Troops in Nashville; one in Helena, Arkansas; and one in Vicksburg, Mississippi. There should be a lot more – perhaps including one on the Ole Miss campus or the Oxford town square. Shouldn't our modern-day efforts at inclusion focus on more on addition than subtraction?
I'm sure there are loose threads and oversimplifications – maybe even a howler or two in my argument. Feel free to point them out with your comments. But let me anticipate one by addressing the question of whether men who served part of their lives as Confederate leaders should by definition be stripped of all honor in our public spaces.
In their capacity as Confederate leaders, yes. We don't need statues of Robert E. Lee in his Confederate uniform. But Lee wearing the uniform of his country as he fought for it in the Mexican War? Or garbed in civilian clothes in his capacity as president of Washington College (later Washington and Lee University) and active seeker of post-Civil War reconciliation? Sure.
But Forrest – a slave trader on the corner of Adams and Third in Downtown Memphis before the war and an early leader of the Ku Klux Klan afterward? No.
One last point concerning the Tennessee General Assembly and the Tennessee Historical Commission, which did their worst to bigfoot their way into Memphis' Forrest-Davis statues controversy.
Except for what's built on property it owns, the state should stay out of these matters, both in Memphis and elsewhere. It's up to the people of every Southern town and city to come to terms with their own legacy of the Civil War, whether or not it conforms to the state government's preferences – or, for that matter, to mine.
---