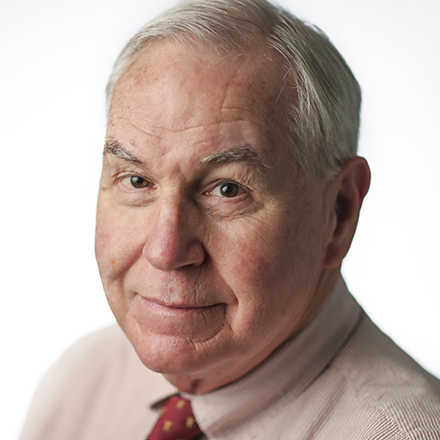 Michael Nelson
Michael Nelson is contributing editor and columnist for The Daily Memphian, the political analyst for WMC-TV, and the Fulmer professor of political science at Rhodes College. His latest books are "Trump: The First Two Years" and "The American Presidency: Origins and Development, 1776-2018."
Nelson: Christian Bale, Hugh Jackman and a movie that's not about Bill Clinton – except it is
Go figure: a Christmas week movie called "Vice."
About a vice president.
That vice president being the charismatically challenged Dick Cheney.
Played by … Christian Bale?
And it received six Golden Globe nominations, the most of any movie released in 2018.
If you don't get it, neither do I.
What I do get is the other big political movie of the year now ending, "The Front Runner."
Most of the country thinks "The Front Runner" is about Gary Hart. We in the Mid-South know that it's really about Bill Clinton and, of all people, Tennessee's Bob Clement.
Hart, as portrayed by Hugh Jackman, was the Colorado senator who nearly won the Democratic presidential nomination to challenge President Ronald Reagan's re-election bid in 1984.
Hart ran as the candidate of "new ideas" against former Vice President Walter Mondale, avowedly the candidate of old ideas. Mondale got smoked by Reagan in a 49-state landslide that, among other things, made Democrats wish they'd nominated Hart. He instantly became the strong early front runner for the party's presidential nod in 1988.
"The Front Runner" fast-forwards through the 1984 contest and hits the play button on Kentucky Derby weekend in May 1987, as Hart began gearing up for the following year's primaries.
Changing plans on the fly, Hart backed out of a scheduled trip to Churchill Downs in order to spend time at his townhouse in Washington. As it happens, an actress-pharmaceutical salesperson-goodtime girl named Donna Rice was also en route to the nation's capital to meet him.
Gee, wonder what that was about.
Hart had first met Rice on an earlier precampaign trip to Bimini, where he was photographed styling a "Monkey Business Crew" T-shirt as Rice posed on his lap. Monkey Business was the name of the party boat they were on.
Unbeknownst to Hart and Rice, a Miami Herald reporter named Tom Fiedler received a phone tip about Rice's trip to Washington, staked out the married Hart's townhouse with a photographer and another reporter, and saw Rice coming out the front door. Fiedler has protested that he's a clean-shaven, physically fit professional, not the voyeuristic bearded schlub the movie makes him out to be.
Unhappily for Hart, on the very day Fiedler's story ran in the Herald, a New York Times Magazine article was published in which Hart, asked by reporter E.J. Dionne about longstanding rumors of extramarital activity, said, "Follow me around. I don't care. If anybody wants to put a tail on me, go ahead. They'd be very bored."
No one was bored when the Herald story broke, the Monkey Business photo was published, and Hart answered the question, "Have you ever committed adultery?" by saying, "I do not know. I'm not going into a theological definition of what constitutes adultery."
Hart hoped to tough it out, but when the Washington Post quietly told him that it was about to run a well-evidenced story about a long-term affair he'd been having with a Washington lobbyist, he dropped out instead.
Meanwhile in Arkansas …
Bill Clinton was in his seventh year as governor as the Hart drama unfolded. He had all but decided to run for president in 1988.
With plans firmly laid to announce his candidacy on July 15, 1987, Clinton invited friends and supporters from around the country – the so-called Friends of Bill – to come to Little Rock for the big event. National reporters who ordinarily would not put "Little Rock in July" on their preferred list of destinations also showed up.
Two days before the planned big day, Clinton's chief of staff, Betsy Wright, sat him down for a come-to-Jesus session. Wright ran through a long series of women with whom Clinton was rumored to have had liaisons, often on his way back to the governor's mansion from early-morning jogs to and from McDonald's.
Wright was amazed when Clinton responded that not only were most of the names on the list accurate, but there were also a few others she had not known about.
What happened to Gary Hart will happen to you if you run this year, Wright told Clinton. The next morning he let his friends know that he was passing on the race. To the press corps and public he declared that he wanted to spend more time with his daughter, Chelsea.
Meanwhile in Tennessee …
Bob Clement, who was seeking the 5th District Democratic nomination in a special congressional election against Phil Bredesen in late 1987, faced accusations of his own. An audiotape of a lovey-dovey phone call between Clement, then the president of Cumberland College in Lebanon, and a woman librarian at the college was made public.
Clement responded in a manner that must have given Clinton second thoughts about his decision to back off. Clement and his wife, Mary, sat down for interviews with every Nashville television station to attest to the strength of their marriage. He was elected handily.
Directly or indirectly, Clinton learned from Clement's experience. When he ran for president in 1992, reporters were already a bit gun shy from criticisms that they had overdone their assault on Hart. But when a Little Rock lounge singer named Gennifer Flowers released tape recordings of multiple salacious phone conversations with Clinton, he and Hillary – Clement-style – sat side by side in front of the "60 Minutes" cameras and told the nation how strong their marriage was.
The voters moved on, elected Clinton in 1992 and 1996, and stayed with him in 1998, when his affair with Monica Lewinsky became public and he lied about it under oath.
In subsequent sworn testimony, Clinton admitted he'd had relations with Gennifer Flowers after all. Eighteen years later, Hillary Clinton ran for president against Donald Trump. If she won, her administration was planning to call Bill the nation's first mate.
Winning seemed certain on the eve of the second presidential debate at Washington University in St. Louis when Trump's "grab them by the pussy" remarks on an "Access Hollywood" outtake were released.
The press corps gathered at Wash U – including yours truly – figured Trump wouldn't even show up. Surely he'd realize he had no choice but to drop out of the race.
Trump showed up. He had a panel of Bill Clinton's accusers with him and sat them in the debate audience across from the former president.
"If you look at Bill Clinton, far worse," Trump said in the debate. "Mine are words, his was action. … He was abusive to women."
What goes around comes around.
As for this year's movies, it's Bale as Cheney vs. Jackman as Hart. But don't think it's like "The Prestige," in which the two megastars played rival magicians bent on mutually assured destruction.
This time around you don't have to root for either one. They're both terrific, as are "Vice" and "The Front Runner."
---