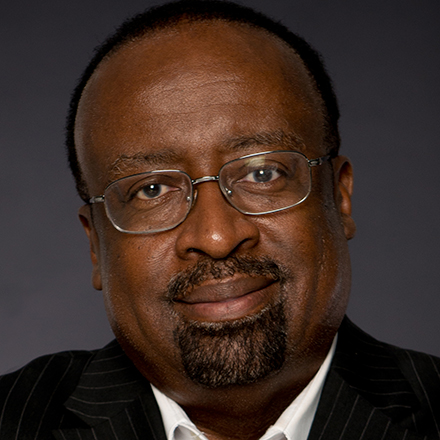 Otis Sanford
Otis Sanford holds the Hardin Chair of Excellence in Journalism and Strategic Media at the University of Memphis and is the political analyst and commentator for WATN Local 24. Contact him at 901-678-3669 or at o.sanford@memphis.edu. Follow him on Twitter @otissanford.
Sanford: This year's top news stories hint at what's ahead in 2019
What an exhausting year this has been.
The steady flow of mostly positive economic news for Memphis and Shelby County – coupled with the solemn and tasteful way this city commemorated the 50th anniversary of Dr. Martin Luther King Jr.'s assassination – was overshadowed at times by politicians who spent much of 2018 bickering, conniving, demonizing and grandstanding.
To put it succinctly, the actions by some of our elected officials this year were downright embarrassing. And call into question whether these folks represent forward-thinking leadership or an appeal to this community's lowest common denominator. 
The barrage of political news and negative campaigning during the 2018 election cycle was enough to leave us all disgusted with the process. What's worse, some of the fallout from the elections will carry over into the new year with uncertainty about how to fill three Memphis City Council seats.
So with that bit of cheer, here is a look back at the top local stories, as I see them, in 2018, along with a look ahead at what to expect in the coming year.
Economy 901 
Before we become engrossed in partisan politics that dominated the year, it's worth focusing on how the economy fared in Memphis. It was a mixed bag, but mostly the economic news was good.
Yes, we continued to struggle with poverty and significant economic growth when compared with our peer cities. Memphis was coming off a year in which it was listed, again, as one of the nation's 10 most economically distressed cities in 2017 by the Economic Innovation Group, a Washington-based bipartisan public policy organization. But despite that, noticeable economic gains were made in the Bluff City. 
One 2018 study, the annual State of Women-Owned Businesses Report commissioned by American Express, placed Memphis high on the list of cities experiencing revenue growth at women-owned companies. The report is based on U.S. Census Bureau data and includes debatable estimates on the number of local women-owned firms and their employees. Nevertheless, it was still refreshing to see Memphis mentioned on such a list. 
Meanwhile, overall unemployment continued to reflect the strength of the national economy that has been trending in the right direction since 2010. The metro Memphis unemployment rate in October, the latest month available, was 4.4 percent while the national rate was at 3.7 percent. By comparison, in December 2009, at the height of the Great Recession, unemployment in Memphis stood at a staggering 11.1 percent. 
Other welcomed economic news included the announcement earlier this month that Indigo Ag, an agriculture technology company, is moving its headquarters into the Toyota Center building Downtown and adding some 700 high-paying jobs.
Mimeo.com, a document and printing company, is moving its main offices from New York to Memphis and adding 171 new jobs. And Wiseacre Brewing Co. is opening a new operation Downtown.
Add the news of a planned mega-development, called Union Row, on the edge of Downtown, along with announcements that Shelby County Schools, county government and St. Jude Children's Research Hospital are increasing their lowest-wage jobs to $15 per hour, and a strengthening Memphis economy qualifies as one of the top stories of the year. 
Return of the Democrats
About this time a year ago, the Shelby County Democratic Party was trying to remake itself into a viable political organization. Four months earlier, in August 2017, the party elected new leadership after those formerly in charge fought among themselves and with the state party just enough to get decertified because of years of dysfunction.
The new leaders were determined to change things. They helped recruit better – and more racially diverse – candidates to run for the County Commission and other countywide offices. Republicans, meanwhile, fielded a slate of mostly white candidates, none of whom appealed to the county's majority black electorate.
And in the August general election, a heavier-than-usual turnout rewarded Democrats with every countywide seat. State Sen. Lee Harris easily defeated outgoing county Trustee David Lenoir for mayor, and Chief Deputy Floyd Bonner had little trouble knocking off Republican Dale Lane for sheriff.
Democrats also retained eight of the 13 seats on the county commission. Plus, a record number of African-American women scored impressive victories for the county school board, the state Legislature, County Commission and other offices.
The results were a stunning reversal for Republicans, who had managed to capture nearly all countywide offices since 2010, aided mostly by subpar Democratic candidates and lackluster interest among the Democratic voting base.
It also did not help that Lenoir, at the top of the Republican ticket, opted for a highly negative, dog-whistle campaign strategy in the waning days. His campaign distributed a mailer with an intentionally darkened image of Harris, who is African-American.
The move only served to further anger Democratic-leaning voters while turning off independents and moderate Republicans who viewed the flyer as racially offensive. Instead of apologizing, Lenoir defended the flyer and blamed the criticism on local African-American journalist Wendi C. Thomas.
And while statewide the GOP continued its dominance by winning the governor's office and a U.S. Senate seat, local Republican leaders must now seriously rethink how to appeal to a younger, more racially diverse voting population that does not see itself represented by the current party.
City Council Fiasco
The election of three City Council members to county offices left the council in disarray and struggling at year's end to fill the vacant seats.
The problems could have easily been avoided if former members Edmund Ford Jr. (now a county commissioner), Janis Fullilove (now Juvenile Court clerk) and Bill Morrison (now Probate Court clerk) had resigned shortly after winning those offices in the Aug. 2 county election. If they had stepped aside in time, those seats would have been on the Nov. 6 midterm election ballot and voters would have decided their replacements.
Instead, Morrison stayed until November, while Ford and Fullilove remained until early December, all drawing city and county salaries simultaneously while thumbing their noses at repeated calls to resign.
Now, the remaining council members are woefully divided, mostly along racial lines, over how to appoint successors for the District 1, District 6 and Super District 8, Position 2 seats. The bickering resulted in four African-American members walking out of a Dec. 4 meeting in protest. That was followed two weeks later by an even more shameful moment – chairman Berlin Boyd using schoolyard gutter language against a protester during a council meeting.
The protester, angry over the council's refusal to appoint Raleigh community leader Rhonda Logan to the District 1 seat, called Boyd "an embarrassment and a sh– show," to which Boyd replied, "Just like ya mama, how about that?"
Boyd immediately apologized, but the damage had been done. He and the rest of the council have been roundly and deservedly criticized for showing an utter lack of leadership and professionalism.
The group now enters 2019, an election year for city offices, with little credibility amid calls for a special election to quickly fill the three vacant seats.  
MLK50
Memphis was in the national and international spotlight in early April during the run-up to the 50th anniversary commemoration of the assassination of Dr. Martin Luther King Jr.
The outside media's attention focused on whether Memphis has changed much racially since King was killed April 4, 1968, while standing on the balcony of the Lorraine Motel Downtown. The local media focused more on the city's economic challenges today and the people intimately involved in the events of 1968, including surviving city sanitation workers whose strike for higher pay and better working conditions brought King to the city.
With the exception of one street protest that resulted in a questionable arrest of a Latino journalist, the MLK50 events were inclusive, dignified, well-organized and well-attended. Without question, this city has made tremendous progress since 1968 economically, politically, racially and socially. But there is clear recognition that those issues are never resolved. And Memphis, like any other place, remains a work in progress.
The Year Ahead
As I mentioned at the beginning, 2018 gave us enough political drama, hijinks and embarrassment to last awhile. But as weary as we are, 2019 will likely produce more of the same. The craziness coming from the White House will continue for sure. And Tennessee Sen. Lamar Alexander's announced retirement in 2020 will create plenty of jockeying among would-be successors for attention and financial support.
The big local story, barring something unforeseen, no doubt will be the city election in October. Mayor Jim Strickland is expected to announce in January that he will seek a second term. A mid-December fundraiser for Strickland featured an impressive list of African-American supporters, and made a statement that the incumbent mayor is well-positioned to win re-election.
The big questions are, will former mayor Willie Herenton follow through on his plan to oppose Strickland? And what other candidates, if any, will step up to mount a serious challenge?
Meanwhile, with the current council's popularity in freefall, how many of them will receive serious opposition? Community activists are promising a vigorous challenge against Boyd and possibly others. All of which make the hopes for a quieter 2019 a pipe dream.
---