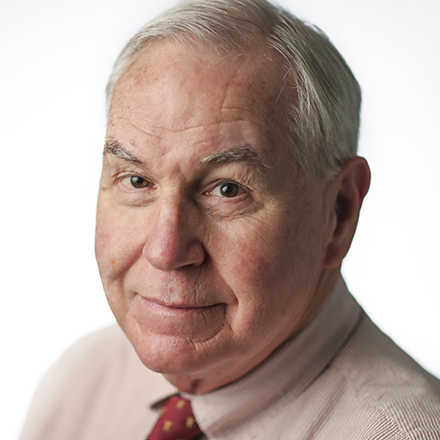 Michael Nelson
Michael Nelson is contributing editor and columnist for The Daily Memphian, the political analyst for WMC-TV, and the Fulmer professor of political science at Rhodes College. His latest books are "Trump: The First Two Years" and "The American Presidency: Origins and Development, 1776-2018."
Nelson: Mid-South politics – here's what's coming in 2019, part 1
Whether in Memphis, Mississippi, Tennessee or Washington, politics in 2019 promises to be more interesting than usual in an odd-numbered year.
In the first installment of this two-part column, my focus is on Memphis. On Thursday, I'll look at the rest of the Mid-South.
Memphis Mayor
Memphis is often characterized as a racially polarized city. As a sweeping generalization, that's a bum rap. 
For evidence, I offer the demonstrated record of white voters' support of African-American candidates like A C Wharton for county and then city mayor and the equally impressive record of black voters' support for white candidates like Steve Cohen – and Jim Strickland when he ran for mayor the first time in 2015.
Former Mayor Willie Herenton, who was elected to the first of five terms in 1991 at age 51, announced in September that he is running again in 2019 at age 79. The reason he resigned in 2009 before completing his fifth term was to challenge Cohen for the 9th District U.S. House seat. Cohen beat him in the 2010 Democratic primary by a four-to-one margin. 
Memphis Police Association president Mike Williams is another potential rival. He finished fourth in the 2015 mayoral election with 16 percent of the vote.
It's hard to imagine that either challenger's political appeal has grown enough to pose a threat to Strickland's re-election.
The election to succeed Strickland in 2023, when he bumps up against the two-term limit, will probably be a humdinger. But after three better-than-usual years for Memphis under his stewardship, Strickland is close to a sure thing for that second term.
City Council – Vacant Seats
Is punting the ball the only play in the City Council's playbook? 
Starting with its Nov. 20 meeting, the council has consistently failed to fill any of its three vacant seats in District 1, District 6, and Super District 8 with temporary appointees. That's three of 13, nearly one-fourth of the entire body. 
Now the council says it will revisit the matter at its next meeting on Tuesday, Jan. 8. Meanwhile Election Day in October draws ever closer, making the idea of scheduling a special election in March to fill the seats until then – which was the least bad idea on the table until the calendar ticked over to 2019 – ever more impractical. 
The problem with calling a special election is not the cost.  Democracy is worth paying for. It's that such an event would be a low-turnout affair superseded by the scheduled election barely seven months later.
City Council – October Election
Speaking of Election Day, has anyone in Tennessee noticed that in most of the rest of the country, it falls on a Tuesday in November? 
Apparently not, because we hold our county elections on a Thursday in August in even-numbered years and our city elections on a Thursday in October in odd-numbered years. No idea why. Anyone? 
Based on their record as of roughly two months ago, City Council members eligible to run for another term on, yes, Thursday, Oct. 3, 2019, wouldn't – and shouldn't – have had any problem winning re-election. Across lines of race, gender and geography, the council was functioning at a high level.
Based on their record since then, it should be just as surprising if any of them are re-elected. 
First came the failure of the three members elected to county office to resign from the council in time for replacement elections to be added to last November's ballot. 
Then came the council's deceptive and self-interested proposal for an extended term limit disguised as an actual term limit, which the voters heartily rejected. 
Then came the fiasco over filling the vacant District 1 seat.
With the coming of the new year, one can only hope that council members will unruffle their feathers, mend their ways, and allow the body to regain its earlier, well-functioning form.
That said, the 2019 elections will see an unusual amount of turnover. The three temporary appointees (fingers crossed) will have to start running if they want a full four-year term before even settling in for the abbreviated one.  Three more members – Joe Brown, Kemp Conrad and Reid Hedgepeth – will rotate off, having completed their second terms. 
Adding to the drama will be the new system of instant runoff voting (IRV), approved by the voters in 2008 and reapproved in November.
After a decade of delay, the Shelby County Election Commission says it's finally ready to implement IRV, which is designed to preclude any need for separate runoff elections by allowing voters to identify their second and third choices as well as their first ones.
Unless IRV is found to violate the Tennessee Constitution, it will be used for the first time this fall in single-district council races.
Academics like me – and University of Memphis law professor Steve Mulroy, IRV's main local proponent – love the new system. We can only hope that it doesn't baffle voters, who are used to making one choice per office, and outrage candidates who receive more first-place votes than their opponents but lose the election on the basis of reallocated second- and third-place choices.
Tennessee State Senate District 32
Mark Norris represented this district, most of which is in northern Shelby County and Tipton County, for nearly 17 years when President Donald Trump nominated him for a federal district court judgeship in July 2017. The U.S. Senate dragged its feet for 16 months before voting to confirm Norris' nomination last October, much too late for an election to replace him to appear on the November ballot.
The special election is scheduled for March 12, but in this strongly Republican district the main event will be the GOP primary on Jan. 24 (yes, a Thursday). 
Because Norris held the seat so long, a number of credible candidates for the Republican nomination have lined up now that it's vacant. The favorite is former Shelby County Commissioner Heidi Shafer, but in what's sure to be a low-turnout contest, any or all of her three rivals could make a run for the money: former state representative Steve McManus, Tipton County construction executive Paul Rose, and defeated Shelby County Trustee candidate (also a former commissioner) George Chism.
Why do I rate Shafer the favorite? Precisely because it will be a low-turnout affair in which her greater name recognition, high professional reputation as commission chair last year and, especially, her willingness to campaign tirelessly should be more than enough to make the difference.
Politics in Memphis and the Mid-South. Sometimes uplifting. Sometimes disheartening. Never boring.
---