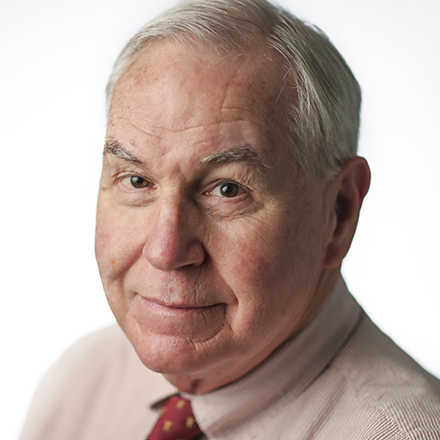 Michael Nelson
Michael Nelson is contributing editor and columnist for The Daily Memphian, the political analyst for WMC-TV, and the Fulmer professor of political science at Rhodes College. His latest books are "Trump: The First Two Years" and "The American Presidency: Origins and Development, 1776-2018."
Nelson: Mid-South politics – here's what's coming in 2019, part 2
On Monday, I offered a preview of Memphis politics in the year to come.
Here's my take on statewide politics in Tennessee, where the door to sports betting in Memphis and elsewhere has just been opened, as well as in Mississippi, which is electing a new governor, and Washington, where Tennessee's two senators face some interesting times.
Sports Betting on Beale?
As recently as eight months ago, a 1992 federal law barred betting on sporting events everywhere in the country except Nevada. On May 14, 2018, the Supreme Court overturned that law, leaving each state to set its own course. Mississippi, anticipating the court's decision, green-lighted its casinos to offer sports betting right away.
Then in the November election, the voters of Arkansas opened the door to sports betting at four casino sites, including Southland Park Gaming & Racing in West Memphis, which will bring it even closer to home later this year.
Joining the chorus, a Dec. 14 legal opinion by state Attorney General Herbert Slatery declared that the Tennessee Constitution does not forbid betting on contests in which "skill is the dominant factor," not chance. That puts the ball in the Legislature's court (sorry) when it comes to deciding whether to allow sports betting and, conceivably, casino-style table games like poker and blackjack.
Not surprisingly, Memphis-area legislators, seeing their constituents' sports bets flow across the state line into Tunica and soon West Memphis, are taking the lead in Nashville.
Republican Sen. Brian Kelsey, who requested the attorney general's opinion, is one. Democratic Sen. Raumesh Akbari is another, working with Rep. Rick Staples, a Knoxville Democrat who would like his city to have the option as well.
In all cases, local voters would make the final call. The Shelby County Commission wasted no time lending its voice to the effort, voting at its most recent meeting to ask the Legislature to allow sports betting on Beale Street. The city government is almost certain to swell that chorus.
An interesting feature of these early moves is that they would break the existing mold. Instead of being embedded in casinos or racetracks, as in other states, sports betting parlors here would operate within bars and restaurants.
Make no mistake: We are still in the realm of "we'll see." The state Legislature is overwhelmingly conservative and generally disinclined to go out of its way to do things for Memphis. Incoming Gov. Bill Lee opposes sports betting, although any gubernatorial veto of a legalization bill passed by the Legislature could be overridden by a simple majority vote.
Mississippi Governor
Mississippi is a red state. It hasn't elected a Democratic governor since 1995 or a Democratic senator since 1982. Nor has it voted for a Democrat for president since Jimmy Carter (the first time he ran, but not the second) in 1976.
Then again, Massachusetts, Maryland and Vermont are three of the bluest states in the country and all of them re-elected Republican governors last November.
Clearly, voters think of governor as a different kind of office. There's an altogether sensible reason for that. A governor's job is less to take positions on polarizing issues than to effectively manage education, law enforcement, road construction and the other relatively nonpartisan nuts and bolts of state government.
For that reason, this year's presumptive Democratic gubernatorial nominee in Mississippi, Jim Hood, may make it a real contest with the most likely Republican nominee, Tate Reeves.
Starting in 2003, Hood has been elected attorney general four times, which makes him Mississippi's only Democratic statewide elected official.
"We're staying out of all these social issues," Hood recently told Politico. "We're talking about roads and education, and those are the two fundamental building blocks of economic development."
Not that Reeves isn't the favorite. In every election won by Hood, Reeves also was elected to a state office: treasurer in 2003 and 2007, then lieutenant governor in 2011 and 2015.
As was the case just a few weeks ago, Mississippi will be in the national spotlight in 2019. It's one of just three states that choose the governor in the year before the presidential election. (Kentucky – where the Democratic secretary of state, Rhodes College alumna Alison Lundergan Grimes, is thinking of running – and Louisiana are the others.) This time Mississippi will be the only state without an incumbent seeking re-election.
Tennessee's Senators
Marsha Blackburn will be a freshman senator in 2019 and Lamar Alexander will retire after completing his 18th year in the Senate in 2020.
What kind of senators will they be in the 116th Congress, which convenes on Jan. 3?
There can be little doubt that Blackburn will dance with the one that brung her. She ran as and almost certainly will be a staunch supporter of all things Donald Trump.
Less clear is how Alexander will conduct himself on his way out. For as long as he kept open the possibility of running again in 2020, Alexander was a steady supporter of the president whom his Republican constituents adore. But was he a happy one?
In 2019 and 2020, Alexander is free to be exactly the kind of senator he wants to be. Many of his longtime associates expect him to break with Trump on multiple issues – perhaps even vote to remove the president from office if the Democrat-controlled House of Representatives triggers a Senate trial by impeaching him.
The coming year will also see the field form in both parties for the open-seat election to replace Alexander in 2020.
So far at least, only one West Tennessean has stepped forward as a possible candidate: Democratic state Sen. Sara Kyle, who represents the 30th District. Other possible Democratic contenders include Chattanooga Mayor Andy Berke, state Sen. Jeff Yarbro of Nashville, and James Mackler, the Nashville lawyer and Beto wannabe who backed out of the 2018 Senate contest when Phil Bredesen got in.
Republican interest has centered on outgoing Gov. Bill Haslam, defeated gubernatorial aspirant Diane Black, former state Economic and Development Commission chair and current ambassador to Japan Bill Hagerty, and true-blue Trumpite Mark Green, who only now is filling the 7th District seat in Congress to which he was just elected for the first time. If Haslam chooses not to run, 8th District Rep. David Kustoff might decide to add his name to the list.
In terms of the outcome of the 2020 Senate election, does it matter who the parties nominate? Probably not.
In both Tennessee and Mississippi last year, the Democrats nominated their best possible candidate for senator, the Republicans nominated a flawed one, and the Republican won handily – just not as handily as Republicans usually win.
What does matter is Tennessee's loss of power in the Senate as two very junior members replace two very senior ones. Bob Corker, who retired last year, chaired the Senate Foreign Relations Committee. Alexander chairs the Health, Education, Labor, and Pensions Committee.
For some years, at least, Blackburn and her colleague-to-be won't wield that level of influence.
I close with the same benediction as in Part I.
Politics in Memphis and the Mid-South. Sometimes uplifting. Sometimes disheartening. Never boring.
---