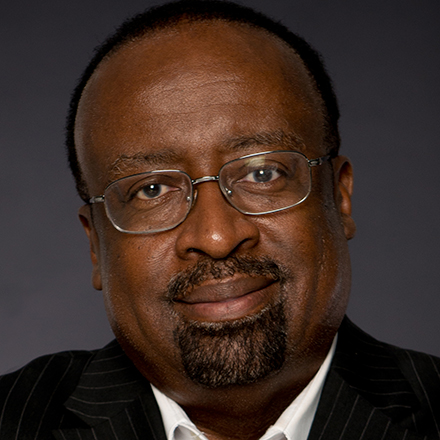 Otis Sanford
Otis Sanford holds the Hardin Chair of Excellence in Journalism and Strategic Media at the University of Memphis and is the political analyst and commentator for WATN Local 24. Contact him at 901-678-3669 or at o.sanford@memphis.edu. Follow him on Twitter @otissanford.
Sanford: Haslam's decision to grant clemency to Cyntoia Brown reflects his governing style
"It is compassionate to actively help our fellow citizens in need. It is conservative to insist on responsibility and results. And with this hopeful approach, we will make a real difference in people's lives."
President George W. Bush
April 2002
---
With one notable exception, I don't have any photographs of politicians – either neatly framed or as a dartboard bull's eye – on display in my office at University of Memphis.
That exception is an autographed 8-by-10 glossy shot of a smiling Gov. Bill Haslam surrounded by a group of journalists, including David Plazas of The Tennessean and me, at a Tennessee Press Association luncheon in 2017.
This week, as I sat at my desk to write a column about Haslam's highly-publicized and celebrated decision granting full clemency to Cyntoia Brown, the governor's photo was in view. And then it hit me. Haslam is the personification of Bush 43's description of compassionate conservatism.
The popular Republican governor, who leaves office next week after two successful terms, made national news Monday by issuing a clear and convincing statement of why Brown deserved clemency. Her life sentence for murder – imposed in 2006 when she was just 16 and after being forced into a travailing life of prostitution, rape and other abuse by a ruthless pimp nicknamed Cut Throat – was, in Haslam's words, "too harsh."
Here is what the governor said in his commutation order:
"This decision comes after careful consideration of what is a tragic and complex case. Cyntoia Brown committed, by her own admission, a horrific crime at the age of 16.
"Yet, imposing a life sentence on a juvenile that would require her to serve at least 51 years before even being eligible for parole consideration is too harsh, especially in light of the extraordinary steps Ms. Brown has taken to rebuild her life. Transformation should be accompanied by hope."
---
SAM STOCKARD: Gov. Haslam grants clemency to Cyntoia Brown
---
The governor noted that while in prison, Brown earned her GED and an associate degree from Lipscomb University with a 4.0 grade point average. She is now working to obtain a bachelor's degree. "Over her more than 14 years of incarceration, Ms. Brown has demonstrated extraordinary growth and rehabilitation." And her case "appears to me to be a proper one for the exercise of executive clemency."
And before the law-and-order critics howl, this is not a pardon. Haslam is not wiping Brown's criminal slate clean. She will remain in prison until Aug. 7, exactly 15 years after she fatally shot Nashville real estate agent Johnny Allen while in bed with him at his home.
She also will remain on parole for 10 years and must perform community service, which she will gladly do helping steer other vulnerable young girls from a life of sexual exploitation.
In essence, Haslam did what the justice system failed to do 15 years ago – make the punishment fit the crime. Instead, prosecutors and presiding Criminal Court Judge Randall Wyatt Jr., now retired, considered Cyntoia Brown as a throw-away.
They did not do what Haslam did. They didn't look below the surface of a terrible homicide, which also included robbery, to discover a victimized teenager who nevertheless had the potential to turn her desperately troubled life around.
Now the question becomes how does clemency for Brown play politically for Haslam, who is still considering a run for the U.S. Senate in 2020 replacing three-term Republican Sen. Lamar Alexander?
"In the Republican Party, you're going to find conservatives who may not like it, and staunch conservatives who really won't like it," said Lee Mills, chairman of the Shelby County GOP. He then added, "Some of those staunch conservatives already didn't like him.
"But a lot of your moderate Republicans and even moderate and conservative Democrats will say Haslam made the right decision. I'm one of those staunch conservatives and I agree with the decision."
Mills also said something else with which I completely agree. Haslam did not succumb to partisan ideology on either side. He was not influenced by the national media or the celebrities who spoke out in support of Brown, including Rihanna, Kim Kardashian West and Ashley Judd.
He was not unduly swayed by political lobbying from leading Democrats in the state, including Memphis Congressman Steve Cohen, and state Sens. Brenda Gilmore of Nashville and Raumesh Akbari of Memphis. Nor was he necessarily persuaded by those in the faith community who continually kept Brown on their prayer list.
Haslam was moved simply by the desire to do the right thing. That has been his aim throughout his two terms as governor. Whether it was expending political capital in a failed attempt to expand healthcare to more needy Tennesseans, or his noble, but equally unsuccessful, efforts to keep guns out of public parks, playgrounds, bars and college campuses.
 This indeed was a governor who led Tennessee as a compassionate conservative, who improved education, particularly higher ed, who helped bring economic prosperity and record low unemployment to the state, who did the absolute right thing in commuting Cyntoia Brown's life sentence, and who charmed us journalists every year at the state press association luncheon.
As the fictional U.S. president said in the closing scene of the movie Independence Day, "Not bad. Not bad at all."
---