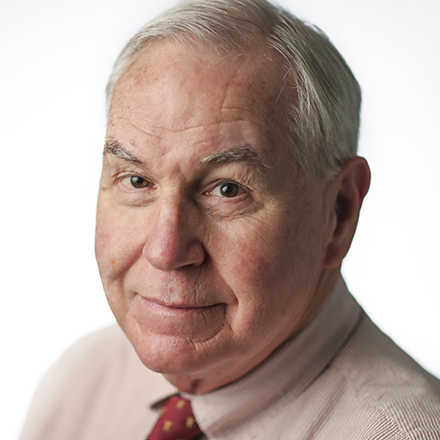 Michael Nelson
Michael Nelson is contributing editor and columnist for The Daily Memphian, the political analyst for WMC-TV, and the Fulmer professor of political science at Rhodes College. His latest books are "Trump: The First Two Years" and "The American Presidency: Origins and Development, 1776-2018."
Nelson: Law, politics – and girls' basketball – in Tennessee
"In the entire history of girls' high school basketball in Tennessee, no one had ever seen a uterus lying on a basketball court."
Gotta say: with that sentence Bill Haltom and Amanda Swanson had my full attention. It appears early in their new book "Full Court: How Pat Summitt, a High School Basketball Player, and a Legal Team Changed the Game."
The context for the sentence was the judgment of the all-male Tennessee Secondary School Athletic Association – the TSSAA – that "aggressive activity" in the form of full-court five-on-five basketball might cause a girl's insides to fall out.
And so, for many years, girls' basketball in Tennessee was a six-on-six game in which half of a team's players – the forwards – played offense on one end of the court and the other half – the guards – played defense on the other end.
That was in the schools that had sports for girls at all. "Memphis had no girls' high school sports whatsoever," Haltom and Swanson note. "Just too dangerous, concluded the physical education experts."
Haltom is a Memphis lawyer and the author of multiple books, some funny, like "Daddies: An Endangered Species," and others serious, like "The Other Fellow May Be Right: The Civility of Howard Baker." Swanson is a law student at the University of Virginia and a former women's basketball assistant at Mount St. Joseph University.
Haltom will be at Novel at 6 p.m. Thursday, Jan. 10, to discuss and sign copies of "Full Court."
As one might expect of rules designed with an eye toward keeping girls' insides in, the split-court, six-on-six version of basketball was stodgy and slow-paced.
But in the absence of competition from Memphis high schools, Nashville's girls' teams thrived. And because the TSSAA was headquartered in Nashville, it hung on to this form of the game way past its sell-by date in the rest of the country.
TSSAA's retro attitude toward girls and girls' basketball became all too obvious in August 1973, when high school player Victoria Cape's lawsuit challenging the split-court game came before Judge Robert Taylor in Knoxville's federal district court.
A witness for the defense, TSSAA executive secretary Gil Gideon, defended the game because it benefited "the clumsy girl or someone of that sort who cannot play the full court game, and we do have many girls in that respect."
Asked by Cape's attorney if TSSAA offered the split-court game to "clumsy boys who can't run the length of the gym (but) would appreciate being able to play basketball," Gideon conceded, "No, ma'am" – and there went that argument.
Cape's lawyers contended that because every college, as well as the high schools in nearly every state, played full-court girls' basketball, the college coaches whose attention she might want to attract wouldn't be interested in someone who was only allowed to play offense or defense but not both.
Meanwhile, in testimony of her own, the new women's coach at the University of Tennessee expressed frustration with her state's version of basketball.
Pat Head (later Summitt) was already developing into the best women's college coach in history. She felt hemmed in because the recruiting pool in Tennessee included no girls with high school experience playing full-court basketball. Head testified that guards like Cape, who despite never shooting the ball made up half the players on the team, were unable to make the transition to college ball.
---
JOHN VARLAS: Tipton-Rosemark's girls are the only undefeated team still standing
---
Haltom and Swanson's riveting account of the trial before Judge Taylor is fair to TSSAA's case. They acknowledge that split-court girls' high school basketball was a massively popular spectator sport in Tennessee and the handful of other states where it was played.
They also report the testimony of various Tennessee high school coaches that the guards on their teams were able to get college scholarships, even if Coach Head didn't want them.
Judge Taylor agreed, but as far as he was concerned, this was an argument for the plaintiff. If Tennessee girls were capable of playing full-court in college, then obviously they weren't the frail beings the TSSAA said they were.
Taylor ruled for Cape, relying less on Title IX's promise of equal educational opportunities regardless of gender than on the Constitution's 14th Amendment, which guarantees all citizens the "equal protection of the laws." Title IX, enacted by Congress in 1972, was still new. The 14th Amendment was more established.
And then, Haltom and Swanson point out, for "the only time in his career ... Judge Taylor misjudged." Instead of enjoining TSSAA to obey his order, he relied on the organization's good faith.
What a mistake. The day after the decision was handed down, Gideon announced, "we will keep on going like we have been going." A three-judge panel of the Sixth Circuit Court of Appeals agreed with TSSAA and overturned Taylor's ruling.
In the face of this legal setback, Cape's parents and lawyers did not give up. They took their argument to the Department of Health, Education and Welfare in Washington (since broken up into two departments, Education and Health and Human Services), which had authority to review complaints about Title IX violations.
In 1977 HEW told Oak Ridge that to comply with Title IX it needed to start playing full-court girls' basketball or forfeit federal funds. TSSAA's coaches voted to change the game statewide, over the objections of the Nashville delegation. But Gideon and TSSAA's Nashville-dominated board of governors remained dug in. "It's the half-court game or nothing," he said.
Gideon and his fellow troglodytes hadn't reckoned with Pat Head. During the 1970s her Lady Vols had become nationally renowned. That brought in more money, which in turn funded a significant recruiting budget.
Head made clear that she could use that budget to recruit either Tennessee players or out-of-state players. Did TSSAA really want UT's scholarship money going to girls from Kentucky?
The Tennessee General Assembly didn't. It passed a resolution to "strongly urge" the TSSAA to change to the full-court game.
In 1979, a few years after Victoria Cape graduated from Oak Ridge High School, the TSSAA surrendered. With multiple Tennessee recruits, Coach Pat Head Summitt won eight national championships and 1,098 games, more than any other women's coach in history.
---