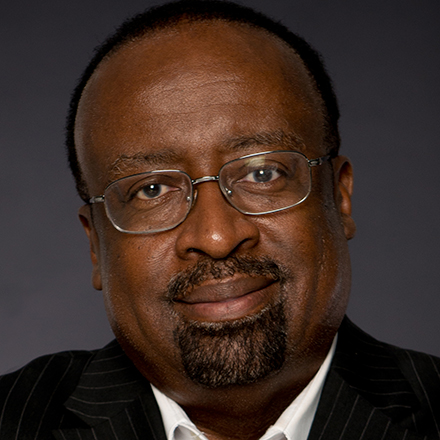 Otis Sanford
Otis Sanford holds the Hardin Chair of Excellence in Journalism and Strategic Media at the University of Memphis and is the political analyst and commentator for WATN Local 24. Contact him at 901-678-3669 or at o.sanford@memphis.edu. Follow him on Twitter @otissanford.
Sanford: Mayor Strickland has the Big Mo
It is a nickname that just might stick. And Jim Strickland would be wise to embrace it.
Big Mo – as in Momentum.
For the moment at least, the moniker fits Memphis' first-term mayor, and it's not only because he is an imposing 6 feet, 5 inches tall.
In announcing his candidacy for re-election this week, Strickland sought to paint Memphis as a city on the upswing under his leadership. A city experiencing noticeable growth with near record-low unemployment and a doubling of city spending with women and minority businesses.
Strickland's email blast Tuesday morning making his re-election bid official carried the heading "Let's Keep the Momentum Going." It signaled that he intends to run exclusively on his mayoral record that also includes balancing the city budget with no property tax increase, allocating money for expanding prekindergarten in Memphis and reducing the city's far-flung footprint to focus more on investing in previously neglected neighborhoods.
But while Strickland, 55, is heavily favored to win a second term, the campaign won't be a yearlong coronation, despite internal poll numbers showing he has an eye-popping job approval rating of 72 percent. The mayor still has his share of critics, many of whom express their sentiments regularly via social media.
They complain that Strickland has not done enough for disaffected neighborhoods or to reduce crime and the city's poverty rate, which according to the most recent University of Memphis study is 24.6 percent overall, but nearly 30 percent among African-Americans and almost 40 percent among children.
Just last week, the mayor was sharply criticized for canceling a meeting with members of the Memphis Interfaith Coalition for Action and Hope (MICAH) and later soliciting MICAH members for help with his mentoring and tutoring initiatives.
MICAH is a coalition of faith-based and community organizations that addresses various public policy issues such as affordable housing, inequities in the criminal justice system and economic disparities. An official with the coalition said members felt insulted by Strickland. To which Ursula Madden, the mayor's chief communications officer, told The Commercial Appeal, "It's hard to imagine that anyone would be insulted by a plea to mentor and tutor children, and to clean our city."
Madden added, "This administration can't get sidetracked over a rescheduled meeting; we're focused on moving the city forward, and collaborating with people who want to help."
Ouch.
That hiccup aside, Strickland is not only buoyed by high poll numbers. He is riding a wave of mostly positive economic news, including low unemployment and successful business recruitment. He also can legitimately claim some of the credit for figuring out how to rid the city of Confederate statues honoring Nathan Bedford Forrest and Jefferson Davis in December 2017.
If Strickland does adopt Big Mo as his 2019 calling card, he would be borrowing a political term made immortal by George H.W. Bush during the 1980 Republican campaign for president.
Bush was a little-known former congressman and onetime CIA director when he launched an improbable presidential run against frontrunner Ronald Reagan. When Bush scored an upset win in the Iowa caucuses, he proudly declared, "I've got the 'Big Mo.'"
Unfortunately for Bush, his Big Mo was fleeting. Reagan regrouped, overtook a stumbling Bush in the New Hampshire primary and went on to win the GOP nomination and the presidency. But Bush's early momentum was impressive enough to earn him a spot as Reagan's running mate, which he parlayed into his own presidential victory in 1988.
So, Mr. Mayor, embrace the name Big Mo because, despite this city's challenges, positive momentum clearly describes Memphis at the moment.
The city is celebrating its bicentennial this year and stands to reap a gigantic windfall in tourism dollars because of it. The travel website Frommer's included Memphis as one of the best places to visit in 2019. And last year, CNN Travel named Memphis as the best city in the world to visit during the month of May.
Just keep in mind, mayor, that as with H.W. Bush, Big Mo can easily fade. The city election is less than nine months away, which could seem like light years in politics.
Plus, though unlikely, Willie Herenton, who still insists he's running, could reclaim the magic that catapulted him to the mayor's office in 1991 and four more times after that.
But for now, the momentum – and most of the available campaign money – are on Strickland's side. His support among African-American voters is far stronger than in 2015 when he captured more than 25 percent of the black vote in beating incumbent A C Wharton.
A $150-per-person fundraiser for Strickland in December included an impressive list of younger African-American elected leaders, including county commissioners Van Turner and Mickell Lowery and state Sen. Raumesh Akbari.
Missing from that list, however, was freshman commissioner Tami Sawyer, who still believes Strickland took more credit that he deserved for taking down the Confederate monuments. Should she keep up the criticism, Sawyer and her supporters could be a small burr under Strickland's re-election saddle.
"I definitely abide by the old saying that you run unopposed or you run scared," Strickland told The Daily Memphian Tuesday. "The only thing I can control are my actions. I can't control any opponents. I can't control the media. I can't control the public. All I can do is control me. I will work harder than anybody else."
Spoken like a guy who is taking nothing for granted in the fickle world of politics, but a guy who is sure the political winds are at his back. A guy who by any objective measure has earned the name Big Mo.
---