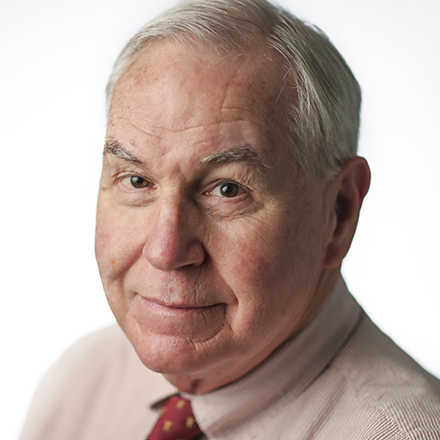 Michael Nelson
Michael Nelson is contributing editor and columnist for The Daily Memphian, the political analyst for WMC-TV, and the Fulmer professor of political science at Rhodes College. His latest books are "Trump: The First Two Years" and "The American Presidency: Origins and Development, 1776-2018."
Nelson: It's time to bet on MATA
Asked by an usher if the church should accept an offering from a bootlegger, evangelist Dwight L. Moody said, "Yes, we'll take the money. The devil's had it long enough."
That's how I feel about state Sen. Raumesh Akbari's proposal to legalize sports betting, tax the proceeds 10 percent, and distribute 30 percent of the resulting revenue to the relevant local governments – with half earmarked to fund improvements in public transportation.
In Memphis and Shelby County, that could mean more buses, more drivers, more frequent service, more routes and more shelters for waiting passengers.
Why focus on buses in a car town like Memphis? And why should the vast majority of us who drive care about improving bus service?
For three very good reasons that conservatives in particular should embrace.
One is so people who are too poor to own and operate a car can get to and from work.
Isn't that what we think poor people should do: get jobs? If that's the case, they need to be able to ride there at the start of the workday and return home at the end in a reliable, timely way.
Another reason is to help businesses. As much as employees need a way to get to work on time, that's how much employers need them to be there when their shift begins.
With the current unemployment rate historically low at 4.9 percent, the city and county have too many positions that employers can't fill. There are multiple and complex reasons for this, but one of them is simple: Prospective employees can't get to the jobs.
The third reason conservatives should embrace the Memphis Area Transit Authority (that's what MATA stands for) is so kids can take advantage of school choice, another favored cause.
We want parents to be able to choose the public or charter school best-suited to launch their children into careers that will lift them out of poverty. Students need to be able to get to school in the same way their parents need to get to work.
Fortunately, a consensus seems to be forming in Memphis and Shelby County that improving bus service is vital.
Fortunately, too, MATA has developed a plan to do so with the catchphrase "More buses arriving more often." It would bring 79,000 more people (up from 12,000 currently) and 103,000 more jobs near to frequent (that is, every 15 minutes) bus service.
The price tag on MATA's proposal is an additional $30 million a year, up from its current budget of $62.8 million.
And there's the rub.
Although Memphis Mayor Jim Strickland points out that about 15,000 local jobs aren't filled because people can't get to them, he adds that the city government's revenues only rise about $10 million annually. Much of that growth is earmarked for other purposes, such as pensions. The city already subsidizes MATA to the tune of $27 million per year.
County Mayor Lee Harris seems willing to kick in additional funds even though MATA traditionally has been a city, not a county, operation. Appropriately, Harris does not think of himself merely as mayor of the parts of the Shelby County that lie outside Memphis' city limits, but rather as mayor of the entire county. Seventy percent of the county's people live in Memphis.
So far the champions of more money for MATA have mostly been African-American Democrats, whose constituents make up the lion's share of the ridership for city buses. Harris and County Commissioners Edmund Ford Jr. and Tami Sawyer come to mind.
But if improving bus service is a conservative as well as a liberal cause, it should be dealt with on a bipartisan, cross-racial basis.
The question then becomes: Even if the county does decide to contribute, where will the rest of the money come from to improve MATA?
A partial answer – also a conservative one – is legalized sports betting.
Unlike taxes, nobody has to place a bet on a sporting event. All of the revenue that Tennessee and its local governments raise by legalizing wagers would come in voluntarily.
Unlike a lottery, allowing privately owned restaurants and bars to offer sports betting doesn't put the government into the business of encouraging people to gamble and then profiting directly from their losses. Unlike a lottery, too, sports betting establishments wouldn't be on every street corner and therefore easily (if illegally) available to minors.
Legalizing sports betting will not solve all our problems. In jurisdictions that already have it, notably Nevada and Mississippi, taxes on sports bets are not a major revenue source. But those states also permit people to gamble in a variety of casino games. In Memphis, sports betting would be the featured attraction.
From a political standpoint, it's worth noting that as sensible as the bill now before the Legislature is, both of its sponsors are Democrats: Akbari of Memphis and Rep. Rick Staples of Knoxville.
The problem is that Akbari is one of only five Democrats in the 33-member Senate and Staples is one of just 26 Democrats in the 99-member House of Representatives.
Support from Republican legislators for any sports betting measure is absolutely crucial, especially since Republican Gov. Bill Lee says he is opposed.
That's why it's so important that Republican Sen. Brian Kelsey of Germantown – who launched the legalization movement in Tennessee by getting the state attorney general to issue an opinion attesting to sports betting's constitutionality – either support the Akbari-Sparks bill or build a legislative majority for one of his own.
All that said, MATA expansion shouldn't hinge on money coming in from sports betting. This should be a cause that everyone – liberal and conservative, black and white, Republican and Democrat, county and city – should be willing to pay for so that people without cars can get to the best possible jobs and their kids can get to the best possible schools.
---