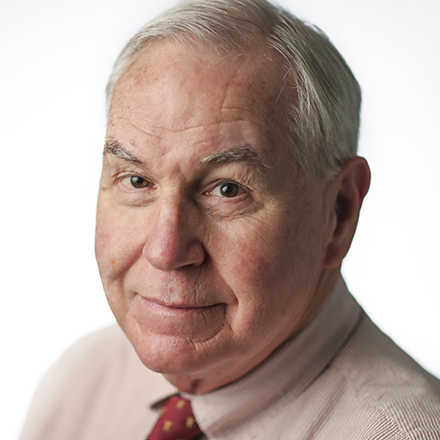 Michael Nelson
Michael Nelson is contributing editor and columnist for The Daily Memphian, the political analyst for WMC-TV, and the Fulmer professor of political science at Rhodes College. His latest books are "Trump: The First Two Years" and "The American Presidency: Origins and Development, 1776-2018."
Nelson: 1978 Democratic midterm convention could tell us something about 2020
What effect would a serious intraparty challenge to President Donald Trump's re-nomination have on his chances of being elected for a second term?
It's not too soon to ask. The Iowa caucuses are just one year away, on Feb. 3, 2020.
Nor is there any need for blue-sky speculation. We only have to look back 40 years to Dec. 8-10, 1978, in Memphis.
The occasion was the Democratic midterm convention.
The what?
Yes, after losing the 1972 election to Republican Richard Nixon in a 49-state landslide, the reeling Democratic Party decided that to get its act together it needed more national conventions – not just in presidential election years, but at midterms as well.
The second of these – the 1978 convention – was in Memphis. Democrat Jimmy Carter of Georgia was president and his aides figured that the capital of the Mid-South would provide him with an agreeable setting, which is one reason why Memphis beat out rival bidders Seattle, Denver and Honolulu.
Carter's people also wanted to embarrass Tennessee Sen. Howard Baker, who at the time was considered a strong candidate for the Republican nomination to oppose the president's bid for re-election in 1980. "He and his staff feared Baker as the most formidable Republican," notes Jon Ward in his fine new book "Camelot's End: Kennedy vs. Carter and the Fight That Broke the Democratic Party."
The city of Memphis put up $150,000 in cash and services for the Democrats in hopes of generating about $4 million worth of business Downtown, as well as featuring its fairly new (just seven years old) Cook Convention Center, widely derided at the time as a white elephant. "Memphis will be the center of the world while the convention is taking place," predicted state Democratic chair William W. Farris.
President Carter was in political trouble in late 1978, both in the country, which thought he was too liberal, and in his party, which thought he was too conservative.
All sides doubted that Carter was up to the job at a time when inflation, unemployment, taxes and interest rates were all soaring at home and the Soviet Union was flexing its muscles abroad. In the midterm elections a month before the Memphis gathering, Republicans picked up 15 House seats, three Senate seats and six governorships.
Carter spoke on Friday night to a convention stacked with liberal activists. As recounted by historian Timothy Stanley in his book "Kennedy vs. Carter: The 1980 Battle for the Democratic Party's Soul," a group called Democratic Agenda had worked hard to elect delegates to what most people expected would be a low-profile event.
Sen. Bernie Sanders and Rep. Alexandria Ocasio-Cortez have nothing on these folks when it came to left-wing ideology. Democratic Agenda's leaders – author Michael Harrington and United Automobile Workers president Douglas Fraser –were both avowed socialists.
Carter's speech was received politely by delegates whose real interest was in the next day's main event, an appearance by Sen. Ted Kennedy at a workshop on health care policy that Harrington and Fraser hoped would plant the seeds of a challenge to the president's renomination. The workshop was chaired by the 32-year-old governor-elect of Arkansas, a newcomer on the national political stage named Bill Clinton.
With Carter en route to Washington after a wreath-laying stop at the Lorraine Motel, Kennedy did not disappoint. As reported by political columnists Jack Germond and Jules Witcover, he delivered "an arm-waving, podium-pounding harangue" at Carter's expense. "We cannot accept a policy that cuts spending to the bone in areas like jobs and health but allows billions of dollars in wasteful spending for tax subsidies to continue," Kennedy bellowed to the roaring crowd.
Only an all-out effort by Carter's supporters – including Arkansas' First Lady-elect, Hillary Rodham – kept the convention from adopting a series of resolutions that would have embarrassed the president.
By summer 1979, as a challenge from Kennedy began taking shape with better than two-to-one support in the polls from Democratic voters, Carter vowed, "I'm going to whip his ass."
Taking for granted that the nomination would be his for the asking, Kennedy stumbled out of the gate when he began running in November.
As it happens, one of my first dates with the woman I soon married was at Kennedy's first campaign rally, held at Vanderbilt University's Memorial Gymnasium. My clear memory of his speech is that it brought the audience not to its feet but to its seats. "He seemed to have lost the voice he found in Memphis," wrote biographer Adam Clymer in "Edward M. Kennedy: A Biography."
Even worse was Kennedy's prime-time interview a few days before with CBS newsman Roger Mudd.  The candidate seemed baffled when Mudd asked him why he wanted to be president, rambling on about the country's great "natural resources" and other irrelevancies. "Oh my God," Mudd remembered thinking. "He doesn't know. He doesn't know why he's running."
Kennedy's problems were compounded when several dozen American embassy officials were taken hostage by Iranian radicals on Nov. 4, the same day the Mudd interview aired. Eventually the hostage crisis hurt Carter politically by dragging on for more than a year, but in the short term it sent his popularity soaring as the country rallied around its president.
Carter beat Kennedy badly in the early contests in Iowa and New Hampshire, then blazed through the southern primaries (he won Tennessee by 75 percent to 18 percent, for example) to establish a commanding lead. But as the hostage crisis lingered, Carter's initial surge of support wore off, Kennedy got his bearings, and the battle lasted until the August national convention.
Carter was nominated but Kennedy, who earlier in the campaign had been prone to meaningless statements like, "Roll up your sleeves and your mother and your father," found his voice. In one of the finest convention speeches in history, he offered the soaring coda, "For all those whose cares have been our concern, the work goes on, the cause endures, the hope still lives, and the dream will never die."
Look up "Pyrrhic victory" in the dictionary and you may well see a picture of Carter chasing Kennedy around the convention stage in a futile effort to get his rival, defeated but somehow triumphant, to lift up the president's arm in the traditional gesture of unity.
What does this have to do with Donald Trump and his prospects for re-election?
Just this: Carter was the third – and not the last – president in the past half-century who had to fight off a serious challenge from within his party to be nominated for a second term. In 1968, President Lyndon B. Johnson faced similar opposition, as did President Gerald Ford in 1976 and President George Bush in 1992.
What do these four presidents have in common? None of them won his bid for a second term. For each, his own party was a house divided that did not stand.
Just one year out from the 2020 Iowa caucuses, there's no telling if Trump will be challenged for the Republican nomination. But if any of the figures whose names one hears mentioned – Gov. Larry Hogan of Maryland, former Ohio Gov. John Kasich, former Arizona senator Jeff Flake, or someone else – enters the fray and somehow is able to give Trump a run for his money, history suggests that the burden he'll carry into the fall will be too heavy to bear.
---