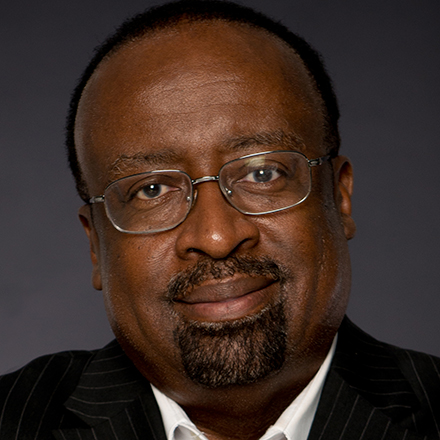 Otis Sanford
Otis Sanford holds the Hardin Chair of Excellence in Journalism and Strategic Media at the University of Memphis and is the political analyst and commentator for WATN Local 24. Contact him at 901-678-3669 or at o.sanford@memphis.edu. Follow him on Twitter @otissanford.
Sanford: Gov. Lee should change position on removing Forrest's bust from Capitol
When Gov. Bill Lee addresses the Tennessee Press Association winter convention Thursday, Feb. 7 – seven days into observances of Black History Month – he almost certainly will be asked about the Nathan Bedford Forrest bust on display in the state Capitol rotunda.
But judging by his most recent remarks on the subject, Lee's response to the statewide group of journalists and journalism educators will likely not produce any surprises.
He is dead set against removing the bust of Forrest, a Confederate general, early Ku Klux Klan leader and onetime ruthless slave trader, from its lofty place of prominence in the halls of state government.
It would be a mistake, Lee said during last year's gubernatorial campaign, to "whitewash history" by moving the Forrest bust to the State Museum where it could be explained in greater context.
Weeks before his Jan. 19 swearing in, Lee reiterated his stance during an interview with USA Today Network. "I've said often times I think the removal of monuments is not the best approach to resolving the challenges that are presented with that conversation. Wiping out history wipes out also the history that we're not proud of."
Incredulous as that statement is, Lee also added this: "The Ku Klux Klan is a part of our history that we're not proud of in Tennessee, and we need to be reminded of that and make certain that we don't forget it."
So to the governor's way of thinking, the best way to remind us of Tennessee's shameful history is for a copper image of that shame to be looking down on everyone who enters the halls of state government where decisions impacting Tennesseans of all races and cultures are made.
It's easy, and frankly counterproductive, to simply criticize Lee for maintaining an antiquated position that's rooted in loyalty to the Old South and to mid-20th century defiance to racial reconciliation.
So I will offer a different approach. It's an alternative bust, financed with private dollars, that would be more appropriate for the Capitol rotunda and represent the antithesis to Forrest's shameful history.
My first choice for such a bust was World War I hero Alvin York, who grew up in Fentress County, Tennessee, near the Kentucky state line. York's bravery was immortalized in the 1941 Gary Cooper film "Sergeant York." It told the story of how York, who was drafted into the Army, reconciled his non-violent Christian beliefs with his desire to serve his country.
With help from some of his outnumbered fellow soldiers, York miraculously silenced 35 German machine guns, killed 25 German soldiers and captured 132 prisoners in October 1918 on a battlefield in France.
A statue of York aiming his rifle was erected on the state House grounds in 1968, and a bust of him already stands in front of his historic Fentress County home.
My second choice would be one of the leaders of the Women's Suffrage Movement who led the effort to gain passage of the 19th Amendment in the legislature in 1920, making Tennessee the decisive 36th state to ratify the amendment giving women the right to vote.
But choosing a single person from that historic effort to be memorialized in the rotunda would be difficult. Plus, the Tennessee Woman Suffrage Heritage Trail already identifies monuments, busts and markers across the state that honor the women who were so vital to the movement's success.
So that leaves Lt. George W. Lee of Memphis as my third and obvious choice to replace Forrest at the rotunda. A portrait of Lee was placed at the Capitol in 1973. But this genuine American hero deserves much more.
Lee, a Mississippi native who came to Memphis at age 18, was decorated for bravery in battle while serving in the 368th Infantry in France during World War I. During a firefight against the Germans on the night of Sept. 25, 1918, Lee managed to escape a barrage of enemy artillery and machine gun fire, including trading gunfire with a German sniper in a tree, to carry out orders from a superior.
After the war, Lee became an influential business leader and arguably the most prominent African-American citizen in Memphis. In addition, he became a highly-respected national figure in the Republican Party. He also was a splendid orator and wordsmith who wrote the most complete history of Beale Street.
Despite being stripped of his influence in the local party during the contentious 1964 presidential campaign, Lee maintained allegiance to the Republican Party until his death in an automobile accident in 1976.
So the least that the 2019 iteration of the Tennessee Republican Party, which controls the legislature, can do is support a more meaningful way to recognize this authentic patriot who has never gotten his due.
And the best way to do that is to find the political courage to move a blatant symbol of Tennessee's shameful history out of the Capitol rotunda and into the museum, and make way for a proper honor for Lt. George W. Lee.
Former governor Bill Haslam said many times during his eight years in office that state property is not the best home for the Forrest bust. "If we are going to honor a limited number of Tennesseans in the Capitol, Forrest should not be on that list."
Replacing Forrest with Lt. Lee probably won't happen, of course. But at the very least, Gov. Lee should be asked about it at Thursday's press association luncheon. Who knows? Maybe he'll surprise us and say he's all for it.
In politics, strange things occasionally do occur.
---