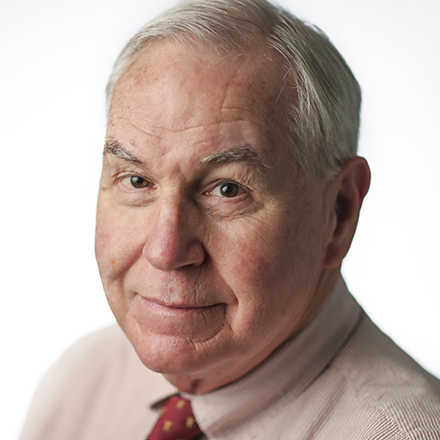 Michael Nelson
Michael Nelson is contributing editor and columnist for The Daily Memphian, the political analyst for WMC-TV, and the Fulmer professor of political science at Rhodes College. His latest books are "Trump: The First Two Years" and "The American Presidency: Origins and Development, 1776-2018."
Mississippi lays claim as the nation's capital of gambling
Gambling 2.0, in the form of legal sports betting, and soon Gambling 3.0 – a state lottery – have come to Mississippi, which means they've come to neighboring Memphis and Shelby County as well. Mississippi will soon be the only state in the country with sports betting and a lottery and both commercial and Indian casinos.
The casinos were Mississippi's Gambling 1.0. Starting in 1992, they mushroomed along the Gulf Coast, on Choctaw land near Philadelphia, and in Tunica, 30 miles south of Downtown Memphis. Open around the clock on Christmas, Easter and the other 363 days of the year, with no limit on bets or losses like those in the small number of other heartland states with casino gambling at the time, Mississippi became the third leading casino destination in the country, trailing only Nevada and Atlantic City.
Mississippi's casinos soon began adding about $300 million per year in taxes to the state treasury, no mean sum in a low-revenue state. Much of it came from Shelby County residents who drove down Highway 61, ate a big buffet, downed a free drink or two, and then left their money behind in the slot machines. But the spread of casino gambling to many other states and, especially, to sovereign lands owned by American Indian tribes eventually dropped Mississippi casinos from third to seventh place in gross gambling revenue and sent annual tax receipts to the state down to about $250 million. Arkansas' decision to let the Southland dog track in West Memphis offer casino-style games hit Tunica especially hard. For Memphians, the seven-mile drive across the Hernando De Soto Bridge to Southland may as well be just down the block.
Also in 1992, Congress passed the Professional and Amateur Sports Protection Act, banning sports betting pretty much everywhere but Nevada, which already had it. But when New Jersey's challenge to the law made its way to the Supreme Court in 2017, politicians in Mississippi got excited. Nearly a year before the court's May 2018 decision in Murphy v. NCAA declaring the 1992 act unconstitutional, the state legislature passed a law legalizing sports betting in casinos in anticipation of a favorable ruling. It turned out to be smart bet.
The first parlors began taking bets last month, just in time for football season. Taxes on the profits are already flowing to the state's coffers in Jackson. Among other advantages, Mississippi is the only SEC state where you can place a legal bet on a game.  Locally, Germantown Republican state Sen. Brian Kelsey is looking for a crack in Tennessee's anti-gambling constitution and statutes that would allow sports betting here, but good luck with that.
Not content with Gambling 2.0, Mississippi has just authorized Gambling 3.0, a state lottery that will launch next year. There's an irony here: the legislature and voters actually removed the state constitution's prohibition on lotteries in 1990, which potentially could have put Mississippi near the front of the line for lottery legalization in the South.
Democratic Gov. Ray Mabus promoted a lottery back then as a way to raise additional funds for education and urged the legislature to use its newfound power to enact one into law. But as soon as the state opened the door to casino gambling, legislators moved on.  Casinos didn't want the competition.
They still don't, but with Mississippi bordered by Tennessee and Arkansas – both of which created lotteries in the 2000s – that form of gambling altered the flow of money in and out of the Magnolia State. Memphians still drove south to the casinos, but Mississippians began driving north into Memphis (and west into Helena and other Arkansas towns) to play the lottery.
Earlier this month, after three years of nagging by Republican Gov. Phil Bryant, the legislature enacted the lottery bill and directed the proceeds not to education but to roads and bridges.
What to make of all this? Are Mississippians better off? Are Arkansans? Are we?
I'm willing to lift one cheer (not two, much less three) for casino gambling and sports betting. Admittedly, a small but measurable percentage of the population is prone to gamble pathologically.  You can lose an awful lot of money awfully fast playing table games or betting on the next team to score in a casino. 
But for the most part, casino gambling involves private companies offering a service to people for whom it serves as enjoyable entertainment – a reasonably inexpensive night out. In addition, casinos (and casino hotels) employ lots of people in real jobs. And they're good at keeping underage minors from sneaking in to gamble. 
Sports gambling is in keeping with the casino model, and to the extent that it's legal it will keep some of the many billions that Americans now bet illegally on sports out of the hands of organized crime. That said, I'll be less happy if sports betting is allowed to go online, creating fewer jobs and virtually inviting in minors. As the law now stands, bets can only be placed inside the state's casinos, of which eight are in Tunica.
Lotteries are a different matter. Consider: in each of the three Mid-South lottery states (and nearly all others around the country), the government isn't just allowing an activity to occur.  It's in the business of encouraging its own people to place bets.  The state then profits from their ignorance. The lottery is a terrible wager, returning only about 60 cents on the dollar to those who play it. 
Unlike casinos, lottery tickets are sold in convenience stores, gas stations, and just about everywhere else. Kids have no more trouble playing the lottery than buying beer, usually by asking an older friend or a paying a guy outside the store to serve as a cutout.
As for the jobs working cash registers that a lottery creates, they not only are minimal in number and pay, but the money other businesses lose when potential customers spend it on lottery tickets instead of goods and services means more jobs are lost than gained in lottery states.
Who plays the lottery? I can hear Congressman Steve Cohen, the self-described "father" of the Tennessee lottery, now: everybody plays it, at least now and then. 
Maybe so. But who buys the overwhelming majority of tickets and loses nearly all the money that the state wins? Not the folks in Central Gardens and River Oaks. Instead it's the workers who cut their grass and clean their houses. The state makes its money from "the least of these," and most of the benefits flow to middle- and upper-class people whose children, in Tennessee and Arkansas, disproportionately benefit from the college scholarships that the lottery funds.   
One cheer for Gambling 1.0 and 2.0, Mississippi. But shame on you – and on Tennessee and Arkansas – for Gambling 3.0. The lottery is the biggest sucker's game around, and state governments shouldn't be in the business of taking advantage of the people who need their help the most.
---